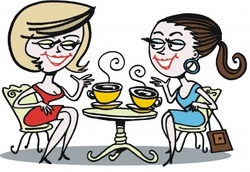 It's Wednesday and time for another coffee chat!
Our guest is Suz deMello, a multi-genre author, best known for her erotica.
Welcome, Suz. What would you like to drink?

SUZ: I'd love some tea.

Ally: While I fix our drinks, tell readers a little about yourself.

---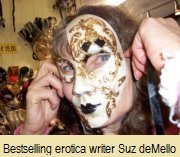 Best-selling, award-winning author Suz deMello, a.k.a Sue Swift, has written nineteen books in several genres, including nonfiction, romance, erotica, comedy, historical, paranormal, mystery and suspense, plus a number of short stories and non-fiction articles on writing. A freelance editor, she's held the positions of managing editor and senior editor, working for such firms as Totally Bound and Ai Press. She also takes private clients.
Her books have been favorably reviewed in Publishers Weekly, Kirkus and Booklist, won a contest or two, attained the finals of the RITA and hit several bestseller lists.

A former trial attorney, her passion is world travel. She's left the US over a dozen times, including lengthy stints working overseas. She's now writing a vampire tale and planning her next trip.
Something unusual about Suz: She owns a giant stuffed white tiger.

--Find her books at http://www.suzdemello.com
--For editing services, email her at suzdemello@gmail.com
--Befriend her on Facebook: http://www.facebook.com/SuzDeMello
--She tweets @Suzdemello
--Pinterest: http://www.pinterest.com/suzdemello/
--Goodreads: http://bit.ly/SuzATGoodreads
--Her current blog is http://www.TheVelvetLair.com
---
Ally: When do you write and where? Do you have a Writer's cave?

SUZ: Hmm...I tend to be fairly random about writing. I live with my mom, who is 85 and has Alzheimer's, so I cram writing and promo into the corners of my life that come free. I do have a home office, which makes life easier.

Ally: What comes first - characters, setting or plot? How do you build from there?

SUZ: I usually think of a conflict and a setting before I write. For example, I'm writing a short story called "Spring Training," and had the idea for a baseball player and a trainer getting kinky. Then I invented the characters.

Ally: What's the average length of your books and how long does it take to write one? Does the time involved get shorter with each book?

SUZ: My books have been getting shorter with the advent and growth of e-publishing. Candidly, if I can sell an anthology full of short stories for 99 cents, why should I write novels when they sell these days for 99 cents? Or are offered for free? I love the commitment and depth of novels--mine range from 50K to 100K--but they don't make economic sense.

Ally: Tell us about your next writing project.

SUZ: That's sthe short story I mentioned above--"Spring Training." A baseball player gets special lessons from the hot new trainer his team hires. This will be the first F/M story I've written. It's fun!

Ally: Answer these quick answer questions:
a. favorite after five drink: Prosecco
b. last book you couldn't put down: I recently reread an alternative history classic, Pavane by Keith Roberts. Fantastic book, very evocative.
c. most unusual thing in your refrigerator: Hmm...getting up to look...Guiness, pickled onions and cornichons.
d. tall, dark and handsome or a blond Adonis? TDH, definitely.
e. soulmates - fact or fiction? For me: fiction ;(

Ally: Thanks for joining us today, Suz! Before you go back to your busy life, let's take a look at the boxed set of romances you wanted to promote...

***Note to readers under eighteen: This boxed set is rated mature. Do not follow the buy links without parental permission.

---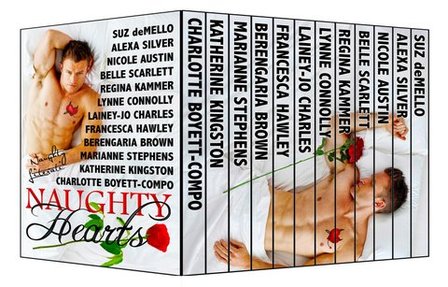 The Naughty Literati are a group of authors who've come together to showcase their epic talents in stories filled with powerful eroticism and satisfying romance. Our tales range from heartwarming and sweet to scorching hot erotic; medieval to futuristic; humans to aliens and shape-shifters; vanilla committed couples to kinky ménage fun.

Naughty Hearts is our steamy boxed set with twelve stories revolving around that most romantic of holidays, Valentine's Day. Join us on this naughty journey!



Buy links (18+):

Amazon: http://indi.uno/1BH3Uxu
B&N: http://indi.uno/1uNNYHa
Kobo: http://indi.uno/1LwR8cY
Google: http://indi.uno/1EWHmMP
iTunes: http://indi.uno/18DSyDw

---
Thanks to readers for stopping by. Come back soon!