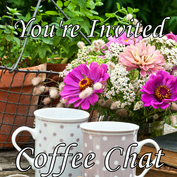 Welcome, booklovers!

This week's guest on the Coffee Chat is romantic suspense author, Kim McMahill, with her book, A Taste of Tragedy.

Hi, Kim. How do you take your coffee?

KIM: I'm a bit of a coffee wimp. I use an ample quantity of equal portions of French Vanilla creamer and coconut cream.

Ally: Actually it sounds good, but I'll stick with my usual black. While I fill our mugs, please introduce yourself to readers.

---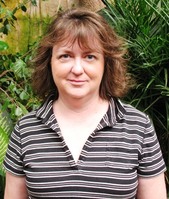 Bio:

Kim McMahill started out writing non-fiction, but her passion for exotic world travel, outrageous adventures, stories of survival, and happily-ever-after endings soon drew her into a world of romantic suspense. Kim grew up in Wyoming and has recently relocated to Colorado. She enjoys gardening, traveling, and exploring the gamut of ethnic cuisine.

Contact Links:

Author Website: http://www.KimMcMahill.com
Author Blog: http://www.kimmcmahill.blogspot.com
Twitter: https://twitter.com/kimmcmahill
---
Ally: Tell us the premise behind the Risky Research series. How does your character get into trouble doing research?

KIM: The Risky Research series is about a deadly group of individuals focused on controlling the multi-billion dollar-a-year diet product industry, and the FBI agents dedicated to stopping them. In the first novel, A Dose of Danger, a researcher and her team believe they had discovered a miracle weight loss pill, which makes them the targets of this criminal organization. In the second novel, A Taste of Tragedy, Morgan Hunter is hired to promote a manufacturer's healthy foods line. She uncovers evidence that the products contain a potentially deadly sweetener. After being warned not to question the research and development division, she takes matters into her own hands and soon finds more trouble than she can handle.

Ally: What type of scene is your favorite to write and why?

KIM: I love to construct action scenes. My goal is to create events that keep the reader so engaged that they have a difficult time putting the book down. The action adventure genre can be a form of escape. It can transport the reader to another time and place and push mundane lives or pesky problems away, even if for just a short moment.

Ally: Do you write in first person POV or third? Present or past tense? How did you choose?

KIM: I've always written in third person, mostly present tense. It seemed to come naturally, so I've stuck with it.

Ally: What is your next writing project?

KIM: I'm working on my third novel in the Risky Research series titled, A Foundation of Fear. In this novel, we get to know the criminals and those trying to bring them down much more intimately, and learn that even the most ruthless assassin may have something to fear.

Ally: Get ready for a few quick answer questions:

a. What person, real or fictional, would you like to spend a day with? The Drover from Australia
b. Favorite color of nail polish: mauve
c. Your pets' name, kind? An overgrown Pomeranian named Gabby
d. A book you wish you had written: Amazonia by James Rollins
e. A place you want to visit: Iceland

Ally: Thanks so much for chatting with us, Kim! Do come back. In the meantime, let's see the book you brought...
---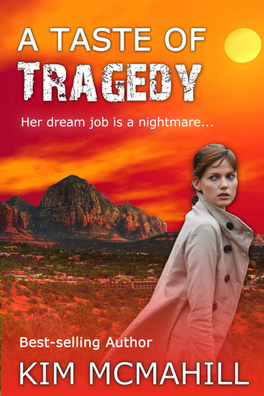 A Taste of Tragedy
Genre: Romantic Suspense
Heat level: mild

Blurb:
Morgan Hunter sacrificed everything for her career. She had yet to encounter anything she wasn't willing to do to succeed...until now. When she uncovers evidence that the healthy foods she's been hired to promote may be dangerous, she must reevaluate her priorities. As questions mount and the body count rises, she finds herself caught in the crosshairs of an organization that will stop at nothing to hide its secrets and protect its profits. With no one else to trust, Morgan is forced to seek help from the man she drove away, but whom she never stopped loving.
Buy Link
:
http://www.amazon.com/dp/B01DTE29U2/
---