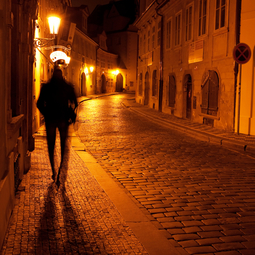 What is Urban Fantasy?

I remember reading my first vampire urban fantasy, Blood Price by Tanya Huff. The heroine homicide detective Vicky was interesting, but I was fascinated by the vampire, Henry Fitzroy. I'd always read and loved fantasy stories, but other than Dracula, this was my first vampire fiction. I was hooked.

As I continued to read in the genre and saw the variety of supernatural beings and storylines, it finally dawned on me that part of the lure of these books was the setting. The authors had superimposed their incredible characters on a universe I knew and understood. A urban city, where supernatural beings interact in a human world, is at the heart of urban fantasy, even although much of the action occurs in areas most of us rarely see, the back alleys, underground caverns, and cemeteries..

Is it that simple? Does any story with paranormal creatures—like werewolves or dragons or vampires—set in a city, qualify as an urban fantasy. Not necessarily. Beyond the required urban setting, the fantasy elements must dominant the other storylines (typically romance and mystery). The deciding criteria are (1) the extent of interaction with the human world, and (2) whether the paranormal is essential to the main plot. In other words, does the Otherworldliness impact the human environment for good or bad, and does it influence the story's outcome in a significant way? If not, it may be one of the popular related genres of paranormal romance, supernatural mystery or horror, but it isn't urban fantasy.

Below is my list of examples of true urban fantasy novels. They're also some of my favorite books and authors.


Tanya Huff's Blood Books, with Vicky Nelson and Henry Fitzroy, set in Toronto;
Laurell K Hamilton's Anita Blake, Vampire Hunter series, set in St. Louis. The first one, Guilty Pleasures, IMHO is a classic;
Jim Butcher's Dresden Files, set in Chicago;
Kim Harrison's Hollows series with Rachel Morgan, set in Cincinnati;
Patricia Briggs' Mercy series, set in the Tri-Cities area of Washington State.
Clare Cassandra's Mortal Instruments series, set in New York City.

There is also a wonderful subset of light-hearted urban fantasies represented by writers like Mary Janice Davidson and HP Mallory.

Now, it's your turn. Who are your favorite urban fantasy authors? Did I miss someone? Are there newcomers I should be reading?

Revised and reprinted from an Ally Shields 2014 copyright.