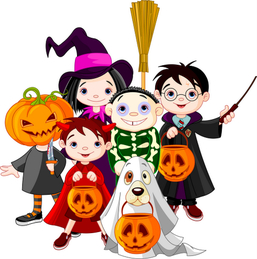 What would October be without Halloween treats? Here are three, tried and true, really easy recipes. And, they are sooo good! The first incorporates America's favorite cookie. Yes, even ghosts love Oreos!

Halloween Ghosts

2 doz Oreo cookies
3-4 oz softened cream cheese
7 oz. white candy coating
1 1/4 tsp shortening
mini chocolate chips or M&Ms

Chop cookies in blender until coarse crumble stage. Add cream cheese, a little at a time.
Form mixture into 25-30 ghosts (shaped like candy kisses).
Melt chopped candy coating; add shortening. Coat each "ghost" by pouring coating over them with a spoon.
Add mini chocolate chips or M&M's for eyes.

(Same recipe can be used at Christmas for trees with green coating.)


Never Fail Popcorn Balls (Especially fun, since it allows you to get your hands all gooey!)

1 c sugar
1/3 c white syrup
1/3 c water
1/4 c butter or margarine

Boil the above until a soft ball forms if you drop a tiny amount in cold water. About 270 on your candy thermometer. Remove from heat and add 1 tsp vanilla. Pour mixture over 2 quarts of freshly popped corn. Butter hands and shape into balls. Makes about 12 medium-sized balls. (Now lick your fingers. Yum, good!)


If you want something even easier, the last one is a definite crowd pleaser, home or work. What's that? You say you're a minimalist? No problem. You can limit your Halloween mix to the first two ingredients. Perfecto!

Halloween Trail Mix

Mix the following in any proportions you like, although the candy corn and peanuts should be the basis of this sweet treat.

Candy corn - regular and chocolate
Dry-roasted peanuts
White yogurt covered raisins
Cashews
Craisins
Sunflower seed hearts
Chex

Mix and enjoy!

Any readers have special treats you're willing to share?