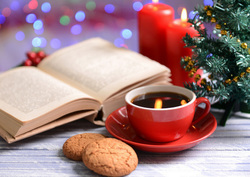 Happy Holidays, Booklovers!

It's time for our weekly coffee chat. Today's guest is Kim Cleary,, who writes dark urban fantasy with a romantic element.

Welcome, Kim! How do you take your coffee?

KIM: I dislike the taste of milk, but drink cappuccino as long as it's with skim milk and the coffee flavour is strong. Otherwise I drink my coffee black and sweet.

Ally: I think we'll play it safe and go with the black and sweet! While I pour, please introduce yourself.

---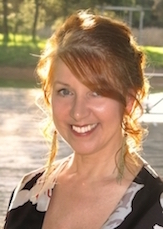 Bio:

Kim Cleary is the award-winning author of Path Unchosen, the first title in the Daughter of Ravenswood series, which earned a bronze IPPY award in 2015. She grew up in Birmingham, United Kingdom, studied medieval history and psychology at Adelaide University in Southern Australia, and has worked all over Australia and in London.

Forced to leave a successful career in marketing after multiple sclerosis damaged her hands and prevented her from typing, Cleary learned how to write using voice software.

A self-described chocoholic, Cleary loves writing, gardening, cooking, playing with her dogs, and spending time with friends. She lives with her husband and two dogs, an adorable cocker spaniel and a mischievous moodle, in Melbourne, Australia.

Something unique/unusual not in your regular bio: "I'm not sure how unusual this is… But in spite of the fact that I love an eclectic range of music, I must have silence to write to. Imagine how annoying this is for my husband as he is a musician! I've tried listening to instrumental music, I've followed recommended playlists from various authors blogs. Nothing except silence works for me, excluding the birds singing in my garden, or the white noise on trains and in cafes."

Contact the Author:

Facebook: https://www.facebook.com/KimClearyWriter
Twitter: https://twitter.com/kimclearywriter
Blog: Kimcleary.com
Amazon: https://www.amazon.com/author/kimcleary
---
Ally: Tell us about the urban fantasy world in the book you've brought today. Setting, type of supernatural characters, powers, etc.

KIM: The setting is vaguely apocalyptic, enough like our own to feel familiar, but set in an uncertain future. Some dead people live again, and my heroine is a young necromancer who struggles with balancing her powers over the dead with her sense of justice and compassion.

Ally: What made you decide to write urban fantasy? Did a particular author or book inspire you?

KIM: I've always enjoyed speculative fiction more than any other genre. I started reading science fiction in primary school, under my father's influence and with his love of writers such as Isaac Asimov and Ray Bradbury guiding my reading choices. I branched out into all kinds of fantasy as a teenager and voraciously read series by writers such as Anne Rice, J.L.Ward, Stephen King, Jim Butcher, Terry Pratchett, Anne McCaffery, and many, many more. Reading science-fiction and fantasy takes me to another place, where my imagination plays in the worlds created by these superb writers.

I'd love to try my hand at science-fiction one day, I'm already dabbling on a historical suspense with a stronger romantic plot and speculative elements. Finishing my daughter of Ravenswood series is my main focus at the moment.

Ally: What is your writing schedule?

KIM: I struggle with chronic fatigue which tends to be much worse in the afternoons so I try and write in the morning. My favourite places to write are my study overlooking the courtyard when I'm dictating, and in my garden under a spreading ash tree when I'm plotting and planning. I have a weekly rather than a daily word goal as some days I just can't get anything done. Most weeks I aim for 2,500 words.

Ally: What is your next writing project?

KIM: I've got two projects I am dabbling in, the historical suspense I've already mentioned, and a non-fiction book about living well in spite of chronic fatigue.

I'm really enjoying the research for the historical suspense. It's set in the1850's, starting in Lancashire in the United Kingdom, then traveling to Victoria in the gold rush days. This is a story about a young woman finding love after losing her fiancé tragically, and it's woven around spiritualism which was so popular at the time.

Ally: Try your hand at these short answer questions:

a. If you could have a supernatural power, what would it be? I'd like to be a healer
b. What's the most unusual thing in your closet? Crocheted and quilted handbags, I love making things!
c. Favorite holiday song: Anything by the Steve Miller band – brings back memories of touring around Europe on a shoestring budget.
d. Have you started your holiday shopping? No, I'm an leave it until the last minute person.
e. Favorite holiday tradition: Lunch with family where I make the famous Christmas trifle (a new one every year, always with a splash of liquor)

Ally: Thanks so much for joining us today. One last thing to do before you go. Please share the book you brought...
---
---
PATH UNCHOSEN (Book 1)

She'd rather be a normal eighteen-year-old … but not much chance of that, when she can raise the dead.

When an eighteen-year-old discovers she's a necromancer who can raise the dead, she does her best to deny this unholy gift. But after leaving the orphanage for a mysterious manor house, she learns that not only have the dead started walking again, her power means she's the only one who can stop it.

Judy Hudson wants to be a normal girl, but the nuns who've raised her treat her with fear and suspicion. When a beautiful, otherworldly stranger whisks her from the orphanage to a dignified old estate, he promises to help her wield power beyond imagining. Dare she trust that her abilities aren't evil after all?

But when their lessons go awry, Judy learns she can do great harm. To make matters worse, new undead attack--corpses raised from among the long-time dead. Another necromancer is at work, and he must be stopped before he destroys the innocent inhabitants of the nearby town, including the handsome sheriff.

To save them all, can one young girl learn to control the darkness inside her--a seductive darkness that promises her power beyond her wildest dreams?

Buy Link for Path Unchosen:

Amazon: https://www.amazon.com/Path-Unchosen-Daughter-Ravenswood-Book-ebook/dp/B00F1X36SE/

TRUTH UNVEILED (Book 2)

Meagan Greystone, a new necromancer who grew up orphaned and homeless, has finally discovered a community where she belongs. But as she settles in at Ravenswood Manor, her ancestral home, a strange voice in her head unravels her newfound peace.

The source of the unsettling communication is Quintus, Meagan's distant ancestor, known for his brutality and incredible power. When she attempts to enlist her father's help by raising him from the dead, it's Quintus who regains a foothold in the land of the living. Now reborn, he vows to obliterate everything Meagan treasures unless she joins him in his quest for power.

Meagan must overcome the heartbreak of unimaginable betrayal and fight in the face of a seemingly hopeless situation. Will she find the strength she needs to defeat the power of darkness and save the people and home she has grown to cherish?

Buy Link for Truth Unveiled:

Amazon: https://www.amazon.com/Truth-Unveiled-Daughter-Ravenswood-Book-ebook/dp/B01A0IB474/
---