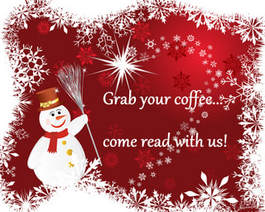 Welcome to another holiday Coffee Chat!

Today's guest is contemporary romance writer, Jean Joachim, featuring her book, Break My Heart.

Nice to have you visit, Jean. What may I get you to drink?

JJ: I drink tea, not coffee, the British way – with milk and sugar.

Ally: No problem. My magic pot can fix anything you want. While I brew something up, please introduce yourself to our readers.

---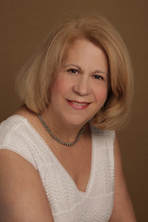 Bio:

Jean Joachim is an award-winning, international best-selling romance author, with books hitting the Amazon Top 100 list in the U.S. and abroad since 2012. She writes mostly contemporary romance, which includes sports romance and romantic suspense. Jean has 43 books, novellas and short stories published.

Dangerous Love Lost & Found won 1st place in the suspense category in the 2015 Oklahoma Romance Writers of America International Digital Awards contest. The Renovated Heart won Best Novel of the Year from Love Romances Café. Lovers & Liars was a RomCon finalist in 2013. And The Marriage List tied for third place as Best Contemporary Romance from the Gulf Coast RWA. To Love or Not to Love tied for second place in the 2014 New England Chapter of Romance Writers of America Reader's Choice contest. She was chosen Author of the Year in 2012 by the New York City chapter of RWA.

Married and the mother of two sons, Jean lives in New York City. Early in the morning, you'll find her at her computer, writing, with a cup of tea, her rescued pug, Homer, by her side and a secret stash of black licorice.

Something unique/unusual that isn't in your regular bio: "I studied piano for three years. I was dropped by my piano teacher when I refused to do the recitals as they made me too nervous."

Author Contacts:

Sign up for her newsletter, on her website: http://www.jeanjoachimbooks.com
Or on the Facebook link below, and be eligible for her private paperback sales.
https://www.facebook.com/Jeansbooks/app/?sk=app_100265896690345

Amazon author page: http://www.amazon.com/Jean-C.-Joachim/e/B001ITRQKY/
Goodreads: https://www.goodreads.com/author/show/334810.Jean_C_Joachim
Pinterest: http://www.pinterest.com/jeanjoachim/
---
Interview:

Ally: Who is your main character, and why should readers care about him or her?

JJ: Breaker Winslow is a male model extraordinaire. He runs with the rich, fast crowd. He sleeps around, has millions, owns a townhouse in NYC, and has a non-stop career. Until a fire destroys everything, including his looks.

You might say, why should I care about him? Because after he loses everything and has to rebuild his life from ground zero, he learns what's really important in life. He thinks that all he wants is to get his old life back. Then, by a twist, he has the opportunity to do that. Will he? Will it be everything he thought it was?

Ally: But how well do you really know him? Can you answer these questions about Rick "Breaker" Winslow?

a. age, gender – male, somewhere in his mid thirties.
b. color of hair and eyes – dark hair, almost black, and piercing, Caribbean blue eyes
c. level of education and/or training – Rick went to college but never graduated because he was traveling all over the world modeling.
d. favorite color – Being the egotist he is, Caribbean blue, the same color as his eyes is his favorite color.
e. style of clothes – Expensive. Italian suits made to order, designer jeans, only the top-of-the-line for everything. Until he moves to the country. Then he gets into flannel shirts and old, beat-up jeans.
f. pets – Oliver, formerly known as Scruffy. A pug, of course.

Ally: Since this blog has strong paranormal ties, I have to ask one woo-woo question. Here is yours. If you could have one supernatural power, what would it be and why?

JJ: I'd want to fly, like Superman. I think it would be so great to soar with birds, see the world from above and get about without driving or taking public transportation. I'd get to investigate all those nests up on high you see from the ground and make friends with eagles.

Ally: Tell us about your favorite hobby (non-writing).

JJ: It has to be photography. I love art and taking pictures. I'm very visual. Capturing something beautiful to look at whenever I want is awesome. Creating artistic pictures and advertisements for my books, as well as the occasional cover is my go to relaxation and quiet joy place. I love fooling around with art.

Ally: Have you thought about one of your books being made into a movie? Who would play the parts?

JJ: Yes. Break My Heart would make a good movie. I think Tom Ellis, who plays the title role on Lucifer, would be ideal as Rick Breaker Winslow.

Ally: Are you ready for some short answer questions? Go!
a. favorite book – Pride and Prejudice
b. book you're currently reading – Flow – a hockey romance by V.L. Locey
c. an author (living or dead) you'd love to take to lunch – Jane Austen
d. manicure or pedicure – Pedicure. My hands are too busy to keep a manicure.
e. favorite tv show – Designated Survivor or Face Off
f. favorite accessory (jewelry, scarves, shoes, etc.) – scarves.
g. Do you believe in love at first sight? Yes. And I write about it, too.

Ally: Thanks for spending time with us, Jean. Best of luck with your books. Before you go, let's take a peek at Break My Heart.
---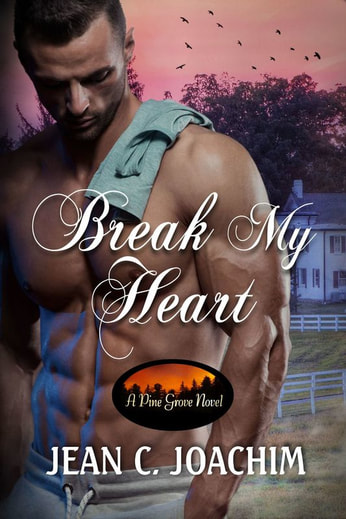 Break My Heart
Genre: Contemporary Romance

Men envied Breaker Winslow and women wanted to sleep with him. As a top cover model with a budding acting career, he embodied every man's dream. Living in a townhouse in Manhattan, Rick Breaker Winslow had everything he ever wanted.

When fire ripped through his home, trapping his beautiful golden retriever, Breaker pushed firemen aside to rescue his beloved dog. While heading for the stairs with the canine in his arms, a falling beam crushed them, killing the animal and scarring Breaker's face.

Life, as the famous Breaker Winslow, disappeared. With his career finished, Rick appealed to his friends –who turned their backs on him.

Broken, despondent, and alone, he takes refuge in a decrepit farm house in rural Pine Grove. Can the man who had success and love around every corner rebuild his life or is escape the only answer?




Buy Links:

Amazon US: https://www.amazon.com/dp/B076N541Y5
Amazon UK: https://www.amazon.co.uk/dp/B076N541Y5
Amazon Canada: https://www.amazon.ca/dp/B076N541Y5
Amazon Australia: https://www.amazon.com.au/dp/B076N541Y5
Barnes & Noble: https://play.google.com/store/books/details/Jean_Joachim_Break_My_Heart?id=CG4-DwAAQBAJ
KOBO: https://www.kobo.com/us/en/ebook/break-my-heart-2
Google Play:
https://play.google.com/store/books/details/Jean_Joachim_Break_My_Heart?id=CG4-DwAAQBAJ
iTunes/Apple Books: https://itunes.apple.com/us/book/id1313043574
Print: http://www.amazon.com/dp/1979727066
---
Thanks for stopping by. See you next week!