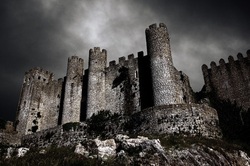 The fictional Castle Verdammung or Castle Doom, the vampire elders' stronghold in the Black Forest of Germany, commands an important role in the Guardian Witch books. I thought it might be interesting to take a look at a few of the real castles that still exist in Germany today.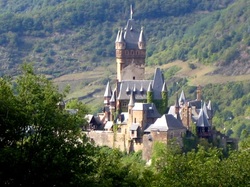 Probably the most famous place for castle watching is along what's known as the middle Rhine River from Koblenz to Mainz. Most of the nearly forty preserved castles or ruins along the river banks were built by robber barons to collect a toll from those using the waterway. Whether you look to the right or the left of your boat, you'll see castles. Pfalzgrafenstein, Rheinfels, Marksburg.
Daily Rhine River cruises take you past these edifices of the past, and a few castles are open to the public as restaurants, museums or for guided tours. A video of the area can be found here: http://www.ricksteves.com/watch-read-listen/video/tv-show/germanys-romantic-rhine-and-rothenburg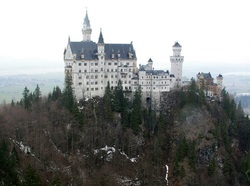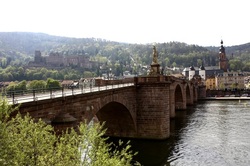 Another German schloss (castle) and town that first became popular in the United States is Heidelberg. American author Mark Twain included the castle in his 1880 travel book, A Tramp Abroad, and it served as the setting for the musical The Student Prince in its many incarnations on film and stage from the 1920s to the 1990s. The town is an established tourist destination.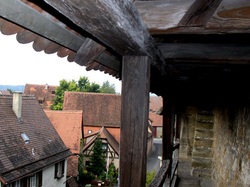 I would definitely be remiss if I talked about Germany and didn't mention Rothenburg on the Tauber River. While the castle is interesting, the medieval city itself and the ancient walls that surround it are unforgettable. Visitors were still allowed to climb the narrow stone stairs unescorted and walk the walls where guards had tread a thousand years ago.
An awesome experience, especially at dusk when the crowds thin and you can begin to imagine what it was once like.
(See Rick Steves video above on the Rhine Tour which also includes Rothenburg)
I hope you've enjoyed this brief visit to the castles of Germany, but the preserved and restored structures mentioned above are only one part of the castles' story. If you have the good fortune to travel the countryside by private car, as I did, you will find ruins along the roads. Some are locally preserved, many are not, often peeking out from unrestrained foliage. You can walk through them. Touch them. They all contain a strong sense of ancient history, and dare I use the word? Magic.