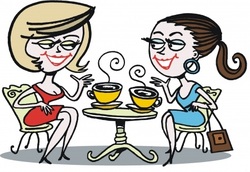 Happy Wednesday, Booklovers!

Romance author Allie Kincheloe is joining us for our weekly book chat. Welcome, Allie, how do you take your coffee?

AK: Strong and sweet. A lovely dark roast with a bit of sugar is what propels me through my day.

Ally: Excellent. I'll pour, while you'll give readers your bio.

---

Author Bio:
As a busy mother of five, Allie sneaks time to write between breakfast and tickles. Always a Kentucky girl at heart, she currently makes her home near Nashville.

And you ask for something unusual...I have such short legs that even petite length pants have to be taken up. My friends and loved ones often poke fun at me over it. :)

Author links:

Website: http://www.alliekincheloe.com
Twitter: @allie_kincheloe
TSU: https://www.tsu.co/Allie_Kincheloe
---
Ally: How do you usually begin a novel - characters, setting or plot first? Was that true of your book, Sean's Sweetheart?

AK: It can vary depending on the story. But for me, it's usually the character. With Sean's Sweetheart, it was definitely the character. He lingered in the back of my mind for sometime until the right story line and heroine came along for him. I actually wrote a blog post on it. You can read the full story here:
http://www.alliekincheloe.com/seans-sweetheart-the-backstory/
Ally: What is the one characteristic required of a great book boyfriend?

AK: A good sense of humor. It's something I think is most important in all relationships, real or fictional. Without laughter, what is there?

Ally: Author marketing is such a big part of writing/publishing today. What are your favorite ways of communicating with readers and getting out the news about your books?

AK: Ah...marketing. I think this is harder for me than actually writing the books! I've finally figured out Twitter. I could spend hours on Pinterest...does it actually help with marketing? I don't know. I've got a book board for some of the things that helped inspire Sean's Sweetheart.

Ally: What is your next writing project? Can you tell us a little about it?

AK: I'm working on a NA romance right now. It's currently being ripped to shreds by my critique partners. I'm very excited to get it back and start revisions.

Ally: Ripped to shreds, huh? Sounds like a tough crowd. So I'll go easy on you and windup with a few quick answer questions:

love at first sight - fact or fiction? Not sure about love, but I believe in lust at first sight.
favorite dessert: Derby Pie!
last movie that made you cry: P.S. I Love You. Even though I've seen it a dozen times, I always cry.
an item on your bucket list Going to Europe. In particular, Ireland and Scotland.
favorite music while you're writing: It depends on the scene! Anything from country to rock to pop. Whatever fits the mood of the characters and the scene.
Ally: Thanks so much for visiting with us, Allie. Please show us your book before you go...
---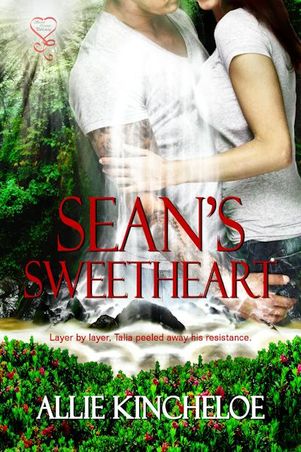 Blurb:
Sean has spent five years cleaning up his life. He's shoved his past behind him and built a profitable business in the town's most popular dance club. Falling in love with a college sophomore wasn't in his plans. But, from the moment he rescued Talia, she brings out his every protective instinct. He tries to resist getting involved on a personal level. Talia's persistence, however, is stronger than his will.

Despite just ending an abusive relationship, Talia finds an instant connection with a man unlike any she's dated before. Older, tattooed, and totally inappropriate for her, Talia couldn't keep Sean off her mind, especially once he calls her "sweetheart" in that deep drawl of his.

When Talia is in danger, they discover just how strong their relationship is. Can Sean and his sweetheart make things last when horrors from their pasts come back to haunt them and family seems determined to keep them apart?





Buy links:

http://www.store.secretcravingspublishing.com/index.php?main_page=book_info&cPath=4&products_id=944
https://www.allromanceebooks.com/product-sean039ssweetheart-1634017-153.html
http://www.amazon.com/dp/B00NT3K3CU
http://www.barnesandnoble.com/w/seans-sweetheart-allie-kincheloe/1120419145?ean=2940046402681
http://store.kobobooks.com/en-US/ebook/sean-s-sweetheart

Excerpt:

With his hand on the small of her back as a guide, he directed her out the back door to the service alley. He led her over to a big black Harley and held a helmet out to her.

"Uh…" A motorcycle? Why couldn't he have a sports car or a truck? Of course a tattooed bartender would drive a motorcycle.

The smug look on his face made her want to prove his assumptions wrong. Prove to him she wasn't a goody-goody, scared shitless to climb on top of a motor with wheels and fly down the road under someone else's control.

"It's this or you call someone."

Screw that.

She snatched the helmet from his hand. Talia gave him the address and fiddled with the strap, trying to figure out how to adjust it. His hands came up to tighten it for her and their fingers brushed. She sucked in a deep breath at his touch. His low chuckle took that spark of anger and kindled it into a blaze of desire. With the street lamps behind him, she couldn't read his expression. His hand closed over hers for a brief second before he jerked it away. He straddled the bike and pulled his own helmet on.

She climbed on behind him and he started the motor. Talia jumped at the sudden roar of the engine and clung tight to his broad back. His chest shook with laughter beneath her hands. Talia relaxed a bit as the bike moved and they didn't crash. She slid her arms around his waist and started to enjoy the ride, to enjoy the feel of holding a man.

She'd never been on a motorcycle before. Had never wrapped her arms around a complete stranger like this, either. She didn't know his name, but she knew the strength in his muscles and the rhythm of his breathing. When she hugged him tighter, her fingers slipped through the button placket on his shirt. Instead of removing her hand, she combed through the tangle of hair on his chest, surprising herself with her boldness. His hand dropped back to squeeze hers for a moment, but he didn't pull her hand away.

The ride ended too soon when he rolled the bike to a stop in front of her house. She stumbled getting off the bike, but he caught her before she face-planted on the sidewalk. He even walked her up to the door and waited behind her on the porch while she tried to unlock it. Her trembling hand dropped the keys and he bent to grab them before she could react.

"My name's Sean, by the way." He unlocked the door for her and handed her keys back.

"Sean. That's a very nice name. It fits you. I'm Talia." Did he expect to come in? They had just met and she still had a boyfriend, at least until she could find the nerve to dump the jerk. She'd never been the cheating type.

He leaned one broad shoulder against the wall next to the door and stared down at her. Shadows hid part of his face from her, but his eyes glittered in the dim light.

Sean's chest rumbled with a deep chuckle. "Would you've said the same thing if I'd told you that my name was Bruno?"

A giggle snuck out. Bruno? Not a chance Bruno would fit him.
---
Thanks for joining us for coffee! Come back soon...