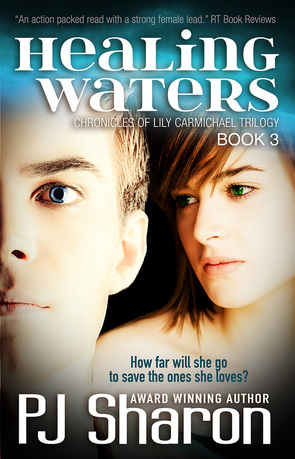 Healing Waters, Book Three in the Chronicles of Lily Carmichael trilogy picks up with sixteen-year-old, genetically enhanced Lily Carmichael and friends in the midst of a daring escape from Las Vegas. In this final installment, Lily faces her ultimate challenge.

After a failed rescue attempt, and with no home to return to, Lily and Will reunite to join with her uncle and his Network of rebels, taking on Vice President Malevich and his army of agents, drones, and Guardians. With Malevich enslaving the city-dwellers who depend on the New Government for their survival—he's made it clear he will eliminate anyone who stands in his way.

Staying one step ahead of the Industry, Lily, Will, and their friends undertake a harrowing journey from the desert southwest to the new Capitol in Chicago, where they'll face a fight to the death. But Lily's greatest gift—her driving instinct to heal and protect—may also be her greatest enemy. As Lily's abilities grow, can she do what it takes to save humanity, while taking down the madman bent on destroying it?
BUY LINKS:
Amazon:
http://www.amazon.com/dp/B00PCZYXH4
Amazon UK:
http://www.amazon.co.uk/Healing-Waters-Chronicles-Carmichael-trilogy-ebook/dp/B00PCZYXH4/
Goodreads page:
https://www.goodreads.com/book/show/23549216-healing-waters
Read a chapter on Wattpad:
http://www.wattpad.com/story/26392326-healing-waters-book-3-chronicles-of-lily
---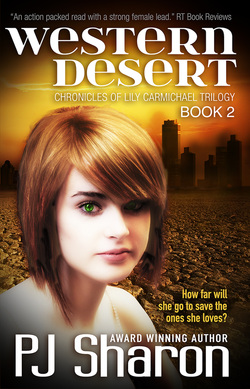 Try book two in the trilogy for FREE through January 19!
WESTERN DESERT, Book Two in The Chronicles of Lily Carmichael trilogy, takes off where WANING MOON ends. Genetically enhanced sixteen-year-old Lily Carmichael, and seventeen-year-old Will Callahan embark on a journey across a sun-ravaged and decimated US in the year 2057, bound for the Western Desert on a dangerous rescue mission. The survivors they meet along the way put Lily's healing abilities to the test and challenge Will's resolve to find his missing father—no matter the cost. But even with the burden of life and death on their shoulders, and the Industry hot on their trail, the greatest challenge they face is trusting their hearts to each other. http://www.amazon.com/Western-Desert-Chronicles-Carmichael-ebook/dp/B00DJUHZS8/

---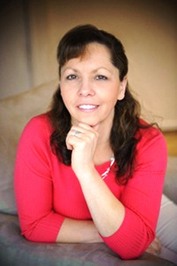 About the Author:
PJ Sharon is the award winning author of contemporary young adult novels, including PIECES of LOVE, HEAVEN IS FOR HEROES, ON THIN ICE, and SAVAGE CINDERELLA, winner of the 2013 HOLT Medallion Award and the 2013 National Excellence in Romance Fiction Award. She has also completed The Chronicles of Lily Carmichael, a YA Dystopian trilogy. WANING MOON, Book One in the trilogy, was a finalist in the 2013 National Excellence in Romance Fiction Award, Colorado Romance Writers Award of Excellence, and was a HOLT Medallion Award of Merit recipient. Book Two, Western Desert was a finalist in the 2014 Write Touch Readers Contest and placed third in the 2014 Winter Rose Contest. HEALING WATERS, Book Three in the trilogy, released in December, 2014.

Writing young adult fiction since 2007 and following her destiny to write romantic and hopeful stories for teens, PJ is a member of Romance Writers of America, CTRWA, and YARWA. She is mother to two grown sons and lives with her husband in the Berkshire Hills of Western MA.
Contact the Author:


E-mail:
pjsharon64@gmail.com
Website:
http://www.pjsharon.com
Twitter: http://www.twitter.com/pjsharon

Facebook: http://www.facebook.com/pjsharonbooks
Tumblr: http://pjsharonbooks.tumblr.com/
Amazon's Author Central page: https://www.amazon.com/author/pjsharon
Goodreads: http://www.goodreads.com/author/show/5238865.P_J_Sharon
Google +: https://plus.google.com/+PJSharon/posts
Pinterest @ http://www.pinterest.com/pjsharon/
Linked-In: http://www.linkedin.com/pub/pj-sharon/35/182/815
---
Also by the Author:
NOVELS
Contemporary Young Adult: Pieces of Love, Heaven is for Heroes, On Thin Ice, Savage Cinderella.
Dystopian Young Adult: Chronicles of Lily Carmichael trilogy
Book One-Waning Moon
Book Two- Western Desert
Book Three-Healing Waters
SHORTS
Soul Redemption-15k Short story prequel to WANING MOONSami's Christmas Wish List-30k novella (Girls of Thompson Lake Box Set)
BOX SETS
Girls of Thompson Lake-HIFH, OTI, POL, and a novella (SCWL)
Book Trailers: http://www.youtube.com/pjsharon64
---
Give yourself a treat this weekend. Read a book!