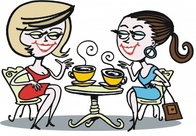 Welcome to the Wednesday Coffee Chat!
Today's guest is Bartenn Mills, author of mysteries with a paranormal twist.

Nice to have you visit us, Bartenn. How do you take your coffee?

BARTENN: Thanks for inviting me. Mmmm, the coffee smells good. I'll take mine black. I need something to keep me awake because I've been staying up late reading your book Awakening the Fire.

Ally: Lol. Thank you for the plug! I'm happy to add to your insomnia! Can you tell us a little about yourself?

---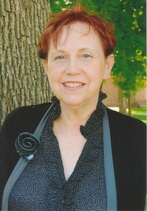 Brief bio – I've been an avid reader my entire life. When I went to the library, which was every Saturday, I would search out the thickest books on the shelves. It didn't matter what genre. As you could only check out ten books at a time, I just wanted to be sure that I had something to read all week. But it wasn't until I reached thirty that I decided to be one of those magic people who make words appear on the page. Dreams of writing were derailed by raising two wonderful children, one with a disability, a full time job and a husband who worked second shift. As quickly as my nest had filled up it seemed to empty out. After my daughter got her degree in English Lit she came home, dragged one of my old manuscripts out from under the bed and handed it to me. "Write," she said. So now I find myself up before dawn playing with my imaginary friends.
And the unique factoid you wanted about me: I used to design quilt patterns so if you enjoy curling under a quilt while reading a good book I have plenty of both.

Contact Bartenn:
Amazon Author page: http://www.amazon.com/Bartenn-Mills/e/B00MH9L06A
website: http://www.BartennMills.com
Facebook: Barbara (Tenney) Mills

---
Ally: Since Bishop Bewitched is a Garfield Falls mystery, I assume Garfield Falls is a town. Tell us about your setting and why you chose it.

BARTENN: Garfield Falls is an imaginary town in the upper Midwest, an area I've lived in most of my life. I made the town fictional so that I could play with the interpersonal relationships without offending any real police officers.

Ally: Where did you find the inspiration for Bishop Bewitched?

BARTENN: I'm a big fan of the Dresden Files and NCIS, so I drew inspiration from both, then gave it a twist and made it my own.

Ally: Are you writing another book in this series? What's it about? If not, what is your next project?

BARTENN: The next book I will have out this spring is Vanilla Lies, a mystery set in 1985 where a young reporter unwittingly holds the key to a series of murders and must unravel the secret before she becomes the next victim. But because I've had so many requests, I have started another Garfield Falls mystery. This time I've changed to Sam's point of view. It is Sam's first case as a detective and he is assigned to help Bishop find the killer of a wealthy socialite.

Ally: Describe your writing day. Where, when, how long, goals, etc .

BARTENN: Since, like so many writers, I have a day job that buys the groceries, my day starts very early. I try to be up by 5:30. After getting completely ready for my day job, I take my coffee and stumble back to my daughter's bedroom, which we have converted into office space for me and my husband. I start a kitchen timer and get lost in whatever I'm working on. When the timer goes off, I have to leave. I've tried writing before getting ready for my day job but found myself sneaking just five more minutes and having to choose between being late or going without make-up. Not a pretty sight. Someday I hope to be able to write all day. There are just so many stories waiting to be told.

Ally: I love quick answer questions, so here are yours:

a. pie, cake or cookies? Brownies, they're kind of a cookie-cake, right?
b. What author living or dead would you take to lunch? I've been an avid reader all my life so narrowing it down to one is difficult. Since I recently read the BLACK COUNT about the father of Alexander Dumas, I will go will Dumas. Not only did he write some of my favorite books, the Count of Monte Cristo and the Three Musketeers, he lived through one of my favorite time periods, the French Revolution. (Note from Ally: D'Artagnan (the fourth musketeer) was my hero!)

c. Most memorable movie you've ever seen: I love the movies, fortunately my husband feels the same way. If you don't find me in a bookstore, you'll find me at the movies. I think we own over 500 DVDs. My son says I like romantic comedies with monsters. I'm not sure there is such a genre. But some of my favorites would be the Mummy I & II, (the ones with Brando Fraizer) Die Hard I, II & IV, Inkheart, Prince of Persia, Stardust, Hogfather, all the Johnny Depp pirate movies. I'm a huge fan of Disney animation and Pixar such as Mulan, Walle, Up and Big Hero Six. And I can't forget stop-action animation films like Corpse Bride, Wallace and Grommet, and the Boxtrolls.
d. an item on your bucket list: Right now my bucket list is pretty empty. Getting published was a big goal for me. I spent many years learning, going to conferences, writing, rewriting and writing some more. So when my first book, Bishop to Queen's Knight, came out I was beyond thrilled. I'm still in a little bit of shock that people I don't even know like the characters and contact me wanting more. Bishop Bewitched goes deeper into the paranormal side of my detective. He would never admit that he talks to ghosts, but I think it's pretty clear that he does.
e. your favorite type of jewelry: Real. I worked at a jewelry store right out of college and when I started handing my paycheck over to cover all the things that I'd bought, my father suggested I get another job. Funny how the things I wanted so badly then now sit in my jewelry box and are never worn. My favorite piece of jewelry is a Mickey Mouse ring my husband bought me for Christmas a few years ago.
Ally: It has been a pleasure having you. I wish you the best of luck with your books. Before you go, please tell us a little more about Bishop Bewitched...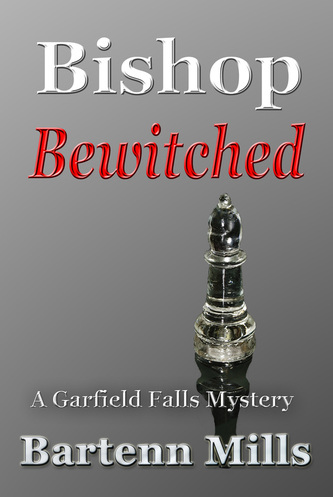 ---
Thanks for spending time with us! Come back soon!