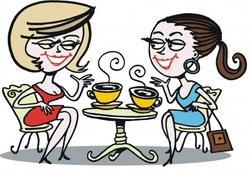 Welcome, booklovers!
I have a new author for you to meet today, romance writer, Jana Richards. May I fix you something to drink, Jana?

JANA: Coffee, please, with milk, no sugar.

Ally: No problem. Now we're settled with our favorite brew, tell us about yourself.


---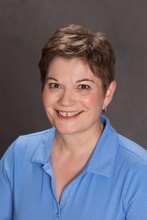 Bio:
When Jana Richards read her first romance novel, she immediately knew two things: she had to commit the stories running through her head to paper, and she'd found what she was meant to do. Since then she's never met a romance genre she didn't like. She writes contemporary romance, romantic suspense, and historical romance set in World War Two, in lengths ranging from short story to full length novel. Just for fun, she throws in generous helpings of humor, and the occasional dash of the paranormal. Her paranormal romantic suspense "Seeing Things" was a 2008 EPPIE finalist.

In her life away from writing, Jana is an accountant/admin assistant, a mother to two grown daughters, and a wife to her husband Warren. She enjoys golf, yoga, movies, concerts, travel and reading, not necessarily in that order. She and her husband live in Winnipeg, Canada with their Pug/Terrier cross Lou and several unnamed goldfish. She loves to hear from readers and can be reached through her website at www.janarichards.com

One unique factoid about me is that every year I spend a few days at a writing retreat at a monastery in Saskatchewan with some of my writer friends. We stay in a little building called St. Scholastica that used to house the teaching nuns. But it's not as medieval as it sounds. The monastery is actually pretty modern and hi-tech these days!
Contact Jana:
Website: http://www.janarichards.com
Blog: http://janarichards.blogspot.com
Facebook: http://www.facebook.com/JanaRichardsAuthor
Twitter: http://www.twitter.com/JanaRichards_
Amazon Author Page: http://www.amazon.com/author/janarichards
---
Ally: I'm always interested in how authors got started in a particular genre. Why did you begin writing romance stories?

JANA: I was on holiday with my family back in the early nineties when I ran out of reading material. We were in a beach community and the only thing I could find at a convenience store was a romance novel. I can't remember if I'd read a romance before, but this was the first time one really clicked with me. I thought "I could write one of those." Now I know how incredibly naïve I was being! My first efforts weren't great, but I persevered and eventually I produced something worth publishing.

Ally: When were you first published and how did that happen? Was it a long or short journey?

JANA: It was a very long journey! I call it my apprenticeship. I was first published in 2007 with my contemporary romance HER BEST MAN. I had almost decided to quit writing because after many years of trying I was tired of rejection. For many years I submitted manuscripts to print publishers without any success. A friend suggested that I submit to her epublisher, and figuring I had nothing to lose, I sent them the manuscript. I was amazed and thrilled when they emailed back saying they wanted to publish it.

Ally: How do you choose the names and physical characteristics of your characters? Do you base them on real people?

JANA: Sometimes a real person will inspire a character for me, but most often their names and physical characteristics are based on the way I see the character in my head. Choosing a name sometimes drives me crazy. It has to feel right. I've been known to change a character's name many times until it feels like it belongs. I often peruse the baby naming sites on the Internet, or the historical sites that give names popular in a certain year if I'm writing a historical novel. For last names, I often scan my city's telephone book. Sometimes a name just comes to me and nothing else will do.

Ally: I know authors are always working on something. What is your next work in progress?

JANA: I'm actually working on a few things right now. One of the things I'm in the process of developing is a series about the characters in a small North Dakota town. The first book in the series is called CHILD OF MINE. Lauren Walsh suddenly finds herself widowed and pregnant. But her late husband is not the father of her child. Will she have the courage to tell the people in her small town that the baby's father is her late husband's brother?

The next book in the series is Lauren's brother Garrett's story. Garrett returns from military service in Afghanistan not sure where he belongs. In book three, Garrett and Lauren's sister Charlotte struggle to forget what happened to her in college.

Aside from that series, I'm also working on a series called "Love in the North Woods" about three sisters trying to bring their grandparents' fishing lodge back to life, while figuring out what really caused the deaths of their parents. In the "Twice in a Lifetime" series, people travel back in time for a second chance at love.

Ally: Let's try a few 30 seconds quick answer questions:

a. happily ever after - fact or fiction? Fact. Look at me. I've been married for more than 35 happy years.
b. Do you hope to still be writing 10 years from now? Absolutely!
c. favorite Valentine's candy: Chocolate, definitely.
d. Most memorable Valentine's Day: Every Valentine's Day! My husband and I usually go out for a lovely dinner.
e. Can you recommend another author or book to readers? Sure. I love Mary Balogh's books. And I really liked my friend Karyn Good's latest romantic suspense OFF THE GRID.
Ally: Thank you so much for spending time with us today. Before you go, please show us a little more about your book, One More Second Chance.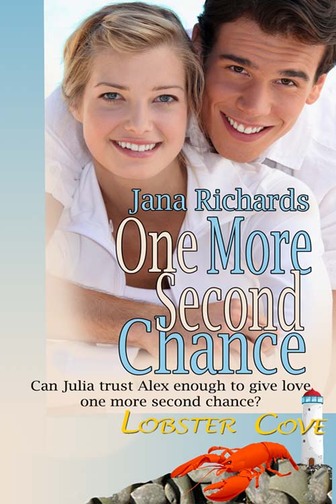 Title: One More Second Chance
Author: Jana Richards
Genre: Contemporary Romance
Publisher: The Wild Rose Press, the Lobster Cove Series
Release Date: February 6, 2015

Blurb:

Dr. Alex Campbell has an agenda—finish his contract to provide medical services in Maine, pay off his medical school debt, and head back to his real life in San Diego. But when he meets Julia, all his carefully laid plans are put in jeopardy.

Julia Stewart, Lobster Cove's high school principal, swears she'll never let another man drag her away from the home she loves. Her aging parents need her, and the Cove is where she wants to raise her daughter. When her mother's illness brings her and the big city doctor closer together, panic sets in. Her marriage taught her men don't stay.

Can she put aside the heartaches of the past and trust Alex enough to accept the love he's offering? Or will her fear of abandonment mean she'll send him away forever?

Buy links:

Amazon: http://www.amazon.com/More-Second-Chance-Lobster-Cove-ebook/dp/B00S46KSX6/

Wild Rose Press: http://www.wildrosepublishing.com/maincatalog_v151/index.php?main_page=product_info&cPath=195&products_id=6065

Kobo: http://store.kobobooks.com/en-CA/ebook/one-more-second-chance

Chapters/Indigo: http://www.chapters.indigo.ca/en-ca/books/one-more-second-chance/9781628307061-item.html?ikwid=Jana+Richards&ikwsec=Books&ikwidx=0

ibooks: https://itunes.apple.com/us/book/one-more-second-chance/id959306323?mt=11

Excerpt:

"What did the x-ray find?" she asked.

"A spiral fracture of the right arm." He paused for a moment and took a deep breath as if trying to control his emotions. "I've seen this kind of injury before. A fracture like this can be the result of a fall, but it can also be an indication of child abuse. An arm as small as Ava's will break like a twig if it's twisted hard enough. I'm obligated to contact the authorities if I suspect abuse."

Julia stared at him in mute shock, her brain struggling to process his words, as if trying to translate some unintelligible language. The words child abuse rang in her ears. Finally she found her voice.

"You think someone deliberately hurt her?"

"Her injuries are consistent with abuse."

"I don't give a damn what they're consistent with. Ava has not been mistreated. My mother said she fell down the stairs, and if that's what she said, then that's what happened."

"I believe there's more to the story than a simple fall."

"If it comes down to believing you or believing my mother, I'm going with my mother."

"Perhaps you don't know your mother as well as you think you do."

Julia sucked in a breath and stared into Dr. Campbell's dark, accusing eyes. The idea that her mother would hurt Ava was ridiculous. She adored Ava, would do anything for her…

She blinked and looked away, remembering an incident the other day. She'd heard her yelling at Ava about the milk she'd spilled on the kitchen floor, making such a huge deal of it that Ava had cried. It had struck her as strange, since she couldn't remember her mother yelling at anyone, ever. She wasn't as patient as she used to be. And how did she explain her strange phone call telling her Ava had been hurt? Of course she'd been upset, but her mother had been nearly incoherent with distress. Was something going on she wasn't aware of? She was seventy-one now. Maybe looking after a rambunctious five-year-old was too much for her.

No. She shook her head to reject the disloyal thought. Dr. Campbell was the one who was wrong.

"I know my mother. She didn't do this. It was an accident."

"We'll soon find out. Sharon is questioning Ava now."

Julia stared at the door. "She'll be scared, all by herself."

"Sharon's very good at what she does. She has a way of making kids feel comfortable."

Julia turned on him, the anger and despair she'd been holding inside spilling out. "And you? Do you enjoy upsetting five-year-olds and turning families' lives upside down? Does it make you feel powerful to sic the authorities on us?"

"Look, Mrs. Stewart, I take no pleasure in bringing in the authorities. But I've seen child abuse, up close and personal, and I can tell you it's damn ugly. The things parents and caregivers are capable of doing to defenseless children…"

He stopped abruptly, his chest heaving. Closing his eyes, he averted his face and took a deep breath. When he turned back to her, his steely control was back in place. "So yeah, if I have even the smallest suspicion that a child has been abused, I'm going to ask questions. And I'm not going to apologize for it."
---
Thanks for stopping by the blog. Come back soon!