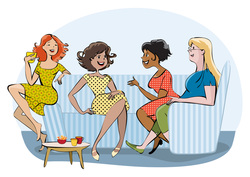 Good Morning, Booklovers!

If you're young or young at heart, pull up a chair and visit with today's guest, YA author, PJ Sharon.

What may I get you to drink, PJ?

PJ: I'm a tea drinker! Never acquired a taste for coffee. I prefer decaf Irish or English breakfast tea these days.

Ally: While I pour, please show readers your bio.

---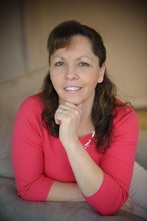 Brief Bio:
Award winning author of young adult books, including PIECES of LOVE, HEAVEN is for HEROES, ON THIN ICE, and Holt Medallion winner SAVAGE CINDERELLA, PJ Sharon loves writing for teens and teens at heart. Her latest work, HEALING WATERS, along with books one and two, WANING MOON and WESTERN DESERT, completes The Chronicles of Lily Carmichael, a YA dystopian trilogy.

In her "real life" job as a Massage Therapist, Personal Trainer, and Yogi, PJ has been called "a powerhouse of positivity and productivity." Her mantra is "find balance in all things, and live every day to the fullest." A black belt in the art of Shaolin Kempo Karate, avid kayaker, and singer of Italian art songs, PJ has two grown sons and lives with her loveable and very handy husband in the Berkshire Hills of Western MA where she writes YA…because every teen deserves a hopefully ever after.
Something unique about me? As part of my character Lexi's journey, I wrote and recorded a theme song for PIECES of LOVE, my latest contemporary YA romance, which released in June of 2014. Lexi is a young singer and song writer who wrote this song for her sister who died. You can hear a sample of the song in the book trailer. I thought it would be a unique angle to offer a link to the song within the e-book.
Pieces of Love Book Trailer:
http://youtu.be/6qTpFSh_Q_U
Available for download on i-Tunes: https://itunes.apple.com/us/album/pieces-of-love-single/id848325918

Contact the Author:

E-mail address: pjsharon64@gmail.com
Website: http://www.pjsharon.com
Twitter: @pjsharon
Facebook: http://www.facebook.com/pjsharonbooks
Tumblr: http://pjsharonbooks.tumblr.com/
Amazon's Author Central page: https://www.amazon.com/author/pjsharon
Goodreads: http://www.goodreads.com/author/show/5238865.P_J_Sharon
Google +: https://plus.google.com/+PJSharon/posts
---
Ally: We've already mentioned that you write Young Adult fiction. Can you tell us why you chose that genre?

PJ: I originally began writing adult romance about eight years ago, but quickly found that I was too embarrassed to have anyone I knew read them. I also knew that I wanted my writing to make a difference in people's lives. Not that adult romances don't inspire and entertain, but I considered the impact of sharing some valuable life lessons with teens in a way that wasn't preachy, but would help them in understanding themselves in a new way. I write books that I wish I had had to read when I was a teenager.
My first several YA novels were contemporary (I've combined HEAVEN is for HEROES, ON THIN ICE, and PIECES of LOVE together in a box set called The GIRLS of THOMPSON LAKE. Included in the set is a novella that ties all the characters together into one story). In the midst of writing contemporary YA novels, I had an idea for a dystopian trilogy that wouldn't leave me alone. If you're a writer, you know exactly what I mean. You also know the characters won't stop until you get them onto the page. It took me three years, but the Chronicles of Lily Carmichael Trilogy is now complete!

Ally: I'm always interested in other writers' plans for their writing. Do you have writing goals for this month? This year? Five years from now?

PJ: My writing goal this month is to make progress on a non-fiction project I've been working on—Ergonomics and Self-Care (A Practical Guide for Writers, Readers, Desk Jockeys and Couch Potatoes). The sedentary lifestyle prevalent in today's digital world is causing significant problems for people, and as a massage therapist and personal trainer, I see it firsthand. With over twenty-five years in the health and fitness field, I have lots of helpful suggestions that I want to share with the masses. I'm hoping to have the book done this summer since I'm doing a workshop on the topic at the New England Romance Writers Conference and the CT Romance Writers Fiction Fest this fall.

On the fiction front, I'm working on a series of novellas in sequel to SAVAGE CINDERELLA, one of my earlier novels that Wattpad readers have expressed an interest in reading more of. With almost three million reads, it seems I have a built in audience for continuation of Brinn's story. If I can finish one or two of those this year, I'd be really happy! Five years from now? Who knows? This industry is growing and changing so fast, I wonder where any of us will be in five years. Hopefully, I'll have a significant stock of books on my cyber-shelf and be able to start making some money for retirement. :)

Ally: Can you write anytime, anywhere? Are you easily distracted or totally immersed? Could you write on the subway?

PJ: I can write anytime and anywhere, but for proper ergonomics, I prefer my home office. I like to practice what I preach. :) Oddly, I can work with all kinds of noise around me, but can't work with music on at all. I've never tried to write on a subway, but I bet I could do it if push came to shove.

Ally: If you could claim ownership of any book, what would it be? And why?

PJ: OUTLANDER, by Diana Gabaldon comes to mind. I would have loved to write it for its shear brilliance, but now, I wish I'd written it for the massive financial success it has become.

Ally: Now for some fast answer questions:

a. What's your guilty pleasure? I'm a TV drama junky. I spend upwards of four-six hours a night sometimes, catching up on DVR'd shows, often staying up until 1 a.m. and regretting it terribly the next day. It's a horrible addiction! But who can resist back to back episodes of Downton Abby, NCIS or Castle?
b. favorite fashion accessory- Soft, fleecy scarves in winter. They're so versatile! Besides, if my neck is warm, my whole body is warm. That and a fabulous pair of Merrill's—my go-to shoe for comfort and style.
c. favorite vegetable-Potatoes…I could eat them mashed, baked, fried, or by the bucket load. I've switched to sweet potatoes these days, but as a splurge, I'll have a baked potato with a steak or lobster.
d. an item on your bucket list- Ride a gondola in Venice.
e. last book you cried over-Kristan Higgins's books always make me cry…then laugh…then cry again. I know I'll need tissues when I open one of her novels.
Ally: Thanks so much for visiting with us. I wish you great success with your books. Before you go, tell us about the books you brought.
---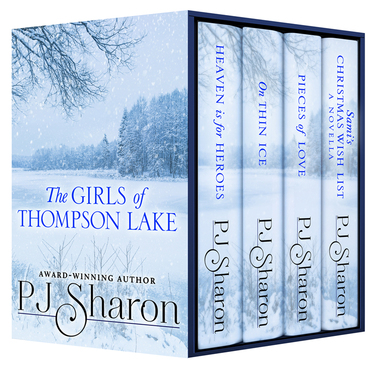 Blurb:
The GIRLS of THOMPSON LAKE includes the award-winning Young Adult novels HEAVEN is for HEROES, ON THIN ICE, and PIECES OF LOVE by PJ Sharon. Filled with family drama, challenging teen issues, and sweet romances, these stories promise laughs, tears, and hopefully ever after endings. With the heroines all connected through their home town, you get a glimpse of their friendship in each book. Added as bonus content in this box set, and tying all the main characters into one heartwarming holiday novella, SAMI'S CHRISTMAS WISH LIST will have you rooting for our troubled teen heroine and falling in love right alongside her.

SAMI'S CHRISTMAS WISH LIST-Bonus novella (28K)
Log Line:
Can 17 year-old Samantha Owens bring her friends together to save the local church…just in time for Christmas? Or will the ghosts of her past keep The GIRLS of THOMPON LAKE apart?

Read a chapter on Wattpad:
http://www.wattpad.com/story/28670928-sami%27s-christmas-wish-list

Book Trailers:
http://www.youtube.com/pjsharon64
Purchase Links:
Amazon: http://www.amazon.com/Girls-Thompson-Lake-Box-Set-ebook/dp/B00R334GSE/
Amazon UK: http://www.amazon.co.uk/Girls-Thompson-Lake-Box-Set-ebook/dp/B00R334GSE/
BN: http://www.barnesandnoble.com/w/the-girls-of-thompson-lake-pj-sharon/1120929630?ean=2940150139459
Apple: https://itunes.apple.com/us/book/id952786455
Kobo: http://store.kobobooks.com/en-US/ebook/the-girls-of-thompson-lake
---
Thanks, readers, for spending part of your day with us. Come back soon!