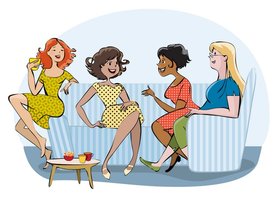 Welcome to this week's book chat!

My guest today is author Kathleen Heady with her book, Hotel Saint Clare. How do you take your coffee, Kathleen?

KATHLEEN: First of all, after living in Costa Rica, I appreciate the best coffee. I grind my own beans and make it myself in a French press. I make it strong and add hot milk. It's the best.

Ally: Hmm. It might be hard to compete with that, but if anyone can, my magic coffee pot can do it. We'll have you fixed up in a second. In the meantime, could you show readers your bio?

---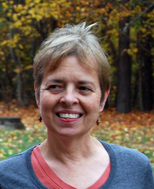 BIO:

Kathleen Heady is a native of rural Illinois, but has lived and traveled many places, including numerous trips to Great Britain and seven years living in Costa Rica. Her third novel, Hotel Saint Clare, was released in June, 2014. She is also the author of Lydia's Story and The Gate House, which was a finalist for an EPIC award in 2011.

You asked for something unique not in my bio: I love yoga and try to find a class when I travel. The most recent was at Montezuma Beach in Costa Rica. The class was on the second floor above the hotel restaurant. The smells from the kitchen were tantalizing, and we looked out at the beautiful Gulf of Nicoya.

Contact links:

www.kathleenheady.com
www.facebook.com/kathleenheadyauthor
www.twitter.com/kheady9

---
Ally: Given this is April 1, I have to ask--are your responses for real or is this just a big April fool's joke?

KATHLEEN: Yes, my responses are for real. At least at the moment they are. :)

Ally: Now that we've dispensed with the nonsense, tell us what kind of books you write. Genre, sub-genre.

KATHLEEN: My first three books were mysteries, all featuring the same main character. Hotel Saint Clare tells the story of Nara on the fictional Caribbean island where she grew up. The Gate House and Lydia's Story are set in England. I have some ideas for a fourth one, but I am currently working on a historical fantasy set in England in the thirteenth century. It centers around a true historical mystery.

Ally: What do you think are the required elements for a successful mystery? For example, does it have to include a murder?

KATHLEEN: I do not think a successful mystery has to include a murder. Alexander McCall Smith's books are good examples. My books do include murders but they are not the central mysteries in the stories. A good mystery novel just needs to have a central question that the protagonist is trying to answer. In order to be compelling, it needs to have importance to the characters or the world at large. In my second two books, the mystery centers around art theft, and the greed that can drive people to steal great works of art only to possess them.

Ally: Do you belong to writer organizations? Do you find it helpful enough to recommend to beginning authors?

KATHLEEN: I belong to Sisters in Crime, both the national organization and a local chapter. I have found it quite helpful to be able to share ideas with other writers, and we are able to help each other in promoting our books. I would highly recommend it for anyone writing mystery and suspense novels, and beginners are certainly welcome.

Ally: Tell us about your current work in progress.

KATHLEEN: I mentioned my current work in progress earlier, but I will reveal a few more details. The tentative title is Magic Words, although I believe that will change. I am aiming it at a young adult audience. It is based on the story of King John of Magna Carta fame, who also infamously lost the entire treasure of the English royalty, crowns, orbs, scepters, jewels of all kinds, in the Wash, an arm of the North Sea. None of it has ever been found. That is the historical mystery. In my story, there is a parallel world of magic people who exist. One of them, a young girl named Brianna, leaves her village near the Wash after her mother disappears. The novel is her story, as well as what might have happened to King John's treasure.

Ally: I love quick answer questions, so here's a few for you:

a. your writing word/page goals per day or week: I don't have a specific goal. It depends on what I am working on. When I am writing a rough draft, I often aim for 1000 words a day. Right now I am working on revisions of Magic Words and I try to go through a chapter a day.
b. last place you shopped: Trader Joe's
c. an item on your bucket list: I'm not really a bucket list kind of person. I have traveled a fair amount and done some interesting things, but I would love to visit Iguazu Falls on the border of Argentina and Brazil.
d. something you find irresistible: That soft spot on the back of my little grandson's neck is irresistible. Anyone who has children or grandchildren will know what I'm talking about.
e. plotter or pantser: I'm definitely a "pantser." I tried writing from an outline once, but the story went off in its own direction anyway, so I gave up. At some point in the story, though, I will make a rough outline, or more of a plot line, so I can be sure the parts of the story connect properly.
Ally: I've enjoyed chatting with you, Kathleen. Thank you for being on the blog. Before you go, please share the book you brought...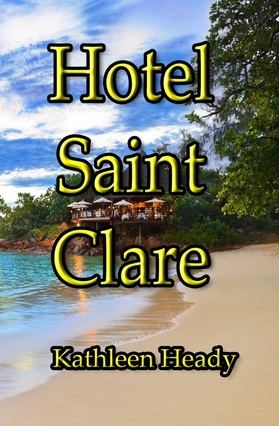 ---