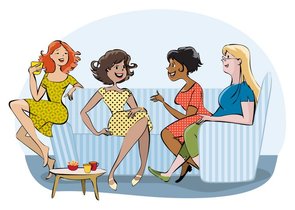 Good Wednesday, Booklovers!

I hope you're in the mood for a little romantic suspense. Author Ellie Eden is visiting this week with her novel, Letting Evil In. (There's a nice bod on the cover!)

Welcome, Ellie! What can I get you to drink?

ELLIE: Coffee with cream. Tanned and sweet but not too sweet - like I like my guys :)
---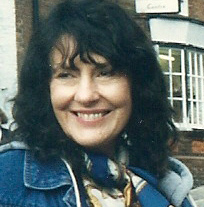 Ellie Eden thinks the next best thing to hot romance is reading or writing about it. And she finds it even better to be somewhat scared or totally petrified at the same time. That's why she loves Romantic Suspense/Thrillers. She favors strong, protective alpha heroes, but finds murderous but good-looking bad guys fun too, at least on paper. And she loves to escape into an exotic, preferably crime-ridden, location.
In another life, Ellie Eden writes as Ellie Crowe, the best-selling author of two cultural travel books about the Hawaiian Islands and a number of award-winning biographies about mostly alpha heroes such as Surfer of the Century, the Life of Duke Kahanamoku.

Contact the Author:

Website: https://edenauthor.wordpress.com/
Twitter: https://twitter.com/EllieEdenAuthor
Facebook: https://www.facebook.com/pages/Ellie-Eden/274326029400077
---
Ally: Let's start by telling readers what kind of books you write.

ELLIE: I've written a number of travel books, children's books and biographies, written as Ellie Crowe. LETTING EVIL IN, written with the pen name Ellie Eden, is my first romantic suspense novel. I love to read Romantic Suspense/Thrillers and it was really fun to write on the dark side. I found myself falling for the hero, Tony, so good-looking, hot, caring, strong, and enough of an edge to make you wonder if he is really too good to be true. One of my bad guys was cute too - Azul, the drug dealer with the blue, blue wolf's eyes. Of course the real villains were a scary evil lot. I also enjoyed writing from the perspective of Nara, the bad girl. Its liberating to be on the dark side! The heroine, Kristi, had a lot to contend with!

Ally: Setting can add so much richness to a story. What's the setting for Letting Evil In? Is it important to the story?

ELLIE: I love reading books set in exotic locations. LETTING EVIL IN is set in Rio de Janeiro. I traveled to South America and thought Rio a fascinating location for a book. Its a beautiful but dangerous city and the people are lively and attractive. The rainforests are deep and dark - a great place to lose a heroine. There is even a spooky mausoleum that I simply had to bring into the plot. And there is a voodoo religion with a powerful but fickle goddess still worshiped today. What more could one want! The setting itself is a big part of the story.

Ally: You described this book to me as a "little racy." What can readers expect? Is this hot and steamy sex or just a touch of spice? But don't give too much away. :)

ELLIE: When I read love scenes I like to feel I am there, part of the intense feelings, the sizzling sensations. I don't like books that read like a how-to-do-it-manual or Sex 101. I think the reader grasps the general idea - the emotions and sensations and longings are something I try to convey. A lot of readers said the book was hot - I'm glad!

Ally: Describe your journey to publication. Did you have an agent? Did you know someone? Random query?

ELLIE: I sent the novel to a few agents and was rejected despite the fact that most said they enjoyed reading it. That was depressing, so I decided to go directly to a publisher. I then looked for a publisher who published similar books and was open to accepting books directly from writers. I sent the novel to two publishers and both accepted the book. I liked the sound of the editor at Etopia Press, so I chose Etopia Press. I really like the other authors I've met through Etopia. Its been a great experience to get to know these writers online. I also love the cover Etopia designed.

Ally: What's your next writing project?

ELLIE: I want to write a dystopian novel. I'm working on the plot at the moment. I nearly crashed the car the other day while thinking about it while driving, so writing can be a dangerous occupation!

Ally: Are you ready for a few quick answer questions?

a. a favorite musician: My son, Adam Crowe, - that's one of his songs on my YouTube video https://www.youtube.com/watch?v=yBj0-Y90NNA. A few summers ago my husband Will and I became groupies and followed Adam's band FreeSound on tour around California, Montana, Washington and Idaho. We really enjoyed the colorful scene at the Monterey Bay Blues Festival and the Seattle Hemp Fest. One of the best parts was at a nightclub. On the dance floor, I noticed a pretty girl fumbling around under her sweater. Then she took off her bra, ran up to the stage and looped the bra around Adam's microphone cord. Wow - I couldn't believe it! My son! Will and I cracked up, silently! Adam, playing lead guitar, was oblivious. He had his eyes closed as he played so didn't even notice. Later the bra took a place of honor in the tour van.
b. a favorite author: Joy Fielding. I love that type of romantic suspense/thriller where the characters are all people you can relate to who are unaware they are in perilous situations until its too late. I love lots of turns and twists in a plot. That's what I try to write.
c. Are you a spike heels or sneakers girl? I'm 5'4" and would love to be taller so I usually wear heels. I'd love to have them really high but I'd probably fall over, so they are more like medium. I wear sneakers for hiking.
d. a favorite summer sport: Hiking. I also love to snorkel.
Ally: Thanks so much for visiting today. I hope you'll come back and chat again. Now, let's take a look at your book...
---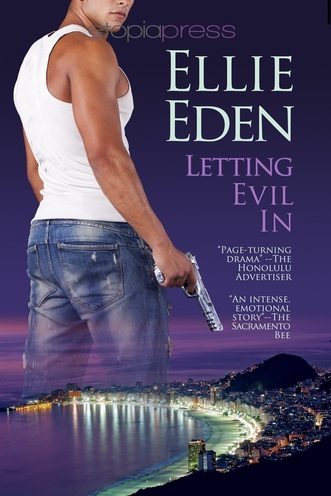 Blurb: LETTING EVIL IN

When Michael goes on a photographic assignment to Brazil and fails to return, Kristi and her son fly to Rio de Janeiro, desperate to find him. Instead she finds that during the cold New Jersey winter, her husband has spent his time in steamy chat rooms with Nara, a young woman desperate for attention and involved in the Rio drug world.

As she searches for Michael in exotic but crime-ridden Rio, Kristy finds herself way out of her league. She turns to Italian-Brazilian Federal Agent Tony Lamazzo for help. As the harsh truth of her marriage brings a dose of reality to her life, she finds the temptation of getting closer to the strong, capable—and totally hot—Tony difficult to resist. She's in Brazil on the Day of Dead, a day when Brazilians go wild. Why shouldn't she go wild with Tony, for just one night, before returning home to start the new life alone she'll have to learn to make for herself?

But when her son vanishes too, Kristi doesn't know where to turn. Michael's affair with drug-dealing Nara has exposed them all to the murderous wrath of a ruthless drug lord, and while she longs to trust Tony, she can't trust his powerful and politically corrupt family. But in the dangerous slums and rainforests of Brazil, the danger mounts for both Kristi and her son, and a cold-blooded enemy has an agenda of his own. If she trusts Tony, she might save her son. Or it might just get them all killed…
BUY LINKS:

http://www.amazon.com/Letting-Evil-In-Ellie-Eden-ebook/dp/B00JRFVP2G
http://www.barnesandnoble.com/w/letting-evil-in-ellie-eden/1119257208?ean=2940149345595


---
Thanks for stopping by the blog. See you next week!
Don't forget to buy her book! :)