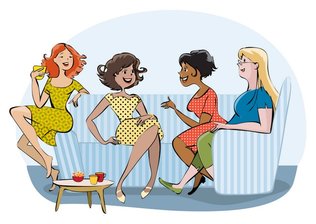 It's Wednesday! Time for book talk!

My guest today is Kathy Otten, a writer of historical romance.
Welcome, Kathy! How do you take your coffee?

KATHY: Tim Horton's medium dark roast with two creams, or on special occasions, Starbuck's mocha frappicino venti with whipped cream and a shot of espresso.

Ally: Since I always have Starbuck's on hand, that frap will be coming right up. Please tell readers something about yourself.


---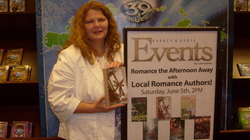 Brief Bio:

Kathy is the mother of three grown children and lives in the open farm country of western NY with her husband of thirty-two years. She enjoys taking long walks with her German Shepherd Max, through the fields and woods near her home. In the winter she likes to curl up with a good book and one or two of her four cats, while the snow blows outside. In between family, work and animals she can be found at her computer weaving stories of laughter, heartache, and love for the crazy cast of characters swirling around in her head.

Tell me something unique/unusual that isn't in your bio. My husband and I used to dairy farm. My critique group thought it was pretty funny when I explained how to artificially inseminate a cow.

Contact the Author:

Website: http://www.kathyottenauthor.com
Blog: http://www.kathyotten.blogspot.com/
Twitter: https://twitter.com/kathyotten
Facebook: https://www.facebook.com/kathyottenauthor
---
Ally: What inspired you to become a published writer? How did you go about it once you knew that's what you wanted?

KATHY: I've written stories as long as I can remember. My mom said it began when I asked her to buy me a new Little Golden Book. She told me to write my own and I wrote Lucky the Dog. For many years after, I kept my stories in notebooks and though I dreamed about being published I didn't know how to go about it. When my kids got older I joined Pennwriters, Inc. When I brought my first piece to a critique meeting, I was told my point-of-view was off. I didn't know what that meant. A book was suggested, I bought it, and began to study craft. I went to regular critique meetings and found my first publisher in the Pennwriters newsletter.

Ally: Describe your writing day, including when and where you write. Do you have a writer's cave?

KATHY: I don't have a cave. I have a corner on the back porch. It's pretty cramped, but there are lots of windows with nice views, so it doesn't have that cave feeling. I work 40hrs in three days, Fri-Sun. So that leaves Mon-Thurs to do everything else. What I try to do is work from 10-3:30 including an hour in the morning and an hour in the afternoon to write. The rest of the time is spent marketing, promoting, going through emails and the different social media, writing blogs or workshops, and researching.

Ally: What does your family think of your writing? You mentioned some of your books are rather spicy. Do they read them?

KATHY: My mom read everything I wrote, but skipped any of the places that made her uncomfortable. My brother reads everything, but I'm not sure if he too, skips. I have an aunt and uncle who read all my books, but that's about it. My dad passed away before I got published, but he probably would have read everything. My kids have never read anything I wrote and neither has my husband. It's probably a good thing though, since he's always telling me how to drive, I can't imagine what he'd tell me about my writing. :)

Ally: You brought a short story to spotlight today. What period in history did you use for the setting and why?

KATHY: Since After the Dark is based on the actual event of the Boston Molasses Flood in 1919, I had no choice in setting, weather, or even time of day.

Ally: Here are five quick answer questions:

a. favorite place to shop: Lane Bryant and Barnes and Noble
b. favorite fruit: Banana
c. what food or drink is on your can't-live-without-it list? Water
d. favorite time of day: Sleeping late on Monday mornings.
e. Do you have pets? What are their names? Old age is slowly claiming my pets one-by-one. Currently, I have Max, my big German Shepherd, and Buttons, Chester, Wires, and Bobbie my four cats.

Ally: Thanks for visiting, Kathy. Before you leave to get on with your busy schedule, please show us the cover and blurb for your story...
---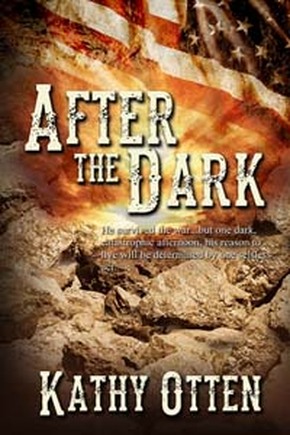 After the Dark:
He survived the war, now his reason for living has come down to one last act.

Blurb:

Months in the trenches of France have left Liam Gallagher wondering why he has survived when better men did not. His guilt intensifies when he returns home only to come down with the deadly Spanish Influenza sweeping the country. Once again Liam lives when thousands do not.

Now the only bright spot in his monotonous life is the time he spends each day walking with Rosalie Moretti. Their talks give him hope for the future, a future possibly to include this vibrant, loving woman. Until one dark, catastrophic afternoon, when Liam realizes the reason his life was spared has come down to minutes and his ability to perform one selfless act.

Excerpt:

The warmth of Rosalie's palm pressed against his free hand. Heat rushed to his cheeks, and between their palms, his skin dampened. He laced his fingers with hers. With the pad of his thumb, he traced the top of her hand. Her skin was so smooth. Were all women this soft, or had he just never noticed?
She tugged him forward, and loath to release his hold, he followed her up the steps.

He cast one quick glance over his shoulder toward the city livery and blacksmith shop. He should return to his beat, walk around the tank, and chase away the lads and lasses who'd come with their pails to collect the constantly dripping molasses.

But when he looked back at Rosalie, a secretive smile teased the edges of her full lips, as though she were aware of her own seductive power over him. And like a green lad, fresh off the boat, he allowed her to lead him inside.

Buy Links:

http://www.amazon.com/After-Dark-Kathy-Otten-ebook/dp/B00WDIJ6EI/ref=sr_1_1?s=digital-text&ie=UTF8&qid=1429537299&sr=1-1&keywords=kathy+Otten

http://www.wildrosepublishing.com/maincatalog_v151/index.php?main_page=product_info&cPath=195&products_id=6223
---
Thanks for joining us for coffee. Come back soon!

---