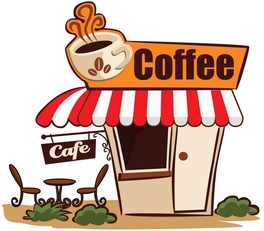 Welcome, booklovers!
Romantic suspense author Susan Roebuck is visiting with us today.
How do you take your coffee, Sue?

SUE: Oh, how you're going to be sorry you asked me that. Coffee drinking is a serious business here in Portugal. It's a way of life and such a tradition that coffee is subsidized by the government. Everyone, but everyone, heads out to one of the lovely cafés that are on every street corner for their morning "caffeine hit".

You could attend a course on the amount of different coffees that you can have here. Me? I'll have a "pingado" which is a short expresso with a drop of milk in it. Then I'll have another at lunchtime and that's it – it's so strong that, if I had any more, I'd be shaking in my socks.

Ally: Since I have a magic coffee pot, nothing is too hard for it. I'll have that pingado coming right up. :) In the meantime, please show readers your bio.

---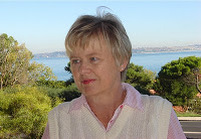 BIO:

My name's Susan Roebuck. I was born and educated in the UK but I now live in Portugal with my husband (who's Portuguese). So now you know where the inspiration for my latest novel, Rising Tide, came from, especially as my office where I write overlooks the glittering Atlantic Ocean. I've also traveled widely in the States (inspiration for Perfect Score, my first novel) and I honestly believe that being born in the US is like winning the lottery of life. I adore the country.
Something unique that isn't normally in my bio -
I was a teacher and before I took up writing full time I designed e-learning/long distance courses which I loved because I could teach from home in my pajamas!Contact the author:

Website: http://www.susanroebuck.com
Facebook: https://www.facebook.com/SuRoebuck
Twitter: https://twitter.com/suemonte

---
Ally: How did you choose the name Luminosa for the village in your romantic suspense titled Rising Tide? What does it mean?

SUE: Luminosa is a Portuguese word for something full of special light, and definitely beautiful. My husband tells me I invented the word! But, you know, the houses of the Alentejo (where Rising Tide is set) are all white – so they reflect the warm sunlight in a bright light.

Ally: Is it difficult to write in different genres? How do you keep them from spilling over into each other?

SUE: You know, they're not so different genres as such. Every book has the same theme running through it – injustice, the weak winning over the bullies. Two of them might be romance/suspense (Perfect Score is also LGBT), and the third is a dark fantasy – but those themes are well to the fore in all of them.

Ally: How long have you been writing--and how long published? Describe the process and time it took the first time from query to contract.

SUE: Um…have you got all day? LOL. As most writers I've always enjoyed writing – I was the geeky kid at school who whooped when given a composition to write for homework while everyone else in the class groaned. I'm also an avid reader, which helps. But, of course, I had to work for my living until only recently when I stopped (for health reasons) and found I had time for writing. The process? Gallons of sweat and tears: submission after submission; rejection after rejection. Don't forget that Perfect Score is LGBT and was published in 2010 so I was subbing in 2009 when LGBT wasn't exactly as popular as it is today – I even got rejections that said, "we can't publish that subject matter" even though there is just one page of explicit sex (and it's not erotic, it's subtle) in the whole book! Mundania Press took a chance on me and I'm so glad they did. Perfect Score was a finalist in the EPIC (Electronic Publishing Industry Coalition) 2011 e-book awards in the mainstream category. And Hewhay Hall won their 2013 ebook award for horror, so I have a nice trophy.

Ally: What is your next project? What genre?

SUE: It'll be romance/suspense again with a touch of magic, perhaps paranormal. All my books seem to have a thread of magic in them.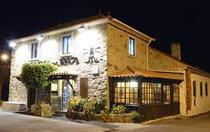 Ally: Let's finish today with a few quick answer questions:

a. favorite restaurant: Refugio da Roca in Cabo de Roca (most westerly point of mainland Europe). Try the fresh seabass cooked in a casing of salt (and no, the fish isn't at all salty, just juicy and fresh). (see photo "refugio")
b. favorite flower: fuschia – my brother grew potloads of them. Unfortunately he's no longer with us and I miss him terribly. In Portuguese they're calls "brincos de princesa" or princess earrings.
c. last book or movie that made you cry: I don't seem to cry at books – perhaps I don't read the right kind – unless I'm sad it's finished it was so good. I cried at the film "Philadelphia" with Tom Hanks ages ago. Oh and "Terms of Endearment".
d. What is your secret indulgence? A reflexology session. I love, love my feet being rubbed and it does me good too!
e. Have you secretly based a character on someone you know? If so, are you going to tell us who? :) No. LOL – but watch out, if anyone's nasty to me, I might put them in a future book as the baddy who makes everyone cry. :)

Ally: It's been a pleasure to have you visit, Sue. Before you go, please tell us more about your latest release...
---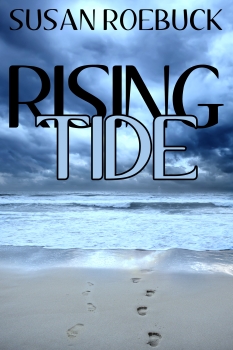 Blurb: A suspense story with romantic overtones and a touch of magic, Rising Tide is set in Luminosa - a small feudal-style fishing village on the east coast of Portugal which time, and most of the world, has forgotten. The villagers quietly go about their business scraping a living off the land and from the sea in the old traditional ways. Their life is largely uncomplicated. Or is it?

Unbeknown to each other, three strangers turn up on weekend, each with the potential to destroy the village.

Leo Shine, a hardened fisherman immune to the perils of deep-sea fishing in Alaska, is convinced that the culprit for the deaths of his father and brother lives in Luminosa.

Piper Pines, a young artisanal fisherman from the North Norfolk coast in the UK, has arrived to find the villager or villagers who have kept her and her father on the run since she was born.

An American racketeer is the third visitor. He has faux investment plans to develop the village as a tourist resort which could result in Luminosa being destroyed.

There are many questions to be answered, not least of which is just why do these simple Portuguese villagers all speak such good English?

Trailer: https://www.youtube.com/watch?v=9xk0XfQIDso&list=PLrRS_zogvFJL6DApAAYd79UCArYnuaZj2&index=33

Buy Links:

Amazon UK
Amazon US
Barnes & Noble UK
Omnilit
Mundania Press
---
Thanks for stopping by today. Come back soon...

---