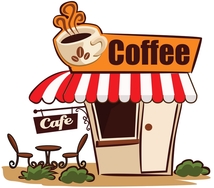 It's Wednesday, Booklovers!

You're invited for book talk and a chat with another awesome author! This week's guest is Kayelle Allen, romance author and a great friend to other authors.

Welcome, Kayelle! How do you take your coffee?

KA: I like Starbucks, and want it sweetened with agave and pale with cream.

Ally: Perfect. While my magic coffee pot gets our mugs filled, please introduce yourself.


---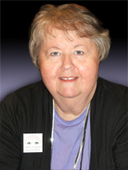 ---
Ally: What made you decide to write romance novels? Do you stick with one sub-genre or many?

KA: I love writing, and romance has many readers in multiple genres. Since I write scifi, scifi romance, fantasy, contemporary romance, gay scifi romance, and non-fiction, this is a good fit for me. I can't write just one thing. My imagination is on hyper drive. I'm never at a loss for ideas and have trouble narrowing down what I want to say. I tend to write complex stories with lots of plot and characterization. It's always the people in the stories, isn't it? That's what I like to create, and writing romance allows me to do that. I* make readers a promise. I promise them a great roller coaster ride of a story that brings excitement, fun, and takes them in directions they didn't expect. I can do all of that within a love story.

Ally: Which part of writing do you enjoy the most: first draft or revision/editing. Has that preference changed over time?

KA: Oh the editing, probably. I do enjoy worldbuilding, and creating, but the joy of seeing the words become precise is more satisfying. I enjoy seeing comments by beta readers and editors. It's good to know when I've made a difference. Perhaps I started out preferring the creation process, but over time, I've learned to appreciate sharpening the tools.

Ally: Many writers owe you for helping us connect with each other and with online resources. Please tell readers about Marketing for Romance Writers: what it is, how it got started, and your hopes for its future.

KA: Thank you. It's gratifying to hear that. When I was a new writer, I learned there were a few friends like me who studied not only the craft of writing but also the craft of marketing. They learned tips and tricks and would share them. We emailed each other. I started noticing that I'd get the same question from different people and would end up writing the answer to all of them. One day, I thought -- there's got to be a better way to do this. I'm repeating myself endlessly.

I had a Yahoo group for myself, as many authors did, so I decided to start one for authors who had marketing questions. Many times over the years I've regretted calling it Marketing for Romance Writers, and wished I had just called it Marketing for Writers. We have members who have never written romance, but they have the same questions. I began the group with about twelve people and remember being excited when we reached a hundred members. Then we reached five hundred. By then, I realized this was going to be huge. The Yahoo group now has over 2300 members, and as I write this, there are 5680 members on our Facebook group. We have blogs, a Pinterest page with 72 boards and over 1000 pins. We're on Goodreads, Twitter, and Triberr. We've done blog hops, and had workshops and seminars. All this with a volunteer staff and no budget. This October 31st, it will 9 years since I created the group. It's been amazing to see what you can do when you work together to help other authors. For anyone who wants to know more, here are our links. We promote for one another at no cost.

MFRW Website http://marketingforromancewriters.org
MFRW Yahoo - http://groups.yahoo.com/group/MarketingForRomanceWriters/
Twitter http://twitter.com/MFRW_ORG our hashtags are #MFRWauthor #MFRWorg #MFRWhooks
Facebook group https://www.facebook.com/groups/mfrwauthors/
Facebook page https://www.facebook.com/mfrworg
Pinterest http://www.pinterest.com/mfrworg/
Goodreads http://is.gd/mfrwgoodreads
LinkedIn https://linkedin.com/company/marketing-for-romance-writers-organization/

Ally: Thanks for giving readers that overview. Maybe there's someone reading this who's been looking for a support group just like MFRW. Now, getting back to your writing, what is your next work in progress?

KA: I'm working on a book called Bringer of Chaos: the Origin of Pietas. It's set in the distant past and shows how my immortal Sempervians came to be the manipulators of humanity. Pietas is their leader, and he is probably the most dangerous person ever created. The tag for the book is "Sempervians never die. Neither does their love. Or their thirst for revenge."

Ally: I'm overly fond of quick answer questions, so here's a few for you to try:

a. favorite tv show -- oooh, tough. I never miss The Flash, Arrow, or Agents of SHIELD
b. an item on your bucket list - visit Middle Earth (New Zealand)
c. favorite holiday song - Silent Night
d. your go-to comfort food - Burger King Whopper, no mayo, no ketchup, or pizza!
e. last movie you saw in a theater - Jurassic World, but I have plenty on my go see list for this fall, including Star Wars VII.
Ally: It's been terrific sharing some time with you. I hope you visit again. What book did you bring for show and tell?

KA: I brought a free read! Bro is part of a sweet scifi romance series, but it deals with the relationship of two brothers, before either of them meets his special lady. It's rated PG13 for adult themes. The two books that go with it used to be erotic, but are now sweet, and contain no graphic content or profanity. Bro is the prequel to At the Mercy of Her Pleasure (He's a thief. She's a soldier. Do opposites attract? Oh, mercy!) and For Women Only (His secret truth is her people's darkest lie.) I plan a fourth book that will round out the tale.
---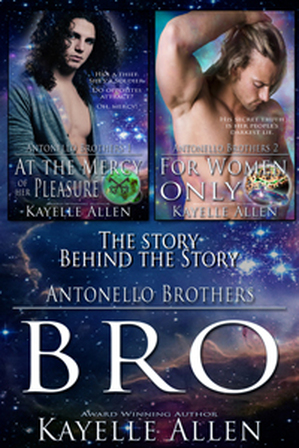 ---
---