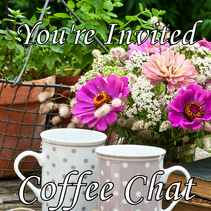 It's Wednesday, a great day to escape into book talk!

This week's guest is Ellie Eden, who brought her romantic suspense, Flirting with Danger. How do you take your coffee, Ellie?

ELLIE: Strong and tanned, like the hero in my book :) I also like my coffee in bed in the morning...

Ally: And just how romantic did you say this book was?

ELLIE: It has some steamy scenes. I like love scenes that are hot without being too graphic. When writing, I try to make the love scenes unusual. Let me know if I succeeded!

Ally: Okaay, readers. If you're under 18, you might want to let your mother read it first! :) Now let's take a look at Ellie's bio.

---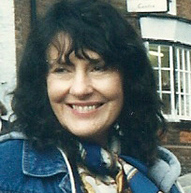 ---
Ally: I understand there's an interesting story behind your book. We'd love to hear it.

ELLIE: Flirting With Danger is based partly on real life and what happened to a close friend of mine. Her husband messed around in hot Brazilian chat rooms and then, to her shock and dismay, went off to meet the Brazilian girl in Rio. It was satisfying that the girl turned out to be positively scary! Murderous even! My friend is now happily married to someone else. I became aware of the chaos that can be caused by internet affairs. It is fascinating and frightening that a laptop is a wide open window into your home. All sorts of people can come creeping in, people you would never normally encounter. My heroine, Kristi, gets caught in the fallout of her husband's internet romance with Nara, a hot young drug dealer in Brazil. His subsequent affair and trip to Brazil exposes his family to terrible danger.

Ally: If your plot was influenced by real life, what about the characters? How were they chosen?

ELLIE: Because Flirting With Danger was based partly on a true story I couldn't help being influenced by the personalities of the real people involved. Nara, the bad girl, was particularly fun to write. I wonder how correct I was about her motives etc. I haven't met any Brazilian drug lords - probably fortunately! - so I read a lot of newspapers and interviews and watched movies and documentaries with that theme. I enjoy setting books in exotic locations and Brazil was particularly good as the people are so attractive and the place is exciting and dangerous.

Ally: This book has had a title change. Can you tell us why that happened?

ELLIE: Flirting with Danger is a new release of my book Letting Evil In, but with a changed title. The previous title sounded too much like a horror story, and I wanted a title that sounded more romantic, but still hinted at the dark suspense elements.

It was great reading a recent review from The Romance Reviews that validates the title change: "Flirting With Danger is a story that will keep you on your toes and have you guessing at every page turn. It causes you to question just about every event. As the title suggested, this story had some dark elements, but it will not creep you out. Flirting With Danger is mysterious, suspenseful and riveting. If you love stories that are suspenseful, action-packed and enthralling, then give this one a try."

Ally: What's your next writing project?

ELLIE: I'm working on the outline for a Romantic Suspense set in a Dystopian world. My hero and heroine are out there at the moment, and its fun plotting what can and will happen to them.

Ally: Thanks for visiting and telling us about your books, Ellie. Let's finish up with a few quick answer questions before taking a look at Flirting with Danger.

Favorite drink: red wine. Shiraz.
Favorite meals to cook: Spicy ethnic food like Indian or Thai or Moroccan curries.
Favorite flowers: Roses or anything that smells beautiful.
Which singer would I like to have lunch with: My son, Adam Crowe. Love his music! He wrote the song for Youtube: https://www.youtube.com/watch?v=yBj0-Y90NNA.

ELLIE: Thank you so much for the interview, Ally. It's always a pleasure having coffee with you :)
---
Blurb:

When her husband goes on a photographic assignment to Brazil and fails to return, Kristi and her son fly to Rio de Janeiro, desperate to find him. Instead she finds that during the cold New Jersey winter, Michael has spent his time in steamy chat rooms with Nara, a young woman desperate for attention and involved in the Rio drug world.

As she searches for Michael in exotic but crime-ridden Rio, Kristy finds herself way out of her league. She turns to Italian-Brazilian Federal Agent Tony Lamazzo for help. As the harsh truth of her marriage brings a dose of reality to her life, she finds the temptation of getting closer to the strong, capable—and totally hot—Tony difficult to resist. She's in Brazil on the Day of Dead, a day when Brazilians go wild. Why shouldn't she go wild with Tony, for just one night, before returning home to start the new life alone she'll have to learn to make for herself?

But when her son vanishes too, Kristi doesn't know where to turn. Michael's affair with drug-dealing Nara has exposed them all to the murderous wrath of a ruthless drug lord, and while she longs to trust Tony, she can't trust his powerful and politically corrupt family. But in the dangerous slums and rainforests of Brazil, the danger mounts for both Kristi and her son, and a cold-blooded enemy has an agenda of his own. If she trusts Tony, she might save her son. Or it might just get them all killed…

Buying links:

http://www.amazon.com/Flirting-Danger-Ellie-Eden-ebook/dp/B018RBXM7G
http://www.barnesandnoble.com/w/flirting-with-danger-ellie-eden/1123048673
---
Thanks for stopping! See you next week!