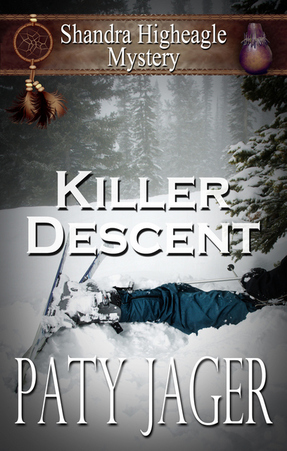 Killer Descent

Book five in the Shandra Higheagle Mysteries

Abuse…Power…Murder

Once again Shandra Higheagle finds herself a suspect in a murder investigation when an ex-lover is found murdered on a Huckleberry ski run. A past she'd planned to never divulge now must be shared with the first man she's trusted, Detective Ryan Greer.

Ryan puts his job in jeopardy when he's booted from the case and uses all resources plus a few extra to prove Shandra is innocent. The information leads them down a road of blackmail and betrayal of the ugliest kind.



Killer Descent excerpt

Shandra tried to concentrate on throwing a new vase, but all morning she couldn't get Carl out of her mind. She'd spent years building up her self-esteem and working on her art to prove to herself she did matter and could live her life successfully.

"I'm giving him too much power," Shandra said, tearing down the clay she'd started to build on the wheel.

"Who?"

She jumped and stared at her employee, Lil. The woman had come with the property like a stray cat. But she'd proved her worth with the animals, keeping the studio and house clean, and watching over things when Shandra was away. Lil was eccentric, wearing only purple clothes that were usually several sizes too large, and walking around with Lewis, a large orange cat, draped around her neck.

"Why do you always sneak up on me like that?" Shandra asked.

"I didn't sneak. I opened the door and walked through just like anyone else." Using a walking stick, Lil walked over to the bench that housed the glazes. It took Shandra and Dr. Porter an hour to convince the older woman she needed to use a walking stick after her cast was removed. She'd agreed to use it for a month. Shandra knew the thirtieth day after her cast was removed, Lil would be tossing the walking stick to a corner of the barn.

Lil picked up a jar coated with dried on glaze. "You had a glaze order come in. Thought I'd clean up some of the older jars."

Shandra nodded. The woman knew what to do and could keep things running smooth without needing direction. "That's a good idea." She worked the clay into a ball on the wheel and started forming the sides again.

"Radio said they found a body on the slopes," Lil said.

"Ryan left a note this morning. He caught the case." She dipped her hand into the warm water in a bucket by the wheel and slid her fingers up, building the clay into a thin layer.

"Some professor from New Mexico."

The clay crumpled as she took in the information. "Professor? New Mexico?" It couldn't be. What were the odds Carl Landers had come to her mountain and got himself killed?

Buy links:

Amazon: http://www.amazon.com/Killer-Descent-Shandra-Higheagle-Mystery-ebook/dp/B01DG5GPSQ

Apple: https://itunes.apple.com/us/book/id1097266647

Nook: http://www.barnesandnoble.com/w/killer-descent-paty-jager/1123591040

Kobo: https://store.kobobooks.com/en-us/ebook/killer-descent

Windtree Press: http://windtreepress.com/portfolio/killer-descent/

About the Author

Award-winning author Paty Jager and her husband raise alfalfa hay in rural eastern Oregon. All Paty's work has Western or Native American elements in them along with hints of humor and engaging characters. Her Shandra Higheagle Mystery series, set in a fictional ski resort in Idaho, is full of quirky characters, twists, turns, and a bit of mysticism.

You can learn more about Paty at her blog: Writing into the Sunset her website: http://www.patyjager.net or on Facebook; https://www.facebook.com/PatyJagerAuthor/; Goodreads: http://www.goodreads.com/author/show/1005334.Paty_Jager and twitter: @patyjag.