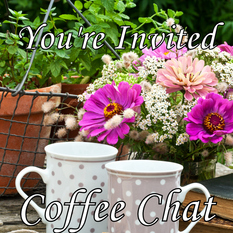 Welcome to another Wednesday author chat!

Today's guest is Andrea R. Cooper, who writes in several genres but brought her soon-to-be-released YA paranormal fantasy, Shadow Bloodlines, Book 1.

Welcome, Andrea. What can I get you to drink?

ANDREA: I take my coffee as espresso in Tiramisu. :) Otherwise, I drink chai tea.

Ally: Then tea it is. Please introduce yourself to readers while I fix our drinks.


---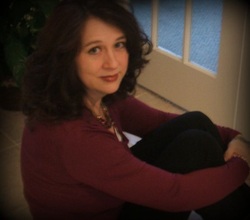 ---
Ally: Tell us about the fantasy world of Shadow Bloodlines and its supernatural characters.

ANDREA: Shadow Bloodlines is a world where shifters (all kinds) live. Problem is, Beth, a high school senior doesn't know they exist or that she's one until a group of hunters come to her school searching. Believing her mom has been killed, she teams up with a gargoyle shifter she released from granite, and her best friend to find her deadbeat dad and learn how to use her abilities. But the hunters have tasted her blood and they won't stop until they've captured her.

Ally: I know this is a pending release. What marketing will you do for release day?

ANDREA: I'm doing Twitter announcements. Facebook group parties, where I join other authors and offer prizes while showing off my cover and about the novel. Also, blog posts on other sites and interviews like this one.

Ally: Are there events or another writer who inspired your books? In what way?

ANDREA: I've got many great beta readers and critique partners, but one inspires me to write better constantly. She goes out of her way to review my chapters – even offering to read them a second and third time to help me out. And she's an amazing writer herself, TF Walsh.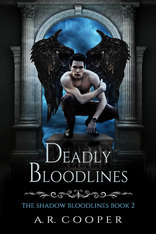 Ally: Tell us what you're writing now. Are we likely to see it in 2016?
ANDREA: I'm currently plotting Deadly Bloodlines Book 2 in my YA series (see cover to the right). And since I love multi-tasking, I'm editing my adult paranormal romance series with Tainted Book 3 of the Claimed series and started writing Lyric – Book 2.5 in the series. On the backburner, I've got Viking Blaze Book 2 Viking Fire series to work on and War of Darkness Book 3 in the Legends of Oblivion series. My goal is to have all these written before 2017.

Ally: Let's try a few get-to know-you short answer questions:

a. last movie that made you cry: The Best of Me
b. something unusual in your handbag: Albuterol vials in case one of my kids needs a breathing treatment.
c. a guilty pleasure: Chocolate
d. best time of day for writing: Whenever I can and the kids are asleep
e. a favorite fictional character: Mine? Whatever book I'm currently writing. Another author? Rachel Morgan from The Hollows series by Kim Harrison

Ally: Thanks for visiting today. I hope you'll return when Book 2 is complete! Let's take a peek at Shadow Bloodlines, Book 1...

---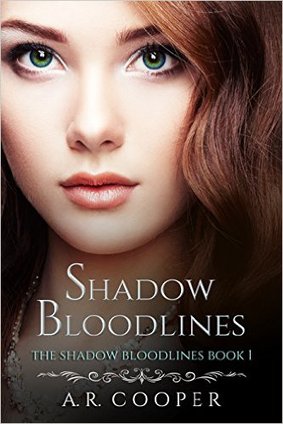 I didn't know I was a shifter until they found me…

When eighteen-year-old Beth receives a mysterious text from her deadbeat father not to go to school, why should she listen to him now? But when strangers show up in one of her classes hunting her and wanting her dead, she must uncover the truth about why and what exactly she is.

Amar has been entombed in stone for centuries. He longs for freedom and only the blood of a shifter will set him free. After centuries frozen as a gargoyle, he doubts there are many of his kind left. Yet, Beth rescues him and more than his responsibility to protect her fills him. He must choose between duty and love.

Before the race of hunters capture her, Beth and Amar must find her shifter dad in order to save all their lives.

Pre-order link (ebook available April 30):

Amazon: http://www.amazon.com/Shadow-Bloodlines-Book-ebook/dp/B01E4MAA90

Excerpt:

As I reached for the door handle, Jacqueline returned with a jacket and a baseball hat. The music blasting through the walls.

"Where'd you get those?"

"Stole them." She tossed me the black sports jacket and I donned it. Then she helped me stuff my hair up into the cap.

The jacket hung to my knees and swallowed me. My stomach clawed into my throat.

"It's the best I can do under short notice."

"And my skirt?" I tugged the sides of the black dress. "They'll never buy that I'm a boy if they notice it."

"Keep your head down and keep moving."

Uneasiness crawled into my gut and my heart slammed against my sternum before my fingers even brushed the door. Jacqueline pushed past me and straight to one of the muscled guys who barely gave her a glance.

I snuck out of the bathroom, thankful for the throng of people. In the corner, Jacqueline flipped her blonde hair over her shoulder to distract the suited guy. Across the dance floor, I spotted another of Ms. Moor's minions and ducked under a table. The couple gave a gasp and I shushed them.

"Sorry, it's my ex. He's crazy." I crossed my fingers that they'd believe me.

"Don't need to tell us about crazy exes," the girl answered.

Peeking out, I realized I'd lost sight of Jacqueline. Had they figured out what she was up to? There. She stood a few tables from the dance floor waving her hands like she was flagging a street race and I dashed to the other side of the bar. My heart thumped in my chest like I'd swam a hundred relays. How could five feet from the door seem so far?

When the guy talking with Jacqueline suddenly turned to see what she was staring at, which was me, I tucked my hat down and shook my shoulders as though laughing with the others near me. The goon stared at me and his eyes narrowed. Then he spun and careened through the crowd, barreling right for me. God! He'd spotted me. I jerked away from the bar to run. Muttering an apology, I pushed around people while constantly looking back at the guy, who was now shoving dancers out of his way. Acid rose in my throat. His flicked out his cell and yelled something into it.

My breath came out in short huffs. Could I make it outside? I sprinted through an opening in the crowd. Nearly to the door, a brawny guy grabbed my arm and I screamed. The music drowned out my protest.

My assailant gave the bouncer a wink and a fist full of cash, which he shoved into his pocket and looked away.

"Let's go, freak," he seethed into my ear.

---
Thx for spending time with us! Come back soon!