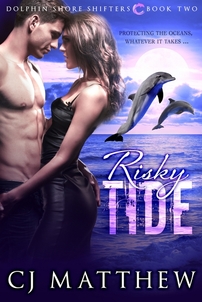 Welcome to the Wednesday Coffee Chat! Our guest this week is CJ Matthew, author of the Dolphin Shore Shifters series, paranormal romance with elements of suspense.

Nice to meet you, CJ. How do you take your coffee?

CJ: In the morning I drink instant coffee with Equal and sugar-free Vanilla creamer.

Ally: Um, I'm not sure I can convince my magic pot to mimic instant coffee, but we'll sure put your chosen sweetener and creamer into a tasty blend. :) Meanwhile, please introduce yourself to readers.

---
About the Author:

CJ Matthew grew up in an Air Force family traveling and living all over the US and around the world. It proved to be the perfect experience for gathering ideas and material for future books. And for meeting real life heroes and heroines in uniforms and flight-suits. She spent her high school and university years in California, which inspired her love of marine life, and the Pacific Ocean.

Her debut series titled Dolphin Shore Shifters is in the paranormal romance genre. The series features a pod of dolphins living in the Santa Barbara channel off the coast of California, capable of shifting to human form. While posing as real humans, the dolphins work through their oceanic conservation corporation, Save Blue Water, to protect their oceans at any cost.

CJ's next series, The Paladin Group, launched with Deadly Reboot. The books are romantic suspense, set in a small southern town, and they star wounded air force veterans, men and women warriors turned civilian lawyers and investigators determined to continue their rescue work.

A member of Romance Writers of America (RWA), Georgia Romance Writers (GRW), and Kiss of Death, CJ lives and writes near a lake in the woods northeast of Atlanta. When she isn't writing or reading romances, CJ spends time with her two grown children, their spouses, a brilliant grandson and a feisty cat named Max.

Schedule permitting, CJ loves to travel, to discover new favorite places as well as meeting new friends in both the US and around the world. Max flatly refuses to travel.

Connect with CJ:

Website: www.cjmatthew.com
Twitter: https://twitter.com/CJMatthew
Facebook: https://www.facebook.com/CJMatthewauthor
Amazon author page: http://www.amazon.com/CJ-Matthew/e/B013PUB3NO/
Goodreads author page: https://www.goodreads.com/author/show/14216343.C_J_Matthew
---
INTERVIEW:

Ally: I'm intrigued to hear about your dolphin shifters. I assume they take human form when they arrive on shore. Are they naked? Or do they shift fully clothed? The clothes issue has always been the hardest part of writing shifters for me. :)

CJ: The Shore Shifters are a large pod of bottlenose dolphins living in the Santa Barbara channel. Based on an ancient Native American Chumash origin legend, they were given the ability to transform into humans.

The shift to human usually takes place on a dark night, in the shallow water right at the shore line. It's dangerous as they crawl ashore weak and naked. An escort is always assigned to help them out of the surf, and to bring clothing and transportation.

(I'm always interested to see how other writers handle the clothing issue as well.)

Ally: Describe the setting for your book. Is it a contemporary or totally fictional?

CJ: The beautiful city of Santa Barbara is basically accurate except I've added the dolphin's fictional corporate headquarters, Save Blue Water, and the condo buildings owned by the pod. I made SBW world famous and respected for their ocean conservation work and massive lobbying efforts. The secret field ops team, however, is armed and aggressive. They respond to whistleblowers by traveling to investigate reports of illegal dumping, oil leaks, etc.

In Risky Tide, book 2, I introduce the Exchange Team. Until SBW and the Shore Shifters can convince humans to close down Marine Amusement Parks and free all the dolphin captives, the team travels the US trading out the imprisoned dolphins with volunteers for three years. Extremely dangerous work, but very gratifying for the dolphin returning to their homes in the ocean, and for the team that facilitates the exchanges.

Ally: What's the best writing advice you've been given? The worst?

CJ: The best advice is to keep writing. Never stop learning, and keep writing.

The worst was not so much the advice as the delivery: Early on, I was beaten down by a couple of contest judges. I wanted their opinion and advice. But I didn't need to be buried in an avalanche of harsh criticism. Tough on a new writer (any writer) and completely unnecessary.

Ally: What are you working on next? Release date?

CJ: On April 2, 2016, I released Dolphin Shore Shifters Book 4, Lethal Tide. I'm currently writing Toxic Tide, Book 5. I hope to release it in July of this year.

Ally: Try out these short answer questions:

a. manicure or pedicure: Manicure. The bottoms of my feet are ticklish.
b. favorite after 5 drink: Cherry Coke.
c. favorite TV show: My cabin in the woods has Netflix so I binge on last year's TV, like Miss Fisher's Murder Mysteries, Person of Interest.
d. favorite social media site: Facebook
e. an item on your bucket list: Top 2: Visit Ireland. Swim with dolphins in the wild.
Ally: Thanks so much for having coffee with us, CJ. Before you take off for that dolphin swim, tell us more about your book, Risky Tide.
---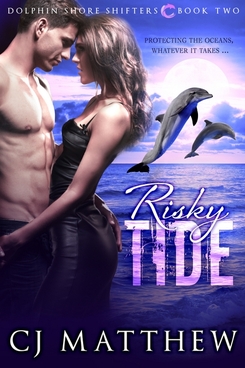 Risky Tide (Dolphin Shore Shifters Book Two):

Genre: Paranormal Romance/Suspense
Romance rating: Hot but not erotic (Those under 18 may want to let their mothers read it first!)

The Santa Barbara Channel holds a closely guarded secret…

They sent her in unprepared…

Katherine expected more than a welcome handshake and a name badge after surviving a shark attack before she arrived at SBW headquarters. But due to the recent violence she is sent along to join the Exchange Team without training to handle the midnight break-ins at an Orlando marine mammal park. Things turn bad when the memory of almost dying in the mouth of a Great White triggers a panic attack, forcing the team leader to suspend the exchange schedule.

He didn't need an untrained team…

Peal is a SBW Team Leader with more problems than answers. A polluted lagoon, dead dolphins, and two new team members….one, a trigger-happy transfer he doesn't trust, one, a dark-haired beauty he can't stop thinking about. And as if that wasn't enough, the mob doesn't like Peal staking-out the lagoon they've been dumping medical waste in and sends in their hitman to stop the SBW Team.

Time is running out…

If Peal can manage to keep them alive, he still has to convince Katherine they can have more than just one passionate night together. But SBW might have something to say about that as any minute Katherine could be transferred, pulled out of Peal's life forever.

To buy RISKY TIDE:

Amazon Kindle or trade paperback: http://amzn.to/1JjcJb2
Kobo: http://bit.ly/1KsdFrK
B&N Nook: http://bit.ly/1GknmIX
---