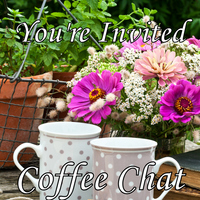 Hello, booklovers!

It's Wednesday and time for a session of book talk. Joining us this week is Kayelle Allen, a romance and scifi author (and founder of Marketing for Romance Writers). She brought her new scifi release, Bringer of Chaos, fresh off the press as of May 1.

Welcome, Kayelle. What may I get you to drink?

KAYELLE: I have a gold card from Starbucks, and my favorite is a salted caramel frappucino, but for every day coffee I take decaf with some room left for hot water (I prefer weak vs strong) and lots of cream. I sweeten it with Stevia.

Ally: Since Wednesdays are special days around here, and my magic pot can produce anything, I'll have that salted caramel frappucino ready for you in a moment. In the meantime, please introduce yourself to readers.

---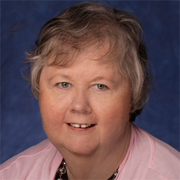 BIO:

Kayelle Allen is a best selling American author. Her unstoppable heroes and heroines include contemporary every day folk, role-playing immortal gamers, futuristic covert agents, and warriors who purr. She writes Science Fiction, Science Fiction Romance, Mainstream Fantasy, Contemporary Romance, Gay Romance, and non-fiction. She likes to attend Science Fiction conventions, and has been a speaker at DragonCon, and Gaylaxicon. She holds an honorary lifetime membership to OutlantaCon, an Atlanta Scifi convention. Kayelle is the founder of the 2,000+ member author-mentoring group Marketing for Romance Writers, and manages the successful Romance Lives Forever blog. Kayelle is married, has three grown children, and five grandchildren. She is a US Navy Veteran.

Something unique not in your bio: "My father was an itinerant worker, so it wasn't uncommon to move several times a year. I attended school in many different states, and even lived in Central America for a time."

Website/blog https://kayelleallen.com
Romance Lives Forever Reader Group https://kayelleallen.com/reader-group/
Twitter http://twitter.com/kayelleallen
Facebook http://facebook.com/kayelleallen.author
Pinterest http://pinterest.com/kayelleallen/
G+ https://plus.google.com/+KayelleAllen/
Amazon http://amazon.com/author/kayelleallen
---
Ally: I know you as a romance writer. How did you get started writing science fiction?

KAYELLE: I've always written Science Fiction but as a subgenre of romance. I have other books that are scifi but not romances (The Last Vhalgenn, Trailing Kaiwulf). I also have a non-fiction book (Tarthian Empire Companion).

Ally: Tell us about the main character in this book. I was intrigued when you said you didn't like him when you first started the book. How did he win you over?

KAYELLE: I had written Pietas as the pseudo-villain lurking in the background. I say pseudo because he was not the ultimate enemy, but everyone was afraid of him. He is not the power "behind" the throne. He's the power "on it." He is king of the immortals in my Tarthian Empire series (At the Mercy of Her Pleasure, For Women Only, Wulf, Alitus, Jawk, Surrender Love, and Forbid My Heart). Since everyone else was afraid of angering Pietas, I became afraid of him too. I decided I needed to know what he was all about, because I found he was becoming more involved with every book I wrote. I could not continue until I understood him. I asked a friend (author Houston Havens) to help me do that by "interviewing" him. She asked questions, and I answered them as the character. It allowed me to free associate and get in the moment. I recorded it, and then listened to it a few times. It helped me see a completely different side of Pietas. Now that I know him, he is my favorite character. I am in love with this guy!

Ally: Sticking with the topic of characters…if you had to live the life of one of them (any book), who would it be? Which book, character name and role, and tell us why?

KAYELLE: All of my characters lead difficult lives. I am not nice to them as a writer. A great story needs great conflict. I would not want to be any of them! Most of my heroes grew up without one parent (or either), they had loved ones die, they were slaves, or ended up being kidnapped or held against their wills for some reason. As I said, not nice! So to put myself in their shoes...? No, thank you. I'll stay me.

Ally: If you could only give new writers one piece of advice, what would it be?

KAYELLE: Organize your writing and stay on top of it. You will be able to find anything you need when you need it. That will save you more hassle than you can believe. I have always organized to the nth degree. Occasionally I lose something, but it's usually because I broke one of my own rules. When someone asks me for info or I need to do an interview, press release, advertise, post on a blog, etc., I have everything I need on hand. That also makes it easy when you're writing a series.

Ally: Let's try your hand at a few quick answer questions:

a. A book you've read more than once: Teot's War by Heather Gladney
b. Star Wars or Star Trek: Both! I love them equally
c. Favorite spring flower: Crocus because it's the first
d. A guilty pleasure: Mint Patty covered in Dark Chocolate by Russell Stover (sugar free). They taste better than the full sugar type.

Ally: Thanks for chatting with us, Kayelle. It's been fun! Before you rush off to the rest of your busy schedule, tell us more about Bringer of Chaos...
---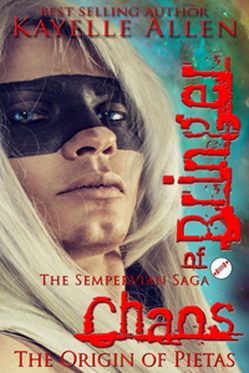 Bringer of Chaos (The Origin of Pietas)

Genre: YA (older young adult), action adventure, science fiction, space opera, military science fiction, space marine, genetic engineering
PG13: No romantic scenes.

Two enemy warriors: one human, one immortal. Different in belief, alike in spirit, marooned together on an alien world.

Imprisoned and in isolation over a year without food or water, the immortal Pietas survives. Though broken in body, his intellect and will are intact, thanks to Six, the special ops warrior who captured him, but kept him sane. The warrior had no hand in his deprivation and, like Pietas, was betrayed by his own kind. When Pietas is abandoned on an alien world with nothing but his honor--and Six--he must find and rejoin other immortal exiles. After centuries of war, Pietas detests humans and kills them on sight, but he is too damaged to continue on his own. Though he despises needing help, he allows Six to nurture and restore him to full strength, and then accompany him. As they cross the planet together on foot, the immortal begins to wonder if he has found his first human friend, or if Six is loyal only because Pietas could keep the others from tearing him to shreds. This human will either be his closest living friend, or the one whose betrayal will trigger all-out vengeance by the most powerful immortal ever born.

Order on Amazon http://amzn.to/1R8DAbb
Read the first chapter https://kayelleallen.com/chaos-origin/
Read now in print on CreateSpace http://bit.ly/boc-origin-csp
Pietas Speaks Video https://youtu.be/oTMBS961azU
Voiceover: Markus Watson (MarkusVoice.com) Music: The Complex by Kevin McLeod (Licensed under Creative Commons Attribution 3.0)
---