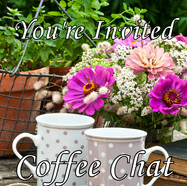 Good Morning, Booklovers!

Our chat this week is with Karen McCullough, who writes mystery, fantasy, and romantic suspense. Today she brought her mystery, Wired for Murder. Welcome, Karen! How do you take your coffee?

KAREN: I love, love, love coffee, and I'm a bit of a snob about it. I buy high-quality, fresh-ground coffee and use a slow drip machine. I add a half teaspoon of Splenda and just enough milk to lighten it a bit. Oddly, I don't like real cream in my coffee. The taste of the cream masks the taste of the coffee itself rather than enhancing it.

Ally: Nothing is beyond my magic pot, so that cup of Joe will be coming right up. While I pour, please introduce yourself to readers.

---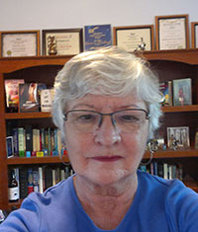 Bio:

Karen McCullough is a web designer by profession, and the author of a dozen published novels and novellas in the mystery, romantic suspense, and fantasy genres as well. She has won numerous awards, including an Eppie Award for fantasy, and has also been a four-time Eppie finalist, and a finalist in the Daphne, Prism, Dream Realm, Rising Star, Lories, Scarlett Letter, and Vixen Awards contests. Her short fiction has appeared in several anthologies and numerous small press publications in the fantasy, science fiction, and romance genres. She has three children, four grandchildren and lives in Greensboro, NC, with her husband of many years.

Something unique/unusual that isn't in your regular bio: "This is hard because I'm so danged ordinary. There's the fact that I love licorice (black, not the fake red stuff). Most people seem to find this weird, which I totally don't get. Those black jelly beans are the best! (And I usually get to collect all of them, since no one else wants them.)"

Contact the Author:

Website: http://www.kmccullough.com
Blog: http://www.kmccullough/kblog
Facebook: https://www.facebook.com/KarenMcCulloughAuthor
Twitter: https://twitter.com/kgmccullough
---
INTERVIEW:

Ally: Describe the evolution of your main character in Wired for Murder. What came first? Character or plot? How did you pick the name, physical attributes, personality, etc.?

KAREN: Actually in this case, the setting itself came first. As a former editor at several trade publications, I've attended a number of trade shows and talked to probably hundreds of people involved, from the staff of the centers where they're held to exhibitors, attendees, service people and other members of the press covering the event. At the very first trade show I attended I realized it would make a perfect setting for a murder mystery or a series. The contained time period and place; the cast of characters, many of whom know each other and are often friends, competitors, enemies, and sometimes even lovers; and the high stakes, taken together provide the perfect ingredients for a tense story.

Then I knew that the character I needed for my amateur detective would have to be someone who worked at the Market Center and knew how the business ran, who met and talked to the people involved on a daily basis, someone who might have a realistic chance to learn more about the situation than the police could hope to in the short space of time that a trade show takes. So I came up with my heroine, Heather McNeil, assistant to the director of the Market Center, a good listener and a good problem-solver, the kind of person people talk to and spill their guts to on occasion.

Beyond that, I can't really tell you exactly how I came up with the rest of her attributes. A lot of times it feels like I'm not so much inventing a character as meeting her in my head. I see what she looks like and as the story develops I learn more about who she is by what she says and the way she reacts to events.

Ally: I know you write in several genres. What are the pros and cons of multi-genre writing? Does switching genres require an entire new mindset? Do you ever have more than one book in different genres going at a time?

KAREN: I love writing in multiple genres. It seems that allowing myself that leeway sets my imagination free to roam wherever it will. I think it keeps my brain fresher to be moving around in different types of stories. I don't think it really requires different mindsets to move from one genre to another, but it does require that you've read widely enough in each genre to understand the its conventions. Romance, mysteries, fantasy, and paranormal all come with different sets of reader expectations. You can play with those, sometimes, and stretch the limits, but as a writer you have to know what they are. If you're going to write a paranormal story that involves vampires, for instance, you need to know what the folklore and tradition say about them. If your vampire can go out in sunlight, you have to be ready to explain why it's possible for them, when the expectation is that they can't handle it.

The downside of writing in multiple genres is that it's a terrible career move. Readers often like one kind of story that you write and may not follow you into a different genre. A reader who likes my mysteries often does not want to read my fantasies or be interested in my paranormal stories. Major publishers don't like stories that cross genres or authors who don't write similar stories time and again. And even with independent publishing, success depends very much on building readership for a particular kind of story. If I were a faster writer I might be able to put out two or three stories a year in each genre, but I'm not that quick. So, I've pretty much ruled out ever achieving best-seller status.

I almost always have more than one book going at a time, often in different genres. When I get to a sticking point in one book, I can change to another and write on that one for a while. It helps to refresh my brain to think about something different for a bit.

Ally: What do you do when you're not writing? Do you have a hobby or a special activity you love?

KAREN: I enjoy reading, gardening, travel, and sports on television. I read widely, mostly in the genres I write, but also nonfiction and news stories. It's only in the last few years, as my children have grown up and moved on that travel has become a real option. My husband isn't as enthusiastic about it as I am, but he goes along and always enjoys our trips. It helps that my son lives in England, so we get to go there periodically to visit. Last summer we met him and his family in Rome and did some travel around Italy. I love Italy, but I also want to see a lot more of Europe and the rest of the world. There's a lot of the U.S. I've never visited as well. I really want to take one of those European river cruises. And maybe the Alaska cruise. Or one to the Caribbean. The bucket list is long.

Ally: What is your next writing project? When will we see it in the bookstores?

KAREN: I'm working on the third book in the Market Center Mysteries Series, with the possible title of A Perfect Home for Murder. Since the original publisher for the Market Center Mysteries cut their mystery line, I'm self-publishing the rest of the series. That means the next book will release when it's finished, been beta-read, then edited and copy-edited. I hope within the next year I'll have the next one done and ready to release but there are no guarantees.

Ally: Try these five short answer questions:

a. Most unusual thing in your handbag: -- A beautifully carved and polished little wooden perfume dispenser. It was something I gave to my mother for a Christmas present years ago. I found it cleaning out her apartment after she died, and I've kept it and use it myself now. It's a beautiful object in itself, and it reminds me of her every time I pull it out.
b. Favorite TV show: -- NCIS
c. Do you listen to music while writing? -- No. Music is too distracting
d. If you were a color, what would it be? -- Blue – calm, quiet, but elegant
e. Typical breakfast: -- An omelet or a couple of sausage patties with whatever fruit is available.
Ally: It's been a pleasure to meet you. Thanks for chatting with us! Before you go, we'd love to hear more about Wired for Murder...
---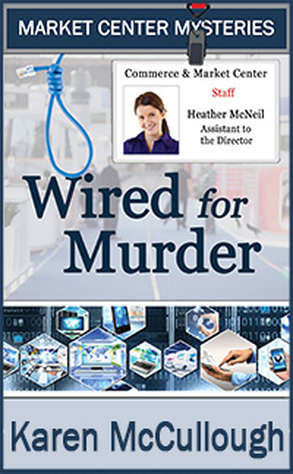 Wired for Murder (Market Center Mysteries Book 2)

Heather McNeil, assistant to the director of the Washington DC Market Show Center, handles many of the day-to-day issues that arise during the shows, exhibits, and conferences being held there. The first day of the Business Technology Exposition provides her with plenty of opportunities to demonstrate her skill at settling disputes, refereeing arguments, and even breaking up fights.

When the president of industry-leader MegaComp has a very public argument with a man who accuses the company of stealing an important technical concept, she watches it but doesn't have to intervene. Later, though, the accuser returns a phone call from Heather, and she becomes an unwilling audience to his murder.

Heather is more than happy to leave the investigation to the police, but she's the person everyone talks to and she soon learns more than she wanted to know about the victim and all the people who didn't like him very much, including several who might have motives for murder. Read an Excerpt


Buy Links:Ebook: Amazon Kindle Nook iTunes Kobo Smashwords
Trade Paperback

Check out...

A Gift for Murder (Market Center Mysteries Book 1): Amazon: https://www.amazon.com/Gift-Murder-Market-Center-Mysteries-ebook/dp/B00CGKYNT6
---
Thanks for stopping. Come back soon!