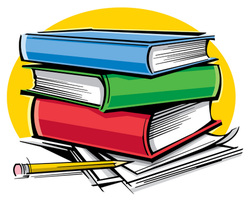 Good Morning, Booklovers!

At a time when everyone in the US is talking or at least hearing about politics at every turn, we're going to take up the subject too.

No, no. Don't run away... We promise not to mention the H word or T word. Instead, we're talking about author Nicole Evelina's journey to our political past in her historical fiction novel, Madame Presidentess!
Welcome, Nicole! What may I get you to drink?

NICOLE: I can't drink anything with caffeine, so I go for decaf tea. My favorites are Twinnings English Breakfast and Fortnum & Mason's Royal Blend – both with crème and sugar.

Ally: No problem. While I'm fixing our drinks, please introduce yourself.

---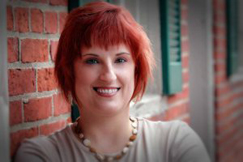 BIO:

Nicole Evelina is a multi-award-winning historical fiction and romantic comedy writer. Her most recent novel, Madame Presidentess, a historical novel about Victoria Woodhull, America's first female Presidential candidate, was the first place winner in the Women's US History category of the 2015 Chaucer Awards for Historical Fiction.

As an armchair historian, Nicole researches her books extensively, consulting with biographers, historical societies and traveling to locations when possible. For example, she traveled to England twice to research the Guinevere's Tale trilogy, where she consulted with internationally acclaimed author and historian Geoffrey Ashe, as well as Arthurian/Glastonbury expert Jaime George, the man who helped Marion Zimmer Bradley research The Mists of Avalon.

Nicole is a member of and book reviewer for The Historical Novel Society.

Something unique that isn't in your regular bio: "I'm a person of strange fascinations. I LOVE makeup. MAC is my preferred brand and I own around 40 shades of eye shadow and about two dozen eyeliners (seriously.) I think I'd be a makeup artist if I wasn't a writer and PR practitioner (or a historian, which is my other wannabe vocation). I also love sparkling wine and am becoming a bit of a connoisseur – that will play into a future novel. I also wish I was British. I love their accents, history, culture, television, sense of humor – they do everything better."

Her website is http://nicoleevelina.com/

She can be reached online at:

---
INTERVIEW:

Ally: What inspired you to write Madame Presidentess? Was this year's national election part of the decision or just a happy coincidence?
NICOLE: It was an accident that I found out about Victoria Woodhull. I learned about her by seeing a picture of her with an alluring caption on Pinterest, of all places. The caption said, "Known by her detractors as 'Mrs. Satan,' Victoria Claflin Woodhull, born in 1838, married at age fifteen to an alcoholic and womanizer. She became the first woman to establish a brokerage firm on Wall Street and played an active role in the woman's suffrage movement. She became the first woman to run for President of the United States in 1872. Her name is largely lost in history. Few recognize her name and accomplishments." I immediately had to know more and began my research. I mean, any woman called "Mrs. Satan" is someone I have to get to know!

Once I started researching her, I keenly was aware that we had an election coming up in two years that could well give us our first ever female candidate on a major party ticket, if not our first female President. That is why I chose to independently publish the book – because traditional publishing houses were too slow to be able to get it out before the election.

Ally: Is this story fact or fiction? What kind of research did you do?

NICOLE: Some of both. It's as close to historical as I could make it without this being creative non-fiction. I'd say it's about 70% accurate. I made up some secondary characters and one of Victoria's affairs is fictional (but it was inspired by a rumored affair). Of course, as with all historical fiction, most of the dialog and details are made up, but all of her speeches, courtroom testimony, articles and even a few lines of dialog are taken from historical evidence. We even have descriptions of her home in Murray Hill and her brokerage office. Thanks to the biographers, we also have records of actual words from Cornelius Vanderbilt, Rev. Henry Ward Beecher, Catharine Beecher and Susan B. Anthony, all of which were used in the novel where possible. The authors notes at the end of the book go into great detail on what is accurate and what is not and why.

My main references were newspaper articles from the time and biographies of Victoria, starting with the fanciful one she commissioned from Theodore Tilton during her lifetime and Emanie Sachs' scathing account published just after Victoria's death, through more recent works such as Other Powers: The Age of Suffrage, Spiritualism and the
Scandalous Victoria Woodhull by the recently deceased biographer Barbara Goldsmith, Notorious Victoria by Mary Gabriel and The Woman Who Ran for President by Lois Beachey Underhill.
I also read quite a few books on women's lives in mid-to-late-19th century America, as well as the on suffrage movement and electoral politics at the time (voting was very different and not nearly as anonymous then as it is now).
For those who are interested in my sources, I have a complete reference list on my website here: https://nicoleevelina.com/the-books/madame-presidentess/research/ .
Ally: If you could take the real Victoria Woodhull to lunch, what would you ask her?
NICOLE: I love this question! I would want to dish with her about the ins and outs of the suffrage movement and what her crazy family was really like. Specifically, I'd want to how she put up with her parents and siblings, find out if she ever really did blackmail anyone as was claimed, why she had a falling out with Susan B. Anthony and Elizabeth Cady Stanton, and what it was like being an outspoken woman in her time. Where did she get her amazing strength and courage? As a historical fiction writer, the best I can do is guess; this would give me the opportunity to get the real answers.
Ally: What's the next writing project on your agenda?
NICOLE: It really depends on which character starts talking first. I really need to concentrate on writing Mistress of Legend, the third and final book in my Guinevere trilogy. This book will cover the end of Guinevere's life, including the fall of Camelot and what happens after. In my version, she certainly doesn't live out her days in a convent!

I've also got a sequel and a novel planned to my romantic comedy Been Searching for You. That book was supposed to be a standalone, but due to fan demand, I've extended it into a series that could be anywhere from 3-5 books, each telling the story of a different couple you meet in the other books. The novella was a surprise that just came to me after a real-life event and I think it will be a lot of fun!

I also need to begin research for a WWII-era historical novel about a Catholic nun who helped hide Jews and aided the resistance in France. She was a victim of the concentration camps and should be on the path to sainthood, but few people outside of her native country know her name. As far as I can tell, there is only one book written about her in the world.

Ally: Let's try a few short answer questions:

a. Will you vote in the 2016 election? HELL YES!!! Women like Victoria fought for my right to vote for nearly 100 years. I'm certainly going to demonstrate it!
b. Favorite media site: Social or actual news? Social is either Pinterest or Instagram. News is CNN or BCC.
c. What are you currently reading? What am I not reading is a better question. Because it's getting close to Halloween, I'm breaking out the scary books: In a Dark, Dark Wood by Ruth Ware, The Seduction of Water by Carol Goodman, and House of Leaves by Mark Z. Danielewski, which I've been wanting to read forever, but was too chicken to try. Also reading a lot of marketing books.
d. Favorite TV show: Orphan Black
e. Manicure or pedicure? Manicure. I've never had a pedicure! (Ally note: You don't know what you're missing!)

Ally: Thanks so much for visiting today. I enjoyed hearing about your book and a bit of little-known history. Let's take a look at the novel before you go...
---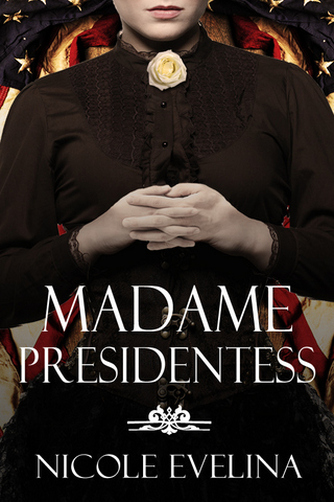 Madame Presidentess

Forty-eight years before women were granted the right to vote, one woman dared to run for President of the United States, yet her name has been virtually written out of the history books.
Rising from the shame of an abusive childhood, Victoria Woodhull, the daughter of a con-man and a religious zealot, vows to follow her destiny, one the spirits say will lead her out of poverty to "become ruler of her people."

But the road to glory is far from easy. A nightmarish marriage teaches Victoria that women are stronger and deserve far more credit than society gives. Eschewing the conventions of her day, she strikes out on her own to improve herself and the lot of American women.

Over the next several years, she sets into motion plans that shatter the old boys club of Wall Street and defile even the sanctity of the halls of Congress. But it's not just her ambition that threatens men of wealth and privilege; when she announces her candidacy for President in the 1872 election, they realize she may well usurp the power they've so long fought to protect.

Those who support her laud "Notorious Victoria" as a gifted spiritualist medium and healer, a talented financial mind, a fresh voice in the suffrage movement, and the radical idealist needed to move the nation forward. But those who dislike her see a dangerous force who is too willing to speak out when women are expected to be quiet. Ultimately, "Mrs. Satan's" radical views on women's rights, equality of the sexes, free love and the role of politics in private affairs collide with her tumultuous personal life to endanger all she has built and change how she is viewed by future generations.

This is the story of one woman who was ahead of her time – a woman who would make waves even in the 21st century – but who dared to speak out and challenge the conventions of post-Civil War America, setting a precedent that is still followed by female politicians today.

Amazon: http://www.amazon.com/Madame-Presidentess-Nicole-Evelina-ebook/dp/B01ERT1AJO
Barnes and Noble: http://www.barnesandnoble.com/w/madame-presidentess-nicole-evelina/1123724822?ean=2940156766956
iTunes: https://itun.es/us/Ebvbcb.l
Smashwords: https://www.smashwords.com/books/view/632328
Kobo: https://store.kobobooks.com/en-us/ebook/madame-presidentess-1
Goodreads: https://www.goodreads.com/book/show/29995537-madame-presidentess
---
Thanks for stopping by! Come back soon...