This book spotlight also comes with a personal recommendation. I read and thoroughly enjoyed The Thief of Hearts. I hope you will too!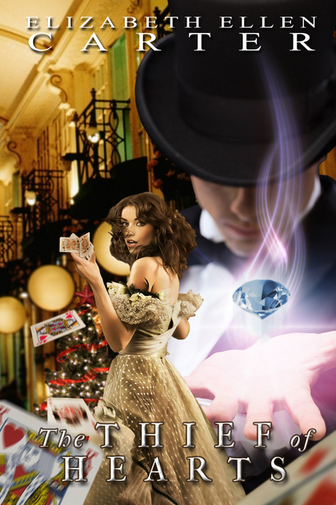 The Thief of Hearts

genre: sweet historical romance

December 1890
London, England

Some seriously clever sleight of hand is needed if aspiring lawyer Caro Addison is ever going to enjoy this Christmas.
To avoid an unwanted marriage proposal, she needs a distraction as neat as the tricks used by The Phantom, the audacious diamond thief who has left Scotland Yard clueless.

While her detective inspector uncle methodically hunts the villain, Caro decides to investigate a suspect of her own – the handsome Tobias Black, a magician extraordinaire, known as The Dark Duke.

He's the only one with the means, motive and opportunity but the art of illusion means not everything is as it seems, in both crime and affairs of the heart.

As Christmas Day draws near, Caro must decide whether it is worth risking reputations and friendships in order to follow her desires.
Buy Links:
Amazon.com - https://www.amazon.com/Thief-Hearts-Elizabeth-Ellen-Carter-ebook/dp/B01MAWBWI5
Amazon.com.au - https://www.amazon.com.au/Thief-Hearts-Elizabeth-Ellen-Carter-ebook/dp/B01MAWBWI5
Amazon.co.uk - https://www.amazon.co.uk/dp/B01MAWBWI
---
Opening lines:

"Caroline Addison had been kissed under the mistletoe once before and hadn't much liked it.

On second thoughts, she reflected, perhaps disappointed was a better description."

How can you resist hoping for Caroline to give it another try? You'll be surprised what other intrigue this indomitable little lady gets herself into! Read the sample here.
---