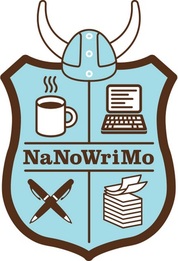 Every fall, social media chatter picks up on the word NaNo. But what is it? Has everyone suddenly gotten exited about the metric system? Not quite... In fact, the complete logo referred to is NaNoWriMo.

The National Novel Writing Month is a challenge to complete a novel of fifty thousand words (approximately 1,667 per day) during the month of November. It's grown from a handful of participants in 1999 to more than 450,000 worldwide participants in 2015. It's an opportunity for writers, published or aspiring, to push themselves, make new writing "buddies," discuss the ups and down of novel writing in the website forums, congregate with other writers in local area "write-ins," and even join lively discussions on online media, such as Twitter.

It's a seat-of-the-pants style of writing, ignoring your inner editor, and simply concentrating on getting down those daily words. Editing as you go is discouraged, placing the emphasis on words rather than style or even plot. In some ways, it's more like free association than the serious business of writing. But it's a fantastic tool to get you started.

It's also messy. The first book I completed during NaNo was almost unreadable. Holes, holes, and more holes. Not to mention the terrible dialogue, typos, and inconsistencies. I rewrote it a dozen times or more over three years before I had most of the imperfections fixed. It became my first published book, Awakening the Fire (Guardian Witch #1) in 2012.

The next year (although still unpublished), I was an experienced noveler. And I came prepared. I've never been able to force myself into a real outline, but I did have a decent story summary. It kept those plot holes to a minimum, requiring less rewrites. I like to think I've gotten better at it every year, and all but two of my NaNo novels are now on online bookshelves, published by Etopia Press.


So of course I'm participating again this year! I hope to have another novel close to a first draft when the month is over. Although the challenge started Nov. 1, it's not too late for you to get in the game. Why not click here and get started today? Not only will you feel a great sense of accomplishment on November 30, but you'll also have a lot of fun!

And by the way, if you decide to join the NaNo challenge, give a shout out to Iowagal...that's me!