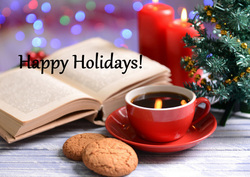 Good morning, Booklovers! We've made it to mid-week again and another Coffee Chat!

This week's guest is historical/paranormal writer, Meredith Bond, bringing us her new release: Merry Men box set #2. We previously spotlighted her sweet regency story, My Lord Ghost (click here.)

Welcome, Merry! Tell me how you take your coffee?

MERRY:
I need to drink decaf, otherwise my heart gets a really nice syncopated jazz beat going which the doctors have said is not a good idea. But still, every morning I have my decaf (cream and sweetener, thanks), and every afternoon I enjoy a cup of green tea.

Ally: We wouldn't want you to get too jazzed, so that decaf's coming right up. :) Meanwhile, please introduce yourself to readers.
---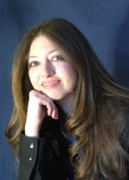 ---
INTERVIEW:

Ally: What type of books do you write?

MERRY: Sweet Regency romance and slightly hotter paranormal romance, most of which are set during the Regency period, although my last two books, Falling and Falling for a Pirate (both in the same series) are time-travel (and oh-my-goodness fun!).

Ally: What made you choose to write historical fiction? There are so many things to remember...style of speech, mannerisms, historical events...and if you don't get them right, people know. How do you insure that modern words, phrases, and attitudes don't slip in?

MERRY: I've always loved reading historical fiction, especially Regencies. They were the first romances I ever read and I've stayed true. What's funny is that after you've read historical romances and written enough of them, it's rare that any anachronisms slip in. Sometimes I do have to stop and look up a phrase to make sure that it was used in that time period, but most of the time my brain just slips into Regency language and I don't worry about it.

Ally: When and where do you do your best writing? Morning, night, in a writer's cave, on the deck, at the library? How many hours a day or week?

MERRY: I write every day (or try to), except weekends (and even then, sometimes I write on the weekends, depending on whether I'm up against a deadline). Afternoons are definitely my creative time and since I've moved to Brussels, I've started writing in coffee shops—it's my way of getting out and exploring the city. There are so many cafes throughout the city, it's one of the nicest thing about Europe (not to mention the chocolate croissants).

Ally: What are those pesky extra words or overused words you always have to edit out of your manuscripts? (like, that, nodded, brows, smirked, etc) Are there other quirks that require special passes when you're editing?

MERRY: "That" I love the word "that"! I had one editor take out over a thousand instances of it! I'm getting better, though. Now I have to make sure I get all of my descriptions in. When I'm writing I almost never put them in and then my manuscript comes back from my editor with lovely little notes saying "what does he look like?" and "I can't quite picture this room, could you describe it some more", which means I haven't described it at all. Lol!

Ally: What's your next writing project?

MERRY: I'm currently working on the last book in the Storm Series (or at least the last one that I'd planned). It's a Regency set paranormal about a young woman tasked with enforcing the laws of the magical world I've created (Rule #1 do no harm) and a smuggler who is using his magic not only to smuggle contraband (brandy) into England during the Napoleonic War, but also trying to frame his father in order to get revenge for how he treated the hero's mother. It's going to have loads of magic, smuggling, revenge, and, of course, a sweet, wonderful romance.

Ally: Answer these short answer questions:

a. a favorite holiday song: Silent Night
b. a place you want to visit: the Greek Islands (was was recently in Athens, but I've never been to the islands)
c. most unusual thing in your closet: my saris (I've got a collection which I wear whenever I go to India to visit my husband's family).
d. favorite TV show: at the moment, The Crown
e. favorite hobby or recreation: knitting, and reading, of course.
Ally: Thanks for spending time with us, Merry! Let's get straight to that boxed set...
---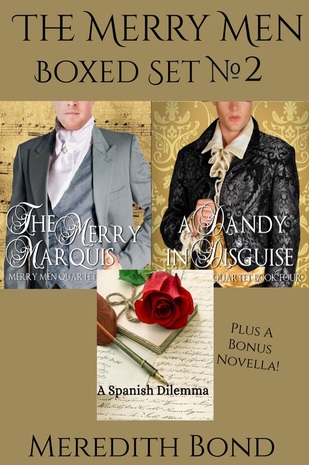 The second two books of the award winning Merry Men Quartet, plus a bonus novella!

The Merry Marquis
Through the beauty of music, brings love and the will to live a life lost.
It is only at the pianoforte with beautiful music flowing from her fingertips that Teresa Seton is happy. New to English society, she feels awkward and unsure of herself. Only the attentions of her handsome neighbor can convince her that she is where she belongs—a stolen kiss proves that he means what he says. But the kiss is witnessed and the pair are forced to marry for propriety's sake.
Once known as the "Merry Marquis", Richard, the Marquis of Merrick, now lives the life of a recluse. Finding a beautiful stranger at his pianoforte strikes a chord within him, bringing back feelings he thought were lost with the passing of his wife. He is mesmerized by Teresa and her beautiful music, but can he convince her, and himself, that he can live and love again?

A Dandy in Disguise

Can he lose the disguise... and find himself?
St. John Fotheringay-Phipps has nearly forgotten who he truly is. As the dashing, amusing dandy known to all in society as Fungy, he has hidden himself behind a mask of merriment. But he is reminded that there are pleasures beyond society -- when he finds himself feeling responsible for the innocently lovely and fiercely intellectual Rose, the daughter of a famed archaeologist, and her charming, if socially inept, family.
Rose Grace knows that she cannot gamble with her future. She has suddenly been thrust into the role of mother to her two young sisters, companion to her brilliant, distracted father --and family savior. She needs to do the right thing -- to forget her own desires and quickly find a wealthy husband before the creditors come beating at their door. Then why is she distracted by the foppishly handsome Fungy, who seems so very irresponsible and pleasure-loving? Surely he's the last person whose advice she should follow!

Bonus Story!
A Spanish Dilemma

Robert Seton isn't just going to sit around spending money on silly amusements when there's a war going on. But since his father has refused to buy him a commission in the army, Robert is thrilled when he is given a diplomatic post to observe treaty negotiations in Basel, Switzerland between France and Spain. Finally he'll have a role to play in order to help defeat the French.
Isabella Guzman is very happy to have accompanied her father to Basel to support him as he negotiates with the French. But now that the negotiations are over, the French seem to need a little push to get them to sign what they've agreed to. Isabella is determined to give it to them—she wants to go home.
Fighting the French is so much more pleasant when you have an intelligent and attractive ally, but with Robert looking forward to returning to England and Isabella going home to Spain, things are going to get complicated.

Amazon US: https://www.amazon.com/Merry-Men-Box-Set-Quartet-ebook/dp/B01MTWMQ0K
---
Thanks for stopping by. Happy Holidays! Hope to see you soon.