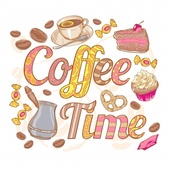 Hey, booklovers!
Join me in welcoming this week's author guest, Beth Barany, with her YA fantasy, Henrietta and the Battle of Horse Mesa.
How do you take your coffee, Beth?

BETH: I love Starbucks tall cappuccino. At home I make a half-n-half, have strong coffee and half coconut milk with a dash of half-n-half.

Ally: Since we always have Starbucks around here, I'll serve that up right away. In the meantime, please introduce yourself.

---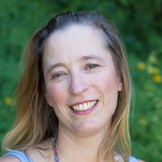 BIO:

Award winning author, Beth Barany writes in several genres including young adult adventure fantasy and fantasy romance. Inspired by living abroad in France and Quebec, she loves creating magical tales of romance and adventure to empower women and girls to jump into life with both feet and be the heroes in their own lives.

In her off hours, Beth enjoys walking her neighborhood, gardening on her patio, and watching movies and traveling with her husband, author Ezra Barany. They live in Oakland, California with their cat named Leo, a piano, and over 1,000 books.

Something unusual that isn't in your regular bio: "I've run 4 sprint triathlons (swim, bike, run) and finished each one."

Author Contacts:

Site: http://author.bethbarany.com/
Twitter: http://www.twitter.com/beth_barany
Facebook: https://www.facebook.com/bethbarany
Instagram: http://instagram.com/bethbarany
---
INTERVIEW:

Ally: Let's jump right into the writing process. How do you choose and name your characters?

BETH: My character names come to me all kinds of ways. When Henrietta The Dragon Slayer came to me, I thought it was hilarious to pair an old-fashioned name with a kickass heroine. Jaxter, the jester, came to me because he was inspired by the comical character. Joxer, in Xena, The Warrior Princess TV show. Franc came to me because I wanted a name that sounded masculine and was a short name, to act as a counterpoint to Henrietta's three-syllable name. I choose Paulette, because like Henrietta's name, I wanted a female name that could be shortened to a boy's name. With my heroines' names, I wanted to play with images and stereotypes of masculine and feminine.

Ally: If you could have a supernatural power, what would it be and why?

BETH: I've always wanted to fly and to have telekinesis. The flying part would be a given, like a skill lots of superheroes have. But my wow factor would be the ability to move objects with my mind. Ever since I read a story as a child where the main character learns how to do this, I wanted it. I just thought it was the ultimate in having a powerful mind. (Sorry, I can't find the title of that book. If I do, I'll add it to the comments.)

Ally: Have you thought about one of your books being made into a movie? Who would play the parts, if you could choose?

BETH: OMG, of course. From the start, I've seen Henrietta The Dragon Slayer as a movie, or even a series of movies. When people see the book cover, they often say they see the story as a movie!

Who wouldn't want to see another kick ass heroine on screen? As for who would play what… I already have an actress who wants to play Henrietta. That's under wraps for now.

Here's my wish list for the other three main characters: Maybe Jaxter could be played by Andrew Garfield or Grant Gustin. He needs to be wiry and funny.

A rough and tough knight, Franc could be played by Chris Pratt, Taylor Kitsch, Armie Hammer, Liam Hemsworth, Lee Byung-hun, John Abraham, or Luke Pasqualino.

The young witch Paulette could be played by Cara Delevingne, Hailee Steinfeld, Dakota Johnson, Shailene Woodley, Alicia Vikander, or Maika Monroe.

Ally: Do you have a writer's cave? Describe it or tell us where you do most of your writing. Does it have to be quiet or do you write with music or white noise (tv, etc)?

BETH: I love writing to pop music, though I edit usually to Baroque or to Celtic music, especially Julie Fowlis. As for my writer's cave or environment, I write all my first drafts at a café, usually Starbucks, a local bakery called La Farine, or the local diner (Piedmont Café & Diner), at the counter, or at a local co-working space, Oakland's ImpactHub downtown. I love sitting at the counter or a tall table, perched, like in a treehouse, separate from the world, yet connected. I love the activity of these public environments, the buzz of conversation in the background, music overhead, and the humming of the espresso machine or people chatting.

Ally: Answer these five short answer questions:

a. an item on your bucket list: Live and travel in Ireland.
b. favorite movie: The Fifth Element
c. favorite accessory (jewelry, scarves, shoes, etc.): Pink scarf
d. What are your hobbies? Watching TV and movies; running; gardening; travelling to new places.
e. typical breakfast: Two fried eggs and kale with coffee

Ally: Thanks so much for spending time with us today. Before you go, tell us about your latest book.

BETH: I'm excited to announce the third book in my YA fantasy series, Henrietta and the Battle of the Horse Mesa.

---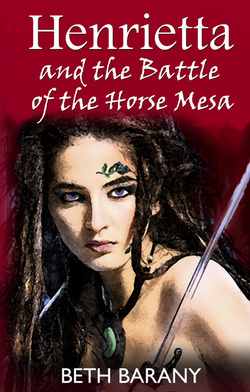 HENRIETTA AND THE BATTLE OF THE HORSE MESA (Book 3)

Finally, the sweeping conclusion to the Henrietta The Dragon Slayer trilogy! Parted by destiny, the four friends struggle to rejoin forces and face for a final time, the ruthless sorcerer intent on destroying them all.

In the biggest challenge of her life, Henrietta the legendary Dragon Slayer of Bleuve must lead her people into a battle that may end life as they know it. For they face no ordinary army, but the dark forces of a powerful sorcerer bent on overtaking all five kingdoms. And unless she can rescue her dauntless knight Franc, she must do it without his support.

Franc will follow Henrietta anywhere. But on a mission to find allies among the Horse People, he is kidnapped and taken by minions of the evil sorcerer Eyvindir. Will he find the strength and courage to survive, and fight again at Henrietta's side?

Paulette, the young fire witch, must stand trial for a murder committed out of desperation. In despair at her imprisonment by forces acting against her dearest friend, Jaxter, she escapes and flees to the frigid, forbidden land of Varangia to find a witch powerful enough to help her finally master fire. But what must she give up to gain the power to aid her friends?

Jaxter, now a king, must come to terms with the heavy responsibilities of ruling the Oro Islands, newly emerged from over 75 years of evil rule. This means doing right, even when it means going against ancient customs and protocols. Worse, the marauding Varangians press at his borders. He must find a way to defend his home, or none of them will survive.

Will Henrietta and her friends be able to stop the ruthless sorcerer from obliterating her, claiming the Dragon Stone, and ruling over the Five Kingdoms?

Buy Links:

Amazon: http://bit.ly/Henrietta-DragonSlayer-Kindle
B&N: http://search.barnesandnoble.com/Henrietta-The-Dragon-Slayer/Beth-Barany/e/2940012228222/
Kobo: http://store.kobobooks.com/en-US/ebook/henrietta-the-dragon-slayer
iBooks: http://bethb.net/HEN1pg
Smashwords: http://www.smashwords.com/books/view/46068
Indiebound: http://www.indiebound.org/book/http://www.indiebound.org/book/9780983296041?aff=bethbarany
Bookdepository: http://www.bookdepository.com/Henrietta-Dragon-Slayer-Beth-Barany/9780983296041?b=-3&t=-20

**NOTE** Like many fantasy series, you do need to read the books in order. So start with Henrietta The Dragon Slayer (Book 1) here: http://author.bethbarany.com/books/the-five-kingdom-series/. Link includes a sign-up for a free prequel!
Happy Reading. Please stop by again!