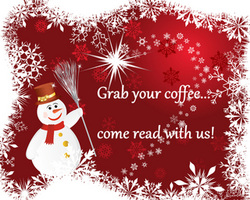 Welcome to the first Coffee Chat in 2017!

I hope your holiday was wonderful and that you have lots of new books to read! In case you still have a gift card to use, check out my interview with author Christina Hoag and her romantic YA thriller, Girl on the Brink.

Good morning, Christina! What can I get you to drink?

CH: I drink café con leche every morning, half espresso, half milk. After travelling and living in countries with real coffee cultures, I can't drink American-style coffee anymore!

Ally: No problem. My magic pot can fix anything. Meanwhile, please introduce yourself to readers.

---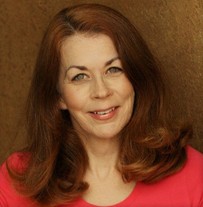 Bio:
Christina Hoag is the author of Skin of Tattoos, a literary thriller set in L.A.'s gang underworld (Martin Brown Publishers, August 2016) and Girl on the Brink, a romantic thriller for young adults (Fire and Ice YA/Melange Books, August 2016). She is a former reporter for the Associated Press and Miami Herald and worked as a correspondent in Latin America writing for major media outlets including Time, Business Week, Financial Times, the Houston Chronicle and The New York Times. She is the co-author of Peace in the Hood: Working with Gang Members to End the Violence, a groundbreaking book on gang intervention (Turner Publishing, 2014). She lives in Los Angeles.

Something unique not in your usual bio: "I was almost born in Zambia, which is where my parents met. They left a couple months before my mother was due to give birth and I was born in New Zealand instead."

For more information, see www.christinahoag.com.

https://facebook.com/ChristinaHoagAuthor
https://twitter.com/ChristinaHoag
https://www.goodreads.com/author/show/7341116.Christina_Hoag
---
INTERVIEW:

Ally: Your write both mature fiction and young adult. Is it hard to switch between the two? Do you set out to write one or the other, or does the heroine tell you what kind of story she prefers?

CH: Both my novels started out as YA. On "Skin of Tattoos," I eventually upped the protag's age by just a few years to make it an adult novel and it made all the difference as far as the scope of what the character could do since teens are limited in their range of actions by their age. However, the book still has some YA elements in that the protag has a lot of issues with his parents and family that he comes to term with by the novel's end.

I conceived "Girl on the Brink," however, as a YA, and it stayed as YA, but it was tricky, I confess. It took me a while to firm up the YA voice and perspective. It didn't come naturally to me. I had to immerse myself in YA books to get the hang of it. I'm more comfortable with the adult voice though I have another YA in mind for down the road. YA readers are very enthusiastic so it's a rewarding audience.

Ally: What was your road to publication? How long did it take you? What did you do to find a publisher?

CH: It was a long and rocky road to publication that took years, even after I finished writing the books, which took years in of itself. I eventually got an agent after sending out about 90 queries, but frankly, she was a lousy agent who gave up quickly. I did not. I rewrote and rewrote and got another agent, who was a real pro. She did not, however, succeed in selling my book (this was Skin of Tattoos). I kept at it. I knew it was good, and I knew Girl on the Brink was good, too. I kept rewriting, but I switched from seeking agents to seeking publishers who took unagented subs. I kept searching the Internet for publishers and submitting. My persistence paid off in the end, but it was a years-long process. I always tell aspiring authors, don't give up and believe in yourself. Just keep going no matter what anyone tells you.

Ally: What has been the biggest surprise about the writing/publishing/marketing business? How did you adapt?

CH: Genre is everything. If you can't fit your book within the confines of a specified genre, publishers (and agents) can't market it. A good story just isn't enough. This was the case with my novel "Skin of Tattoos." My agent finally labelled it a "literary thriller," and that seemed to work. "Girl on the Brink" was an easier one to categorize, as it deals with teen dating violence and there is an established contemporary social issue genre in the YA canon.

Ally: Your next project and potential release date?

CH: I'm working on two novels, both nearing completion. One is a traditional detective mystery set in Los Angeles and the other is what I'm calling a literary political thriller, set in Caracas, Venezuela, during the 2002 coup attempt. I was living there at the time and I covered the coup as a journalist. It was a very intense time. My goal is to finish both of these next year.

Ally: Try these short answer questions.

a. Do you make New Year's resolutions? I used to but found they didn't work. Now I just hold myself accountable by writing things on a list. If it's on the list, I have to do it!
b. How many books do you read in a year? I average about one a week.
c. Favorite perfume or lotion: Lanolin lotion from New Zealand. This is made from natural lanolin from sheep's wool, which in its raw state is quite oily. It's a beautiful thick, rich cream.
d. A guilty pleasure: A cream tea. The cream in cream teas ideally comes from Devon, England. It is boiled twice, resulting in a thick, clotted cream. With jam on a scone, and of course a pot of tea, it's to die for.
e. A place (real or fictional) you dream about visiting: I really want to go to Mongolia. I'd love to roam the steppes with yaks and sleep in a yurt. Kind of weird, I know, but I love remote, isolated places.

Ally: Thanks for visiting the blog, Christina. Before you go, tell us more about Girl on the Brink...
---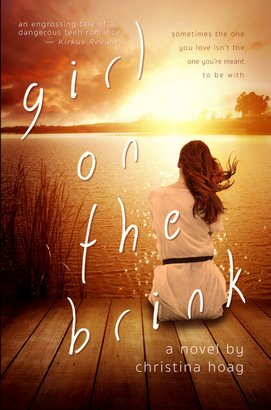 Girl on the Brink Blurb:

Sometimes the one you love isn't the one you're meant to be with.

The summer before senior year, Chloe starts an internship as a reporter at a local newspaper. While on assignment, she meets Kieran, a quirky aspiring actor. Chloe becomes smitten with Kieran's charisma and his ability to soothe her soul, torn over her parents' impending divorce. But as their bond deepens, Kieran becomes smothering and flies into terrifying rages. He confides in Chloe that he suffered a traumatic childhood, and Chloe is moved to help him. If only he could be healed, she thinks, their relationship would be perfect. But her efforts backfire, and Kieran turns violent. Chloe breaks up with him, but Kieran pursues her relentlessly to make up. Chloe must make the heartrending choice between saving herself or saving Kieran, until Kieran's mission of remorse turns into a quest for revenge.

Girl on the Brink Buy Links:

Amazon: http://amzn.to/2aRFsVZ
Smashwords: https://www.smashwords.com/books/view/657690
Kobo: http://bit.ly/2bFrCGQ
---
Have a wonderful New Year! Come back soon...