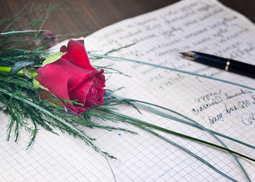 Good Morning, Booklovers!

Our Coffee Chat author guest this week is Miguelina Perez with her debut novel, The Vicar's Deadly Sin.

Welcome, Lina, What may I get you to drink?

LINA: I love coffee with lots of milk. Caffe Latte.

Ally: The magic pot is yours to command. While I pour, please introduce yourself.

---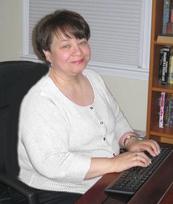 BIO:

Ms. Miguelina Perez is a writer, and jewelry artist. She earned her Bachelor of Arts degree in English from the University of the District of Columbia. As a jewelry artist one of her lariats was showcased in the San Antonio Express-News. She has won several awards including a critical Writing award for an essay on the gender roles of Mark Twain's Huckleberry Finn and Louisa May Alcott's Little Women.

She finished her first book, The Vicar's Deadly Sin – a Regency romance mystery, the first of a seven-part serial based on the Seven Deadly Sins. Currently, she is working the sequel to the Vicar's Deadly Sin, "Angel's Lust" and will start on "A Hero of Her Own" a contemporary romance thriller, about a serial killer terrorizing New York.

Originally from Brooklyn, NY, Ms. Perez resides in Gaithersburg, Maryland.

Something about you that's not in your bio: "I believe in love at first sight...I also believe love conquers all.

Contact the author:

Website:
Website: miguelinaperezauthor.com Twitter: @regencyinkwell
Email: mperezauthor@gmail.com
---
INTERVIEW:
Ally: What type of book is The Vicar's Deadly Sin?

LINA: It is a regency romance mystery.
PG-13 and up. No sex. Sort of Jane Austen meets Nancy Drew..

Ally: How do you choose and name your characters?

LINA: Sometimes I take a name from someone I know and give them the last name of someone else.

Ally: Do you have a book trailer or will you? Are they worth the time and money?

LINA: Yes, I have one, and I think they are worth it. But if you do not have the money, you can learn to make your own. I have made my own. And hope to continue to make them. I have even made them for friends.
(Ally note: I've made all but one of mine. It's rather fun if you have the time. I use Movie Maker.)

Ally: How do you spend your non-writing/editing time?

LINA: I spend my time reading, watching television and knitting. But that is after I know the place is cleaned and all of my chores are done. Lol…

Ally: Does your real life show up in your writing? In what ways?

LINA: In the contemporary romance I hope to write, I will be adding some real life in it. Lots of it will be the main heroine and her relationship with her family.

Ally: What is your next writing project?

LINA: I am almost done with the first draft of the sequel for The Vicar's Deadly Sin called Angel's Lust and it is about the lust for youth and beauty and how young maidens are being sacrificed to a fictitious god by an Italian Count. Here is the blurb:

Lady Jane Bartholomew and Miss Margaret Renard are back and this time they are out to catch a murderer targeting young maidens for sacrifices.
Believing that having come close to getting themselves killed in their last investigation, Sir Hugh, now engaged to Lady Jane Bartholomew and Mr Latham, solicitor to Miss Margaret Renard, are distressed to learn that the young ladies are once again up to their old tricks.
Believing they can solve the murders, the young ladies may well fall prey and become sacrificial lambs, unless Sir Hugh and Mr Latham protect them while trying not to fall victims themselves to the unseen evil walking among them leaving a pile of corpses in its wake?

Ally: Let's finish our chat with a few short answer questions.

a. favorite book – Pride and Prejudice
b. book you're currently reading – The Houseguest: A Pride and Prejudice Vagary
c. favorite tv program – Grimm, sadly it has been canceled.
d. favorite quote – In Love I am but a mere reflection – M. Perez
e. A guilty pleasure – Vanilla Shake
Ally: It was a pleasure visiting with you today, Lina. Good luck with your books. Before you go, please show readers more about The Vicar's Deadly Sin...
---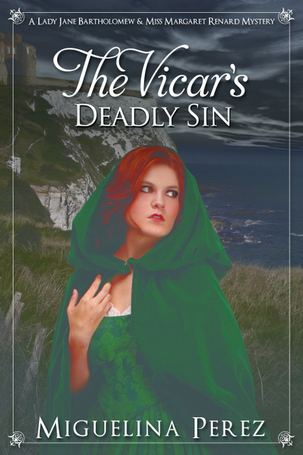 The Vicar's Deadly Sin

A Touch of Romance…A Touch of Regency…A Touch of Murder… Lady Jane Bartholomew and Miss Margaret Renard have been friends since the age of twelve. Together they share their dreams, hopes and a love for reading. However, it is their wild imagination and a penchant for solving mysteries that will test their abilities when the Vicar of Dover is found murdered. The young ladies are joined by two gentlemen, also eager to find the murderer in order to prove to the ladies that detecting is a man's job, though the gentlemen find their beauty, wit, and pride more troublesome than solving a murder. The Vicar's Deadly Sin is a delightful and witty Regency romance mystery about two friends and their love for solving crimes, while keeping society and its rules at bay.

Buy On Amazon: http://amzn.to/2iRrA0f
Book Trailer: https://www.youtube.com/watch?v=Ab4U2lgacqg
---
Thanks for stopping by. Please come back soon!