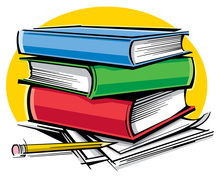 Good Morning, booklovers!

Welcome to this week's Coffee Chat with women's fiction writer, Patricia Preston, and her romance novel, Everything His Heart Desires.

What may I offer you to drink, Patricia?

PP: I don't drink coffee. But I do drink sweet tea every day.

Ally: Tea it is. While I fix our drinks, please introduce yourself to readers.


---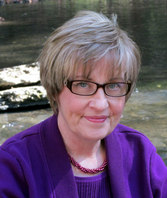 Author Bio:

Patricia Preston loves writing single-title women's fiction where love matters most. She also writes short stories and historicals. She won William Faulkner Award for Short Fiction, the Lone Star Writing Competition for Historical Romance, and Harlequin's World's Best Romances Short Story Competition. She's a hybrid author who has published traditionally and independently. She's repped by the Seymour Agency. Besides writing, she's also worked as a librarian, medical office manager, and in a cosmetic department where she played with makeup all day. Her favorite place to hang out is her writing cave where must-haves are iced tea and epic music. She also enjoys photography, movies, and research trips to New Orleans.

Something unusual not in your regular bio: "I make the Best-Ever Pecan Pie!"

For info on new releases and contests, sign up for her newsletter

Check out her Blog Follow her on Twitter Facebook Amazon Author Page
---
INTERVIEW:

Ally: What type of book did you bring with you today?

PP: The genre for the Love Heals Alls series is single-title romance/women's fiction. Heat rating is warm, kinda like cable channel movies, so I'd go with over-18.

Ally: Every writer has their own style and writing process. How would you describe yours?

PP: It is part pantser and plotter. I usually do a bare bones outline to start with and flesh out the characters. Once I'm writing the book, I work all day at the computer and at night, I will sketch out the next day's scenes and dialogue in longhand. I don't set word count goals. I think more along the lines of completing a chapter or a scene.

Ally: Did someone or something inspire you to write? If so, what effect did it have and why?

PP: The first person who actually encouraged me to write was my seventh grade English teacher. I never forgot that and I don't think I would have ever been a writer had it not been for her.

Ally: Do you have a writer's cave? Describe it or tell us where you do most of your writing. Does it have to be quiet or do you write with music or white noise (tv, etc)?

PP: Yes, I do have a writing cave. It's actually a bedroom that I converted into an office. I do all my writing at a desktop in this room. I have two computers. One for online stuff and the other for writing only. It definitely looks like a working room as I have corkboards on the walls, file cabinets and bookcases. There is a smaller room that is attached to this room and it is sorta my little den area with a recliner, more bookcases and it is where I sketch out plot lines and scenes on art paper. I always listen to music when I write. Never the TV. The only time the TV is on is when I am watching it.

Ally: What is your favorite social media?

PP: Twitter. I like it because tweets are short and easy, plus I love the memes. I go to Twitter for instant news, to find new books, recipes, etc. All you have to do is search by a hashtag like #NewRelease and all the tweets with that hashtag appears in your feed. Also you can create a list and add members, then all you have to do is go to your list to see their tweets. You can find me @pat_preston Also I love my blog where I do a lot of different posts and have guests.

Ally: I love to hear where other writers live. Tell us about your home.

PP: I live in a small town of about 15,000. I do live in an older home in the downtown area which is only a few blocks from the post office, library and downtown area and I like that. I definitely get around in my Honda. There's no other means of transportation locally, other than a small cab service. At times I wished I lived in a larger city where there would be more things to do but then we don't have any traffic issues. I can be at restaurant or store in less than 5 minutes. I have been in rush-hour traffic in some major cities and that would drive me nuts.

Ally: What is your next writing project?

PP: The next book is
Not Through Loving You
, which is due to be released on June 20th by Kensington/Lyrical Press. It's a single title romance involving a pediatrician, Dr. Aaron Kendall, who is planning to adopt an unwanted preemie when the baby's aunt, a Nashville songwriter, shows up and complicates things for Aaron. This year I am going to write another book in this series which involves Kayla, who has been in all the other books. Plus I really hope to get to finish the second historical in my Indie series, French Quarter Brides.

Ally: Here's a few get-to-know-you short answer questions:

a. Favorite tv program: Supernatural
b. High heels or sneakers: Sneakers
c. Favorite book boyfriend: Rhett Butler
d. What are your hobbies? Photography
e. If you couldn't write anymore, what would you want to do? Die. lol


Ally: Thanks for visiting with us, Patricia. Before you go, please tell us more about your novel, Everything His Heart Desires...
---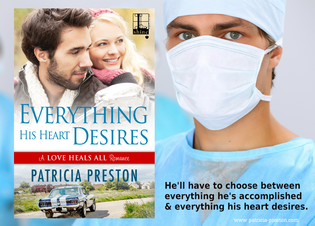 EVERYTHING HIS HEART DESIRES
(Rated R)

The man most likely to drive her crazy…

Growing up in Lafayette Falls, senator's daughter Natalie Layton hid her sorrows behind a bright smile that charmed everyone in high school—except Brett Harris. Hardworking and highly motivated, Brett dismissed Natalie as a slacker. Instead, she's become an acclaimed photographer. And when Brett, now a successful cardiologist, needs her family's help to secure a coveted position, Natalie's more than happy to prescribe a little payback…

Hailing from the wrong side of the tracks, Brett believed he could never win the school's popular princess. Now he's intrigued by the complex and compassionate woman Natalie's become. Gaining her grandmother's goodwill is the key to becoming chief cardiologist—and Natalie has no intention of making it easy. But as mutual mistrust gives way to pure chemistry, there's more at stake than either ever expected—and much more to learn about matters of the heart…

Buy Links: Amazon Nook Kobo Google Play iTunes

Thanks for stopping. Come back soon!