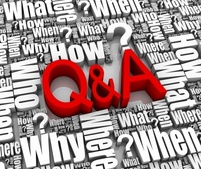 Welcome, Booklovers!
It's Wednesday, time for book talk. Meet this week's guest, cozy mystery writer, Amity Allen.

Good morning, Amity. What may I get you to drink?

AMITY: I don't drink coffee because I don't like hot liquids – drinks or soups – really anything hot, but I drink a lot of diet coke.

Ally: Then we'll pull you a coke from the fridge. While I collect our drinks, please introduce yourself to readers.

---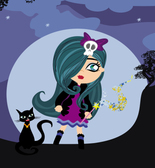 ---
INTERVIEW:

Ally: Before we get into the interview, tell us what kind of book you brought with you today.

AMITY: Poison, My Pretty is a cozy, murder mystery with paranormal elements. Definitely PG-13 with no profanity, no sex, and no graphic violence.

Ally: Do you have a typical writing process?

AMITY: I wish I could be disciplined enough to write every day, but I write more in spurts. Deadlines really help me get things done so I set self-imposed ones for each project. Sometimes I use dictation to get through a rough draft.

Also, I put on calm, peaceful videos on my TV as "background noise" and especially while dictating I watch fireplaces, deserts, underwater scenes, forests, etc. I'm very visual so this inspires me. Netflix has a great series called "Moving Art." I watch all of those while I write.

Ally: What was your journey to first publication, including bumps and missteps?

AMITY: I've written romance for three years under a different pen name, but my road to getting published had some bumps for sure. The first time I sent a manuscript to a publisher, I received an automated "we've received your book, and we'll get back to you" response. So I waited. And waited. And waited.

After the anthology I was submitting for was released, I contacted them and told them I never heard back. Apparently my submission had gotten lost in cyberspace because they said they never received it and invited me to re-submit the book as a stand-alone title. So I did, and then after another long waiting game, I realized their acceptance letter was in my spam email box. Now I always check my spam inbox if I'm expecting an important email.

Ally: Can you walk use through your typical editing methods, from first draft through read- to-buy?

AMITY: After several years of being with small publishers, I branched out on my own last year into self-publishing which I adore. I'm a bit of a control freak when it comes to my work so I love working with a cover artist and choosing my team.

Each project is a little different, but for Poison My Pretty I used two different editors and a proofreader. The first editor is a tough cookie who has no problem telling me what she thinks and is great at whipping my manuscript into shape. My second editor helps me more with nuances and always has lovely ideas for how to make my words a bit prettier. And my proofreader is a genius at picking up typos and other mistakes.

For this book I also used an interior designer to format it so that the inside is as well-styled as the outside. She incorporated cute little black cats throughout the book which adds a certain charm to the series.

Ally: What is your next writing project?

AMITY: I'm working on the second Poppy Parker mystery right now. It's called Gunshots, My Girl. Here's a brief description:

When Aunt Cricket goes on vacation leaving Poppy in charge of the B&B, the situation explodes in a flash of blue police lights after a priceless vase is stolen and the new pool boy turns up dead.

On her quest to find the culprit, Poppy will have to sort through angry exes, casino kings, alligator attack victims, and arrogant personal trainers. But can she uncover a killer, recover the stolen antique, and find a new pool service all before Cricket returns?

Ally: Let's finish with a few short answer questions.

a. color of nail polish you have on – I almost never do my nails, but I love hot pink nail polish on my toenails. This time it's OPI's Kiss Me I'm Brazilian.
b. What comes to you first - character or plot? For me it's "the big idea" that comes first. Then everything around it starts to fill in. So maybe that's plot.
c. Last book that made you laugh – You by Caroline Kepnes.
d. Your pets – Dogs – Mitzi (Duck tolling retriever), Sebastian, and Delta (Cavalier King Charles Spaniels). Cats – Tabitha (Calico) and JoJo (Siamese). Pig – Petunia (500+ lbs. She's an outside pig.)
e. What are your hobbies? I'm a rabid basketball mom. Think stage mom and insert basketball. Momma has #hoopdreams.
Ally: Thanks for visiting the blog. Before you go, we'd love to hear your blurb for Poison, My Pretty...
---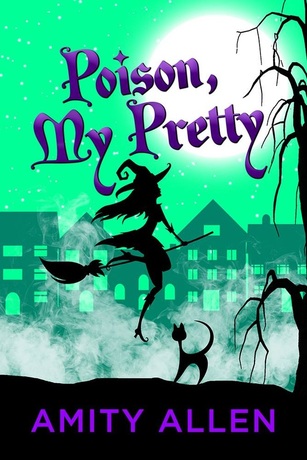 POISON, MY PRETTY

When Poppy Parker turns 21, the popular TV witch detective discovers she has supernatural powers off the set as well as on. The show gets canceled and she returns home to figure out how to harness the magic brewing inside her.

Freaked out by these recent paranormal gifts, Poppy just wants to fit in, so when she's asked to serve as a judge for the annual Bloomin' Belles youth beauty competition she readily agrees.

But when the pageant's snooty director drops dead and Poppy's friend is arrested, the former TV sleuth sets out to uncover the real killer, only to find…

the business of beauty can be deadly.

*Recipes Included*

Amazon: http://smarturl.it/PoisonZon
Goodreads: https://www.goodreads.com/book/show/32978338-poison-my-pretty

Giveaway: ($50 Amazon GC and 3 signed print copies of
Poison My Pretty: http://gvwy.io/wtkms3f )

---