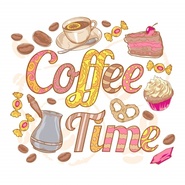 Welcome to the first Wednesday in Spring!

We actually had snow showers yesterday, but I'm hopeful! In any case, we're cozy inside with mystery author, Molly MacRae.

Morning, Molly. What may I get you to drink?

MOLLY: I usually have tea with milk. When I do have coffee, I want it to be one of those things that's really more like liquid dessert, preferably with chocolate, whipped cream, and sprinkles.

Ally: Tea it is (although I'll stick with coffee)! While I prepare our drinks, please introduce yourself to readers.

---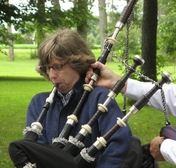 BIO:

The Boston Globe says Molly MacRae writes "murder with a dose of drollery." She's the award-winning author of the Highland Bookshop Mysteries and the Haunted Yarn Shop Mysteries. Molly's short stories have appeared in Alfred Hitchcock Mystery Magazine since 1990. After twenty years in northeast Tennessee, Molly lives in Champaign, Illinois.

Something unique/unusual that isn't in your regular bio: "I like to exercise my writing muscles by stretching my abilities – not always successfully. Here are three examples. A long time ago, I wrote a series of mystery short stories in French. The stories weren't too good and neither was the French. A shorter time ago, I wrote an even shorter mystery story in Scottish Gaelic (if three lines can count as a story). Again, the story wasn't so hot, but the Gaelic was impeccable. Much more recently, I won a flash fiction contest at a mystery conference with a story called 'Hammered by Hamilton' written as a rap."

Author contact links:

Website: www.mollymacrae.com
Facebook: https://www.facebook.com/molly.macrae.9
Twitter: @MysteryMacRae
Pinterest: https://www.pinterest.com/MollyMacRae/
---
INTERVIEW:

Ally: What can readers expect when they open a Molly MacRae book?

MOLLY: I write cozy mysteries, and while there's a hint of romance, the heat level is very low.

Ally: How do you choose and name your characters?

MOLLY: Sometimes I choose them and sometimes they just show up. When I'm in control of the situation, I try to choose characters that a) I don't mind getting inside their heads; b) who can best tell (or lie about) the story; c) who show me something about the emotional setting of the story; or d) who I don't mind killing. Names can be tricky. I try to pick names common to the region I'm writing about, and that are appropriate to the character's age. I try to avoid names that sound too much alike, and try not to have too many with the same beginning sounds.

Ally: Does your real life show up in your writing? In what ways?

MOLLY: Oh yes, and not always very well disguised. Take setting and occupations, for instance. All my books and stories, except for the Highland Bookshop Mysteries, take place in small towns in northeast Tennessee, all of them suspiciously like Jonesborough, a town I dearly love and where we lived for so long. Wilder Rumors is about a shady museum curator in one of those versions of Jonesborough. I was the curator (not too shady) of the Jonesborough-Washington County History Museum. Lawn Order is about Margaret Welch who owns a bookstore in another version of Jonesborough. I didn't own a bookstore, but I left the museum to run The Book Place, a wonderful independent bookstore. The Haunted Yarn Shop Mysteries are about a woman who inherits her grandmother's yarn shop. My grandmother did own a yarn shop, although it wasn't haunted and it wasn't in Tennessee.

Most of my characters are combinations of people I've known, or met, or who have caught my eye or ear (or to whom I'm related), but a few of my characters are named after real people. Debbie Keith, Aaron Carlin, and Al Rogalla are co-workers of mine at the library who won the dubious pleasure of being in the Haunted Yarn Shop Mysteries after donating money to our staff charity drive. (Al's first name in real life is Mike, but I used part of his middle name to avoid confusion with my husband who is also a Mike.) Thea Green also works at the library, and she just showed up in the books one day and stayed. In the Highland Bookshop Mysteries, James Haviland, Sharon Davis, and the Paudel family are named after friends. Needless to say, nothing about the characters, other than their names, is anything like the real people. Although Thea might disagree, and the real Rogalla does have a Scottie named Bruce.

Ranger, Sophie, and Quantum, dogs in the Highland Bookshop Mysteries, are based on dogs who belong to friends. In fact Quantum, who's a very handsome and accomplished smooth collie, is joining me for a book signing at the end of April in Alexandria, Virginia. Word is, he's very excited and looking forward to "pawtigraphing" books.

And then there are the bits of observed behavior and overheard dialog. About that, let's just say if you see me hanging around, be careful; I'm nosy and I write things down.

Ally: What is your next writing project?

MOLLY: Scones and Scoundrels, book two of the Highland Bookshop Mysteries, is almost finished. In it, an eccentric author, who's visiting Inversgail for the Authors in Schools program, is found dead – poisoned by scones from the tearoom that's now part of Yon Bonny Books. The book will be out in January 2018.

Ally: Tell us about your home. Your life style.

MOLLY: We live in a university town – Champaign, Illinois – in a small, yellow house in an old neighborhood within walking distance of work, a park, and restaurants. Before Champaign, we lived in northeast Tennessee for about twenty years, within walking distance of bears. Years before that, I lived in Edinburgh, Scotland, for a year.

Ally: How do you spend your non-writing/editing time?

MOLLY: I work full time in the children's department of the public library. When I'm not writing or working, I like to try new recipes, do crossword puzzles, read, and find more reasons for not dusting or weeding.

Ally: Please answer the following short answer questions:

Book you're currently reading? The Wreck of the Argyll by John K. Fulton and Everyone Brave is Forgiven by Chris Cleave.
Favorite accessory: A bracelet that says "So many books, so little time."
What comes to you first - character or plot? Sometimes one, sometimes the other, sometimes both.
What are your hobbies? Cooking, crossword puzzles, and hoping that someday I'll have time to improve my knitting, embroidering, and needle felting.
Typical breakfast? Steel cut oatmeal with cinnamon, cardamom, salt, 1/3 of a banana, chopped walnuts, blueberries, and unsweetened almond milk; unsweetened yellow grapefruit juice; tea with milk.
Ally: Thanks so much for spending time with us. Before you go, we'd love to hear about the novel you brought today, Plaid and Plagiarism.
---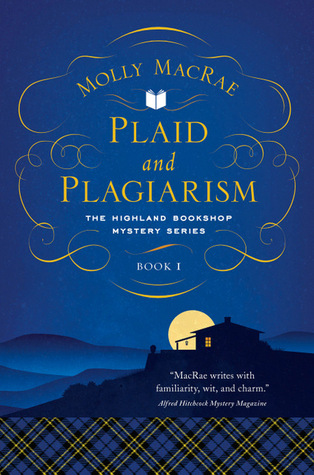 Plaid and Plagiarism, book one of the Highland Bookshop Mysteries

A murder in a garden shed turns the four new owners of Yon Bonnie Books into amateur detectives, in a captivating new cozy mystery novel from Molly MacRae.

Set in the weeks before the annual Inversgail Literature Festival in Scotland, Plaid and Plagiarism begins on a morning shortly after the four women take possession of their bookshop in the Highlands. Unfortunately, the move to Inversgail hasn't gone as smoothly as they'd planned.

First, Janet Marsh is told she'll have to wait before moving into her house. Then she finds out the house has been vandalized. Again. The chief suspect? Una Graham, an advice columnist for the local paper―who's trying to make a name for herself as an investigative reporter. When Janet and her business partners go looking for clues at the house, they find a body―it's Una, in the garden shed, with a sickle in her neck. Janet never did like that garden shed.

Who wanted Una dead? After discovering a cache of nasty letters, Janet and her friends are beginning to wonder who didn't, including Janet's ex-husband. Surrounded by a cast of characters with whom readers will fall in love, the new owners of Yon Bonnie Books set out to solve Una's murder so they can get back to business.


Buy links:

Your locally owned, independent bookstore: http://www.indiebound.org/book/9781681772561
Amazon: https://www.amazon.com/gp/product/1681772566/
Barnes & Noble: http://www.barnesandnoble.com/w/plaid-and-plagiarism-molly-macrae/1123754332;jsessionid=B836C77F6B38724AA5A1414EA6C4842A.prodny_store02-atgap07?ean=9781681772561

Thanks for Stopping. Come back soon!