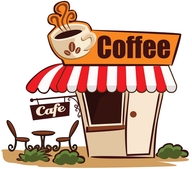 Good Morning, Booklovers!

Mystery writer, Mike Lord, is joining our book chat this week with his novel Chocolates & Cyanide!
Welcome, Mike. What may I get you to drink?

MIKE: I'm a tea drinker and enjoy living in a tea producing country. My wife makes tea from loose black tea leaves every morning, the nectar from which is then stored, minus leaves, in a vacuum flask for use during the day. I drink strong tea with brown sugar, and milk.

Ally: It won't be your wife's blend, but my magic pot makes a good spot of tea. While I pour, please introduce yourself to readers.

---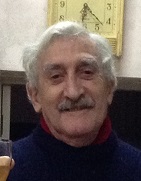 Bio:

Born in London, traveled around the world and now living in Vietnam since 1997, Mike Lord has worked for over 50 years in what is called "developing economies". Most of the time Mike's work has been with the thousands of small scale farmers, who have appreciated sustainable livelihoods, so that they now have enough food to feed themselves, and also some to sell so that they have a cash income. That is why most of Mike's novels are set in these countries and especially in the remote locations.

Three, nearly four years ago Mike finally retired and started writing, and has now produced 32 fantasy romance/thriller books nine of which have been published, and 23 self-published at Smashwords and Amazon KDP.

Mike Lord is a member of the Romance Writers of Australia.

Something not in your usual bio: "I have been a keen horseman for most of my life, including show jumping as a youth, and polo when older.

See Mike's author pages:

https://www.amazon.com/author/mikelord
https://www.facebook.com/mike.lord.96558
https://www.smashwords.com/profile/view/Lordmike
---
INTERVIEW:

Ally: What was your journey to publication?

MIKE: I started writing over 20 years ago, but did not publish my first novel until 2014, having had adventures with agents and vanity publishers which I successfully avoided.

Ally: Tell us about your unique writing process. When, where...

MIKE: I tend to think of plots and stories in the middle of the night, and know I will forget everything by the morning, so I get up and make notes. I outline the plot and the characters on a spreadsheet, and then start writing. Usually I write about 3,000 words a day in a loose draft until the story is complete. The revising and editing process takes weeks, and if the novel is accepted by a publisher sometimes months.

Ally: What inspired the book you brought with you today?

MIKE: "Chocolates & Cyanide" was inspired by a traveling experience. One day my bag was temporarily 'mislaid' by the airline, and caused me to think what happens to lost luggage, especially when given to or taken by the wrong traveller. The Chocolates and Cyanide came later.

Most of my characters are inspired by people I have met over the years. The names of heroes and heroines are often people I liked, and villains, people I disliked.

Ally: What is the biggest issue you've faced as an author?

MIKE: Book promotion and marketing are my single biggest problem. I run three Twitter names, and operate five email accounts attached to those names. My tweets are also distributed to Facebook, Instagram and LinkedIn.

Ally: Do you prefer to write single titles or books in a series?

MIKE: All my books so far are standalones, but I just started to write a series of four books, which I will publish as a Box Set later this month.

Ally: What do you do when you're not being Mike the Author?

MIKE: I have a large roof-top garden just outside the door by my writing area. The weeds in the spring, even in pots, tend to 'run away', so I have the daily task to convert weeds into compost.

Ally: Who is your favorite author, living or dead?

MIKE: The author I admire most would be Charles Dickens, and can personally relate to some of those characters, like Mr Micawber – "didn't sell a single book today, but would like to put a new greenhouse in the garden! In case anything turns up."

Ally: It was nice to have tea with you, Mike. Good luck with your books. Before you go, please tell us more about Chocolates & Cyanide...


---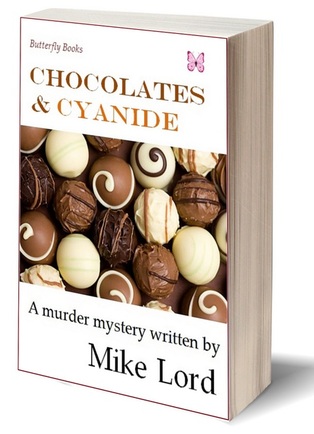 Chocolates & Cyanide
Genre: mystery/thriller

Blurb:

A box of milk chocolates is delivered to a man just before he leaves to fly to work in Botswana. He does not open it and just tucks it into his packed suitcase. His suitcase is delivered in error to a lady passenger in Johannesburg, who helps herself to one of the chocolates and dies of acute cyanide poisoning!
A concerted effort by the police in South Africa and England have to determine who was the intended victim, and who placed the cyanide in the chocolates, but the identities keep them mystified until they find who purchased the chocolates, and who stole the cyanide. The activities of a string quartette throws up several red herrings…

EXCERPT:

Just as she was getting into bed she decided to open her suitcase. The heavy duty plastic zip fastener was easy, and the top folded back.

The brown paper parcel immediately attracted her, and she didn't really look at the other items on the top of the suitcase. She didn't bother to read the name on the label and just opened the brown paper parcel, only to find a box of milk chocolates, wondering who would have given her such a present.

She just had to open the box, and cut the cellophane seal around the edge with a knife from her kitchen. She knew that the chocolates would be laid out nicely, but was surprised to find one slightly larger than the others in the centre of the tray, almost winking at her.

There was no foil wrapping just the chocolate with a design on the top. She could not help herself but picked it up and put it whole into her mouth.

As she bit into it the taste was a bit strange;

"Apples," she thought, and then "almonds," came to her mind.

She lay back on her bed to sleep...

Buy Links for Chocolates & Cyanide:
https://www.smashwords.com/books/view/618532
https://www.amazon.com/dp/B01C9XJOG6

(Adam Mann is Mike's pen name for his juicier adult books, some of which have been published by Phaze Books, eXtasy Books, and Global Publishing Group LLC.)
Thanks for stopping by the blog today. Come back soon!