"The Witch's Halloween Surprise" (short short, complete on this page)
"Vampire in the Shadows," an Andreas short (download below)
Moriana's Rain, YA prequel to Guardian Witch (download below)

---
---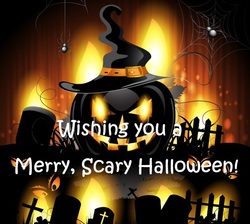 Even witches, vampires and werewolves have to do something on Halloween...

The Witch's Halloween Surprise

"You know what tonight is, don't you?"

Ari Calin, fire witch and supernatural cop, looked up from the couch where she'd sat with her feet curled under her reading a book in front of the fireplace. It had been a quiet week in Olde Town. She'd been home early from patrol the last three nights. When all the human witches and goblins were out, the real ones tended to stay hidden. She'd actually been kind of bored.

Andreas stood in the doorway—tall, dark, ever mysterious with a faint smile on his aristocratic face. The vampire held one hand behind his back.

"It's Halloween. Why?" She smiled at him. "Don't tell me you want to go trick-or-treating?"

"Hmm, no. I think two hundred years is a little old for that."

She cocked her head. "Are you hiding something?"

He nodded. "Guess."

"Only one of us likes surprises, and it isn't me."

His smile grew. "It is this time. Think Halloween, crisp fall nights, and farm fields."

She put down her book and walked toward him. "A pumpkin."

"No. Try again."

"Indian corn. Squash." With each shake of his head, she tried another guess, close enough now to try to peek around him. He moved to avoid her. "Apples or apple cider." She raised her hands in resignation. "Okay, I give up."

"Get your coat." He revealed his hand, holding two tickets. "We're going to a Halloween party, complete with haunted house and a corn maze."

Ari squealed and ran for the closet. Her fondest memories of childhood were a trip to a haunted house with her parents and siblings when she was five, the year before her parents died. She hadn't been to a real Halloween party for years. She grabbed her leather jacket and hoped that Olde Town would stay quiet for just a few more hours. This was going to be great fun!

* * *
The Haunted Farmhouse was in full swing when they arrived, full of children and adults, laughing and screaming. Ari enjoyed watching the tween-age kids more than anything else. The only tense moment occurred when an overenthusiastic reveler grabbed her arm, and Ari automatically turned to punch him. Andreas caught her wrist before anyone noticed her overreaction.

Once they made their way through the house and laughed at all the creatures jumping out from the dark, they found the main party in the back yard: Jack-o-lanterns; black and orange streamers; a water trough where you could dunk for apples—even Andreas got wet; a campfire where Ari cooked marshmallows for a S'more; pin the hat on the witch—Andreas pinned it on the figure's chest, but Ari thought it was on purpose. A long table held glasses of apple cider, stacks of popcorn balls, and bowls of nuts and candy. Ari had to sample it all, and Andreas seemed more than content to watch her relive her childhood. Ari took a deep breath drinking in the sights and the smells--burning applewood, pumpkin, the sugary scent of molasses.

She finally grabbed his hand. "Let's get lost in the corn maze. Here." She grabbed a cloth from a table next to the entrance. "You get the blindfold. I'll lead you to the center, and you can be the explorer who gets us out. I wish we had earplugs too. With your spidey senses, we need every advantage to fool you."

Andreas laughed. "It will not work, but you can try."

Ari couldn't stop grinning as she lead him on the most convoluted path she could find to the center. She couldn't remember a night she'd had so much fun. Maybe she just loved holding his hand and acting like any normal couple.

When they finally reached the middle after a fifteen minute walk, she stopped him when he started to remove the blindfold. "No, change of plans. You stay here for five minutes before removing the blindfold. And then try to find me." She dropped his hand and backed away. "I'll be waiting at the entrance when you find your way out."

"I'll catch you before then," he said.

"You think."

"I do."

"Bye." She crept quickly out of the center area, trying not to reveal which direction she had taken. She sped along the path, using a combination of her memory and her witch senses to steer her in the right direction. She was chuckling to herself when she heard a scream, suddenly cut off. She stopped and listened, not sure whether it was part of the entertainment or a customer enjoying a good scare or someone in trouble. When she didn't hear anything else, she started forward again but slowly now, listening for unusual sounds.

She stopped again at the sound of quiet sobbing and moved swiftly in that direction. She turned the corner, expecting to see a lost child, but no one was there. She checked the other path. Still no one. Witch senses prickling, she kept close to the side of the corn row and turned down a third path. A sound to her left. She could smell werewolf and the child's crying started again.

This time she dove through the corn, ignoring the path, bursting into an adjoining row where she thought the sound had been. Again it was empty. Maybe one more row over.

She shoved the stalks aside and climbed through to see a figuring running down the path and turning the corner. She sprinted after him, one hand on her dagger, turning corners. But where was the victim? Just as she thought she should turn back and locate the child, who might be injured, even dying, she leaped aside just in time to avoid an assailant. She snatched her dagger but was knocked down, landing on her stomach and held from behind. She had just recognized his familiar magic when she heard the laughter. Several voices laughing. He let her go, leaping to his feet. She looked up, wiping dirt from her chin, and Andreas offered her a hand.

"Happy Halloween." His eyes twinkled with mischief.

She accepted his hand with a quizzical look. "What's going on?" She turned to frown at their friends: Steffan, the local werewolf leader; Lilith, a werelion, and her husband Russell; Gabriel, Andreas's second-in-command of the local vampire court, and the unknown werewolf she'd been chasing. "Where's the child?"

"There is no child." Andreas waved a hand at Steffan.

"We heard you'd been bored this week. Not wanting you to have a dud of a Halloween, we dreamed up a little excitement for your maze trip." Steffan held up a recorder and replayed the sounds of screaming and crying.

"And I stole your capsuled cloaking and masking spells for us to use, so you wouldn't recognize our scents." Lilith grinned, clearly enjoying having fooled her friend.

Gabriel threw his arm around the unknown werewolf. "Boyd here is new in town, so we recruited him to play the bad guy. And I just came along to laugh my ass off." He chuckled. "Gotcha!"

She put her hands on her hips, jutted her chin out and glared at them. "I might have stabbed someone." Her lips trembled, and she couldn't contained the laughter any longer. She shook her head as they all joined in. "I got suckered but good."

She put her arm around Andreas, and he kissed the top of her hair. "That was our intention, cara mia."

Ari sighed. "It was a wonderful end to one of the best Halloweens ever!"
---
---
FREE Download

Vampire in the Shadows:
An In-Between Guardian Witch Short Story

EXCERPT:

Andreas parted the branches and leaves so he could see the human cop and the blonde witch bending over something on the ground. He smelled blood, a metallic scent he could almost taste on his tongue, but his focus remained on Arianna Calin, the local Guardian. His eyes narrowed in the same frustration he had experienced for months. She looked good--but then, she always did.

The Riverdale officer, Lt. Ryan Foster, stepped away to speak with one of his technicians, giving Andreas an unobstructed view of the object claiming their interest. A dead body. A young dwarf with a deep slash across his throat.

She was investigating a new murder case.

As if the Guardian sensed his presence, she lifted her head and stared at the sparse March foliage. The expression on her face was wary.

Damn! Andreas backed away, careful to avoid the twigs littering the park grounds. It wasn't likely she would hear him over the noise of the crime scene personnel and other police activity, but she might recognize his Otherworld energy. He did not want to get caught watching like this. How would he explain it? Andreas scowled. The woman had turned him into a stalker.

He had been around, out of sight but providing his protection, since the night of the violent werewolf fight in the Vampire Caverns. Had he not been the one to dispatch the ghoul that was stalking her? Another night he had tossed the rock that warned her not to walk into a werehyena trap. She might be avoiding him—with good reason—but he could not put her out of his mind. Something about this witch drew him, called to him, like nothing he had felt before in his two hundred years as a vampire. He had told himself he was keeping her safe only until he figured out the unusual connection, but it was more than that. He could not stay away. For some reason, she mattered.

The memories made it worse—the times when his mind was inattentive. The warmth of her body, softness of her lips, and the sensual scent of her.

Baffled by his continuing interest, he wondered how the green-eyed witch had gotten under his skin. He had known other beautiful women, but somehow this one with the knowing look well-beyond her twenty-three years had stirred his interest. He brushed an black lock of hair off his forehead and faded into the trees, heading back to his supper club. Arianna seemed safe enough for the night, but a new case meant he needed to keep a closer watch. She had a habit of looking for trouble—and finding it.

When he arrived at Club Dintero, a torch singer was on stage, and the close to 300 guests in the elegant, candlelit dining room were engaged in quiet conversation and after-dinner cocktails. It was almost midnight. Even late diners had moved into the dessert stage. The kitchen would close soon as human and other food-consuming guests would depart to their beds. The vampires would remain for the wine and music until it was close to dawn.

Andreas noticed the stranger immediately. He sat alone in a rear alcove and was dressed too warmly for a spring night, a black fedora pulled low on his forehead, a long drab coat. It might conceal his reddish complexion and fire-red hair from a casual observer, but Andreas wasn't fooled. He knew a halfling demon when he saw one.

Andreas stepped into the main room, drawing the stranger's attention, and their gazes locked.
---
FREE Download:
YA prequel to the Guardian Witch Series (takes place seven years prior to book one)


Moriana's Rain


Excerpt:

"Come to me night winds! Come to my biding!"

Flashes of lightning slashed across the dark sky like an angry strobe light, but the lone figure at the top of the hill remained immobile.

I watched, fascinated. Even for a witch Moriana was intense. She stood high above the rushing waters of the Mississippi River, with her arms dramatically pointing toward the heavens. Other than imploring the gathering storm, I had no idea what she was doing. The clouds boiled over her head, and the smell of ozone and magic hung heavy in the air.

I had only been in the St. Louis area as an apprentice witch with Moriana for a month, but she'd never done anything this totally awesome before. We'd made potions, learned chants, regular witchcraft stuff. This was way better.

I glanced at Simon standing so straight and tall next to me. So cute, really. He'd been an apprentice wizard for two years, which made him eighteen and my senior by two years. That automatically made him hot, but he really was a hottie. Blond hair, not like my honey color, but flaxen-blond, like Spike. You know, Buffy? Yeah, I watch reruns. Anyway, Simon has eyes the color of a clear blue sky. Sigh. Too bad he's a wizard.

With a sudden roar, the sky opened in a spectacular show of lightning webs, but still Moriana didn't stir. What was she waiting for?

I looked at Simon again. This time he felt my gaze and looked over to smile at me.

Oooh, I loved that smile.

"Quite a show, huh?" he whispered.

I nodded. "But what's she going to do?" I kept my voice as quiet as his.

He looked incredulous. "The storm, Ari. You didn't think it came up on its own, did you?"

I looked away from his penetrating gaze. I wasn't about to admit that's exactly what I'd thought. This whole show was hers? Wow. I hoped to never get crossways with that kind of gynormous power.

---
---