Welcome to the Otherworld!
Urban fantasy, Paranormal & Things that Go Bump in the Night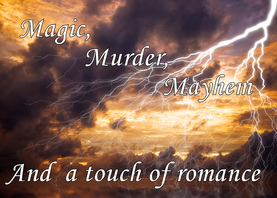 Since starting this website and blog in August of 2012, I've published thirteen urban fantasy novels and one short story with Etopia Press and other works in progress. That's exciting, but not nearly as much as hearing from readers who enjoy my characters and the worlds I've created.

Some of you have reached me through the comments or the contact page (or on twitter: @ShieldsAlly). I love every message and try to respond to each. Please keep them coming!

Here is what you can find on this site in the future:

Except for the Coffee Chats where you will meet a variety of authors, most of my posts will be about fantasy, paranormal or writing, and we'll try to keep the posts PG-13 (If book content is 18+, I'll mark those for you). Guests will be blogging about books, the writing process, life in general or we'll put them on the spot and ask questions! :) You'll find new book releases, blog hops, and sneak peeks into published or soon-to-be-published stories.

My books, works in progress, character interviews, and photos on settings in my current three series can be found throughout these web pages.

Watch for contests and giveaways! They'll be on this page or on the blog! I run a Goodreads Giveaway with each print book.

Now that you've found this corner of the fantasy world, I hope you'll come back often!

See you between the pages,

Ally

PS Don't forget to check the tabs and browse the blog.
---
---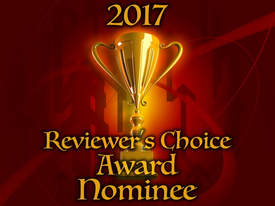 Fantastic News!Embers of Fire (Guardian Witch Legacy 1) (see below)
has been nominated for the Paranormal Romance Guild's Reviewers Choice Awards in two categories (under demons, the villains in this series)
VOTING IS NOW OPEN!

I hope you'll check out all the wonderful nominees. If you'd like to vote for Embers of Fire, scroll down to the category of Romance/Paranormal/Fantasy/Demons & Devils & Angels
(the vote button is just under each cover)

The second opportunity to vote for Embers is the next section down, same category, except its for first book in a series.

VOTE HERE:https://www.paranormalromanceguild.com/cast-votes-2017-prg-reviewers-choice-awards/
---
---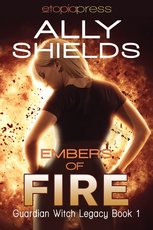 The sequel series to the Guardian Witch books begins...

Embers of Fire (Guardian Witch Legacy Book 1)
Urban Fantasy
Publish Date: June 30, 2017
PG-13

A chilling prophecy. A child in danger.

Following the defeat of the vampire elders, Guardian fire witch Arianna Calin and vampire prince Andreas De Luca are considering moving to his estates in Italy to raise their daughter in its idyllic setting. As if being descended from two powerful witch bloodlines wasn't challenging enough, Rayne was born with a mysterious star tattoo on her shoulder. Her parents suspect she is the Chosen, the focus of the Star of Esielen prophecy. But that's something to worry about in the distant future. Isn't it? After all, their child may be precocious, but she is only five.

Then the murders begin. The stench of demonic activity hangs over Olde Town, and a symbol carved in blood indicates Rayne may be the next victim. Suspicion points in several directions, including a rival vampire prince, a mysterious stranger, and a werehyena leader attempting to break the bank at Andreas's new casino.

Abandoning plans for a quiet life, Ari and Andreas hunt for the killers. While Rayne may someday have to face her destiny alone, it's up to them to make sure she's ready...and to keep her alive.

YouTube book trailer: https://youtu.be/-I-B_OHsN2EBuy Links:

Amazon US: https://www.amazon.com/dp/B073H49YJS Kobo: https://www.kobo.com/us/en/ebook/embers-of-fire
B&N: https://www.barnesandnoble.com/w/embers-of-fire-ally-shields/1126658380?ean=2940158758874
ibookstore: https://www.barnesandnoble.com/w/embers-of-fire-ally-shields/1126658380?ean=2940158758874
GooglePlay: https://play.google.com/store/books/details/Ally_Shields_Embers_of_Fire?id=ShQqDwAAQBAJ
Etopia Press: http://www.etopiapress.com/embers-of-fire/
---
---
Don't forget to browse the blog before you go. Thanks for stopping!