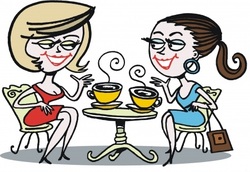 Welcome to the first coffee chat of 2015! I hope all of you had a wonderful holiday!

Our guest today is Rebecca Chastain, a writer of paranormal and fantasy. Welcome, Rebecca. Can I pour you a cup of coffee?

REBECCA: Coffee is out of the question for me. I tend to favor white teas and the occasional green tea, since even minimal caffeine can make me jittery and scattered.

Ally: Then white tea it is. I'll fix you a cup while you show readers your bio.

---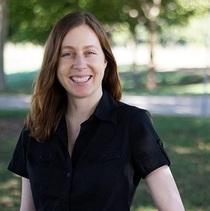 A brief bio:

Rebecca Chastain is the internationally selling author of the urban fantasy novel A FISTFUL OF EVIL and the fantasy novella MAGIC OF THE GARGOYLES. She has found seven four-leaf clovers to date, won a purebred Arabian horse in a drawing, and once tamed a blackbird for a day. She has been employed as a VHS sales clerk, bookshelf straightener, government pseudo-employee, professional finder of lost sporting goods, and strategy guide wrangler in the video game industry. Dreaming up the absurd and writing stories designed to amuse and entertain has been her passion since she was eleven years old. She lives in northern California with her wonderful husband and two bossy cats.

Ally: Tell me something unique about yourself that isn't in your regular bio.

REBECCA: Something I don't advertise to a lot of people: I don't like apple pie, gummy candy, or hot dogs. My husband says this makes me un-American. Fortunately, no one from Homeland Security has shown up on my doorstep yet.

I love to hear from readers and can be found most frequently here:

Website: http://www.rebeccachastain.com/
Blog: http://www.rebeccachastain.com/blog/
Facebook: https://www.facebook.com/rebeccachastainnovels
Twitter: @Author_Rebecca or https://twitter.com/Author_Rebecca
Goodreads: https://www.goodreads.com/author/show/5660379.Rebecca_Chastain
---
Ally: Let's start our chat by talking about the urban fantasy world for your book, A Fistful of Evil... the setting and creatures who live there.

REBECCA: A Fistful of Evil is set in my backyard in Roseville, California, a suburban city surrounded on three sides by rural sprawl and on the fourth by an endless city that runs all the way to Sacramento. There are horse ranches just ten minutes away, but the city also boasts the largest mall in 200 miles. Madison Fox, the main character, is tasked with protecting all the people in this region from evil creatures visible only to people like her—illuminant enforcers. These evil creatures come in all shapes and sizes, from adorable chinchilla-like imps to freakish spiky and scaled monkey creatures with scorpion tails. But those are just your everyday evil creatures. Something much larger and more powerful moves into Madison's region, throwing her world into chaos in this first novel of what I hope will be a long-running series.

Ally: What part does humor play in your book? Why?

REBECCA: I adore lighthearted novels and literature that doesn't take itself too seriously, like Katie MacAlister and Janet Evanovich novels. My goal is always reader entertainment and to leave readers happier for having read my novel. With this in mind, I gave Madison a lot of go-getter spunk (that often lands her in embarrassing situations), excessive optimism, and the ability to laugh at herself, which hopefully makes her relatable as well as fun to adventure with. I also looked for ways to make her problems humorous even if the action is intense.

Ally: What was your road to publication? (Length of time; route you took)

REBECCA: I started writing when I was eleven. I got serious about it when I was eighteen, and would write every night after work. College got in the way—ahem, I mean college took up a lot of time with valuable learning—but I plodded through an epic fantasy, finishing it shortly after I graduated. It was over 1,000 pages long and not worth doing anything with. Enter the wonder of NaNoWriMo, in which I wrote the first draft of A Fistful of Evil. It took three and a half more novels and a novella before I knew what I was doing and rewrote FOE in its current form. I queried agents for several years, and when I started getting very positive rejects ("I love your story, but it's not for me" or "You've got a great voice, but this story feels like it should have been published five years ago"), I knew I was on the right track. It took another year for me to work up the nerve to jump into the market as an indie author. I'm so glad I did! This has been the best experience ever, and a fulfillment of my lifelong dreams.

Ally: Tell us about your current work in progress.

REBECCA: I'm working on the sequel to A Fistful of Evil. So far, I know I'm going to put Madison through the torture of hunting evil in a mall on Black Friday. (Every time I think it, I get chills. I'm so not a shopper!) We're also going to get to see a lot more of the behind the scenes of Madison's organization, meet a few other enforcers, encounter some scary new evil creatures, and of course, there's that date with Dr. Love promised in FOE…

Ally: Let's try a few quick answer questions:
a. favorite clothes accessory: scarves, especially my knitted scarf with a cat face on one end and the tail on the other
b. last book that made you cry: Mockingjay by Suzanne Collins
c. spike heels, sneakers or birkies: Sneakers
d. an item on your bucket list: Swim with dolphins
e. a dessert you can't resist: Vegan turtles—half a date stuffed with walnut and drizzled with dark chocolate (I never eat just one)

Ally: Thanks so much for visiting with us today, Rebecca! I've enjoyed our chat.

REBECCA: Thank you for having me on your blog—and for not getting me too caffeinated to sit still!

Ally: My pleasure. We try not to incapacitate our guests! Before you get away, please show us a little more of your book...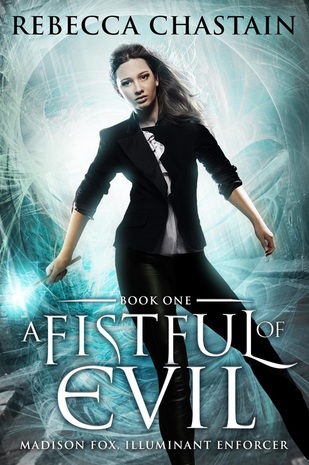 ---
Thanks for stopping by! Hope 2015 is a wonderful year for you! Come back soon!