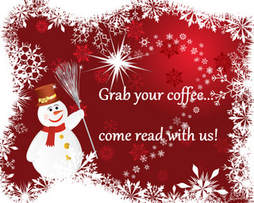 Welcome to this week's Coffee Chat!

As we're headed into the December holiday season, we're taking time out to spend some time with cozy mystery author, Marilyn Levinson.

Good morning, Marilyn! How do you take your coffee?

ML: I grind French roast coffee beans for my morning coffee, which I drink in a mug with a tablespoon or so of Carnation milk and sometimes a shake of ground cinnamon. Never any sugar. I sometimes have coffee after lunch and/or in the evening after dinner. If I have coffee in the evening, I mix coffee beans – half French roast, half decaffeinated French roast.

Ally: While I prepare a cup of your favorite morning brew, please introduce yourself to readers.

---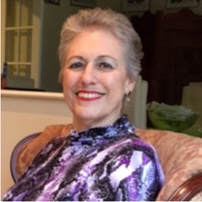 Bio:

A former Spanish teacher, Marilyn Levinson writes mysteries, romantic suspense and novels for kids. Ghosts, witches and cats appear in many of her books. She writes the Twin Lakes Mystery series and the Golden Age of Mystery Book Club Mystery series. Death Overdue, the first in her Haunted Library Mystery series and written under the pseudonym Allison Brook, was released in October, 2017. Library Journal has given the book a star review and named it Pick of the Month. Blackstone has recorded an audio version of Death Overdue. Marilyn lives on Long Island, where many of her novels take place

Marilyn likes traveling, foreign films, reading, knitting, Sudoku, crossword puzzles, dining out with her significant other and talking to her grandkids on FaceTime.

Something unique/unusual that isn't in your regular bio: "I love to shop, though I don't get a chance to do it very often. I find it relaxing and exciting, but I'm careful to only buy clothing that I know I will wear."

Author Contacts:

website: http://www.marilynlevinson.com
Marilyn's Amazon page: http://amzn.to/K6Md1O
Allison's Amazon page: http://tinyurl.com/ksydz3s
Facebook: https://www.facebook.com/marilyn.levinson.10?ref=ts&fref=ts
Goodreads: https://www.goodreads.com/author/show/161602.Marilyn_Levinson
Twitter: https://twitter.com/MarilynLevinson
Pinterest: http://www.pinterest.com/marilev/
---
INTERVIEW:
Ally: Describe your writing process. Schedule, goals, etc.

ML: I come up with an idea for a book or a series and start to flesh it out in my mind. What is my sleuth like? What is her background? Where does the book take place? Who is murdered and why? By whom? Once I have answers to these questions, I write an outline. Then I start writing chapters. Often my outline changes course. I write a novel in four to six months. If I get stuck, I backtrack to see where I've gone wrong. Occasionally when I'm stuck, I'll ask for help from my mystery-writing group. When my book is finished, I edit it carefully with many check points in mind. I also make sure it reads smoothly. Then I go over it again. Sometimes I have beta readers read it before handing it in to my editor. Sometimes I skip that step.

Ally: Authors always play the what if game in their writing, so what if you were a supernatural being, what kind would you be? And why?

ML: I would be a witch capable of casting magic spells. I would love to have this power to do good and to help repair and rectify bad events and situations.

Ally: What is your favorite (non-writing) hobby?

ML: I love knitting. After scouring the internet and knitting books for patterns, I often design my own sweaters. I like knitting for my grandkids and for myself.

Ally: Are there animals in your books? What part do they play?

ML: Yes, I often have animals in my books—usually a cat, sometimes a dog. In Death Overdue, Carrie finds a stray half-grown kitten near her cottage and ends up bringing him to work. Smoky Joe becomes the Clover Ridge Library's library cat, a big favorite of the library's patrons.

Ally: Tell us about your latest writing project?

ML: Read and Done, the second book in the Haunted Library Mystery series, is in the editing stage and expected to be out in September of 2018. Carrie's father, whom she hasn't seen in years, shows up at her cottage, wanting her to help him retrieve his share of gems that his partner has stolen. His partner is murdered and Carrie's father is Suspect Number One. Carrie must find the murderer and the gems before her father or anyone else does.

Ally: And now let's get to know some trivia about You.
a. favorite book: Vikram Seth's A Suitable Boy
b. favorite movie: "Two for the Road" with Audrey Hepburn and Albert Finney
c. favorite book boyfriend: Jamie of Outlander by Diane Gibaldon
d. Your pets: Sammy is my red tabby. He's 12 and1/2. Though he loves me, he occasionally bites.
e. Your hobbies: Sudoku, Crossword puzzles, knitting
Ally: Thanks so much for spending time with us, Marilyn. Before you go, show us your cozy mystery,
Death Overdue.
---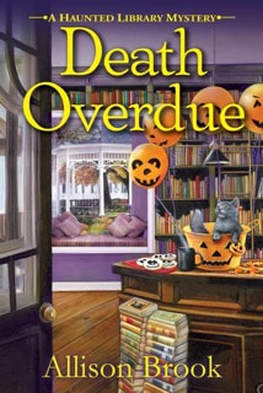 ---