Happy Wednesday, Booklovers! Welcome to this week's Coffee Chat
with mystery author, Nupur Tustin.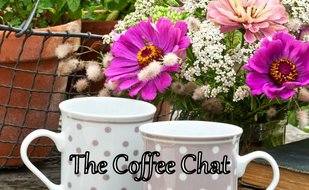 Ally: So nice to meet you, Nupur! How do you take your coffee?

NT: Decaf—it's my second cup of the day— no sugar, with just a splash of Cinnabon-flavored creamer, please.

Ally: I love a woman who knows just what she wants. :) While I prepare our drinks, please introduce yourself to readers.

---
Author Bio:

A former journalist, Nupur Tustin relies upon a Ph.D. in Communication and an M.A. in English to orchestrate fictional mayhem. Childhood piano lessons and a 1903 Weber Upright share equal blame for her musical works. She also enjoys writing mystery short stories set in contemporary California. Look out for "The Evidence Never Lies" and "Mrs. Sutton's Project," both available on Amazon.

Something unusual that isn't in your regular bio: "Before the kids came along, I used to like taking my sketch book, color pencils, and pastels along on trips. I've included a couple of landscapes: one from our trip to Yosemite, and one of a sunset at Venice Beach."

Haydn Series: ntustin.com
Music: ntustin.musicaneo.com
Facebook: https://www.facebook.com/ntustinauthor
Goodreads: http://www.goodreads.com/NupurTustin
---
Interview:

Ally: Let's begin with the genre of the book you're featuring with us today.

NT: A Minor Deception is an enticing blend of historical, biographical mystery and cozy, PG-13.

Ally: What made you choose the mystery genre? What about it intrigues you and your readers?

NT: I enjoy history and biography and I simply love mysteries. How could I not combine the two? Historical mysteries, any kind of historical fiction, in fact, stimulates our imagination and curiosity. A good writer will get you so interested in the time period, that you'll want to find out more. Take the movie, The Immortal Beloved. It posits a theory about the identity of Beethoven's "immortal beloved" that's so psychologically compelling ,you want at once to find out if it's true. To make a long story short, it isn't. But would one have bothered to find out if the movie hadn't been so compelling? I think not.
Ally: How do you pick your characters and their names?

NT: Since most of my characters for the Haydn Mystery Series were real-life personages, I'm forced to use the names they were christened with. So, in addition to Joseph Haydn, there's an Archduke Joseph, Holy Roman Emperor at the time. Joseph's younger brother was Johann. His mother was Anna Maria and his wife, Maria Anna! It's the kind of confusion no author would willingly wish upon their reader.

For my fictitious characters, I take recourse to the biographies and original material I study. I also look up names on the Internet, taking care to use only traditional names. But I like looking at the meanings of names, and thinking about whether they fit the character I have in mind.
Gerhard, for instance, means courageous. It makes me think of a tall, broad-shouldered, handsome Germanic male. But it also makes me think of a man who's loyal, whose love would never waver. A man a woman could fall in love with. In the second Haydn novel, Aria to Death, Rosalie, the palace maid, finds herself attracted to Gerhard, the tavern-keeper of Kleinhöflein. Should it develop into a love interest? I don't know.

Ally: I've found even mystery authors would like to have supernatural powers. Which one would you want, and why?

NT: Well, since I write historical mysteries, it would be wonderful if my mind could roam easily back to eighteenth-century Austria. So much of history is conjecture and interpretation. I was reminded of this quite forcefully when a reader asked me about shaved heads and wigs. The historians I turned to couldn't agree on the subject. So, it would be fantastic to travel back in time and get ready answers to all my questions.
I'm told psychics can go into the immediate past to pick up images from crime scenes. I wonder if a psychic could go back a few hundred years, perhaps even be transported back to the past by the simple ruse of touching a garment that an individual had worn or an object they had owned. It's quite fascinating.

Ally: How do you spend your non-writing/non-editing time?

NT: I have three young children, so much of my time is spent with them. We go to the library together—the youngest, 22 months, in the stroller and the two older kids, 5 years and 3, respectively, pushing him. We read books. There are diapers to be changed. The kids have to be coaxed into eating their meals. There are frequent messes to clean up. Hunter, my youngest, loves bringing in buckets of sand and dumping it all over! I find piles of sand, with trains buried in them, in the most unexpected places.
Evenings are spent with my husband watching the Murdoch Mysteries while the kids watch Clifford or SuperWhy in their room. When I can, I play the piano, and we all like singing and listening to music.

Ally: What is your next anticipated project?

NT: I'm editing Aria to Death, the second Haydn novel and researching Prussian Counterpoint, the third novel in the series. I'm often asked whether Haydn uses his musical expertise to solve mysteries—the assumption being that as a musician he must be a musical-minded version of Neal Caffrey, who in the show White Collar uses his art expertise to solve art and other white collar crimes for the FBI.
Well, I'm happy to report that Haydn does a sort of Caffrey in Aria to Death. Apparently the entire set of Monteverdi's operatic works—mostly lost to us—have surfaced. The works are so valuable that quite a few people are willing to kill for it. Haydn needs to find the killer, and is called upon to authenticate the scores.

Ally: Let's wind up with a few short answers questions. Ready set go...

a. Favorite Book: This is a tough one. I have so many. It's hard to choose between Stephanie Barron's Jane Austen series, Susan Wittig Albert's Beatrix Potter and China Bayles series, Anne Perry's inimitable Victorian mysteries, and Victoria Thompson's Gaslight Mysteries.

b. An author living or dead that you'd like to take to lunch: I'd like to take two: Agatha Christie and Arthur Conan Doyle. We'd probably have fun dreaming up ways to murder people! It would all have to be done in a way that would eventually lead to the killer being apprehended, of course.
c. Favorite TV program: It's a toss-up between the Murdoch Mysteries and Person of Interest.
d. A guilty pleasure: Coffee. I was raised to believe that caffeine, especially the kind in coffee, is very bad for you. To have more than one cup makes me feel I've sinned—but it's such a delightful sin, who can resist? I mostly drink decaf, of course.
e. Your hobbies: I enjoy painting and playing the piano. I don't suppose I can call writing a hobby any more. But it sort of still is.

Ally: Thank you for joining us today. Before you go, please tell readers more about A Minor Deception.
---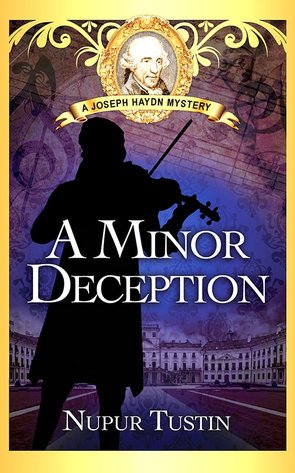 Blurb:

Kapellmeister Joseph Haydn would like nothing better than to show his principal violinist, Bartó Daboczi, the door. But with the Empress Maria Theresa's visit scheduled in three weeks, Haydn can ill-afford to lose his surly virtuoso.

But when Bartó disappears--along with all the music composed for the imperial visit--the Kapellmeister is forced to don the role of Kapell-detective, or risk losing his job.Before long Haydn's search uncovers pieces of a disturbing puzzle.

Bartó, it appears, is more than just a petty thief--and more dangerous. And what seemed like a minor musical mishap could modulate into a major political catastrophe unless Haydn can find his missing virtuoso.

Amazon, B&N, iTunes, Kobo
---