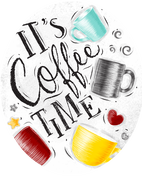 What a terrific fall day in the Midwest!
It's nice to see so many booklovers here today. This week's guest on the Coffee Chat is Southern writer Loretta Wheeler. And she has a giveaway of her featured book!
Good morning, Loretta. How do you take your coffee?

LW: Usually, I have coffee with hazelnut creamer and then dust it with cinnamon on top.

Ally: While I pour the coffee, please tell readers about yourself and your giveaway.

LW: I'll start with the Giveaway. If readers post comments to this chat, I'll select a random entry to receive a free Kindle copy of Southern Breezes: The Verandah. Easy, right? The winner will be announced next Monday, so entries will cut off at 10 p.m. CDT, Sunday, Oct. 1. Of course, your comments are still appreciated at any time!
As for me, keep reading...

---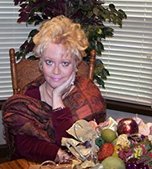 Bio:
Loretta Wheeler lives in the south along with her Australian husband, their cat Lil' Dickens, and their dogs, Jack and Charmin'. All their pets are rescued fur-persons who are very much loved.

Most of Loretta's writing is set in southern locales, whether in the thriller or romance genre. She says she writes of southern things because most of her stories speak to her in a southern accent. Something she recognizes easily since her own is so strong.

Something unique/unusual not in your regular bio: " I had to sit and think about this. I mean, there's only so much you want to disclose of your hidden self, right? Lol.
I'm not sure if I elaborate often on the fact that I do some voice-over work. I've had some training and I did a couple of commercials while I lived in Australia. I also have a trailer on which I do the narrative for The Verandah."

Author contacts:
Facebook Author Page: https://www.facebook.com/WheelerLoretta/
FB Personal Page: https://www.facebook.com/loretta.wheeler2
Twitter: @LorettaWheeler
Website: www.lorettawheeler.com
---
INTERVIEW:

Ally: We know you write books with a Southern flavor, but what genre is Southern Breezes: The Verandah?

LW: It is a cozy mystery with romantic and paranormal elements. The heat rating for it is low. No elaborative sexual content.

Ally: Tell us about your main character and why the reader should care about him or her.

LW: The main characters in The Verandah are, Shelby Alexander, Boone Dawson and the dog, Charmin'. And just to keep it interesting, two other characters who all but steal the show are the ghosts who make themselves a part of Shelby's life, whether she's ready for it or not.
Even though Shelby's highly successful at this point in her life and career, she's had a rough time getting there. She was married to a high profile actor who cheated on her publicly and now she deals with paparazzi continuously. Especially since she's hit the New York Times list and has a Hollywood producer interested in her books. She has a hard time trusting men, especially gorgeous types, but even more than that, she now doubts her own instincts. So, when gorgeous-guy, Boone Dawson shows up on her doorstep, accompanied by a lop-eared dog, all her alarms go off. Boone has a hard time getting his foot in the door, literally and figuratively, but Charmin', in his usual charming style, barges right in, stealing her heart. (Charmin' makes his first appearance in the novella, Christmas on the Strand, which is the beginning of the Southern Breezes series.)

Ally: What was your journey to publication, including bumps and missteps?

LW: I had a strange journey to publication. When I moved to Australia, I had the opportunity to finish a book I'd been writing in the states. After completing it, I wrote a short story, literally in an afternoon, titled Dark Pleasures. When my husband and I unexpectedly moved back to the U.S., I searched for a writers group in the Houston area. I was quickly embraced by The Final Twist and had the thing happen that most writer's dream of. I was asked if I had a short story that I would like to submit for consideration in their anthology. I submitted Dark Pleasures (amazingly it fit the word count along with the other criteria) and the editor took it immediately. It's available now as a stand-alone short story on Amazon. I'll reiterate, it is very short, per request for the anthology, and leaves you with an ambiguous ending.

Ally: Readers are often interested in process. How do you choose and name your characters?

LW: The locale of the story and the nature of the characters helps me select their names. I also run a search on names pertaining to the storyline, such as Louisiana, 1800s common names. Usually one or two will grab me. But once in awhile, I know my character's names immediately.

Ally: You mentioned Charmin'. Do you frequently have animals in your books? What part do they play?

LW: Yes, I usually include animals, and they play a strong part in the storyline. In The Verandah there is a dog named Charmin', it's short for Prince Charming. He was nicknamed this by the hero, Boone Dawson. Charmin' was the town dog, in Christmas on the Strand, loved by all, but in The Verandah, he picks his owner, finding Shelby Alexander to be just the right fit. Of course, he'd really love it if Shelby and Boone lived together, then he could have both of his favorite people under one roof.

Ally: How did you choose the title of this book?

LW: I chose the title, The Verandah, because verandahs play a big part in southern culture. We're often found sitting on verandahs or patios. And since Shelby has moved into her new place, a lot of activity occurs on her verandah. Of course, this is the house she spent many summers in when she was a girl, so she knows something or someone has always had a presence on the verandah. In this story, she's going to become quite involved with that presence, who feels very male to her.

Ally: What is your next writing project? Anticipated release date?

LW: Following The Verandah, The Siren's Shop will be releasing in the spring of 2018. If the Southern Breezes Series keeps blowing in the right way, (slowing down from the fevered pitch of hurricanes), The Siren's Shop may release in the winter of 2017) We've just finished going through Harvey here in Houston and it slowed me down a little with my writing agenda. Should you happen to read The Verandah and want a bit more of the town and its people, Christmas on the Strand is the first story in the Southern Breezes series, and sets the scene for the people in the town. There is also a short story following The Verandah, titled, Siren's Call which gives you a closer glimpse of Michael, who is a secondary character in The Verandah. Siren's Call is more sensuous, though, so a head's up on that. The heat level climbs significantly in it.

Ally: I've chosen a few short answer questions so readers can get to know you.
a. book you're currently reading: I'm currently reading an ARC of the book, The Mortician's Daughter, by CC Hunter. I'm one of her reviewers who receive ARC's (Advance Release Copies) for review.
b. an author (living or dead) you'd love to take to lunch: Okay now, I'm giving you a few, because I've been reading them for years. Mark Twain is one, because he's so much more than an author. He's a philosopher, with a lot of wisdom packed on his pages and in his mind. Stephen King, because in my opinion, King is one of the best. Then, there's Anne Rice, whom I've met, exchanged a few emails with and Dean Koontz. I love that Koontz incorporates animals in his stories.
c. an item on your bucket list: You know, I'm not sure I have a bucket list. I've done a lot of things I wanted to do. I guess if there's one place I'd like to go, it would be Venice. It attracts me. Then, France does also. I think I'd like to stand inside the Eiffel Tower.
d. color of nail polish you're wearing: Pink. I think it's one of those things I'm going to wear to the grave lol. I love pink. I do wear some nudes though. I'm blonde, so I tend to stay with pastels.
e. Your pets: My cat, who I rescued, is named Lil' Dickens. He's a BIG fur baby, weighing in at 18 lbs. He's sweet as sugar, fuzzy and has turquoise eyes that are highlighted by his mask. And we have two other rescued babies. Jack, our large dog that John found when he was a pup, lying on an old shoe on the side of the road. He's around 75 pounds now, and oddly enough, he's a North Carolina Dingo. John's an Aussie, so him finding a type of Dingo on the side of the road was a bit "meant." Then we have a small dog that John found as a six week old pup. He was scruffy and has a lop-ear, and even though he's much smaller than the dog Charmin', in the Southern Breezes series, we named him Charmin'.
f. What are your hobbies? Reading, I think most authors read like crazy, and decorating. Lord help me, I love frou-frou! I also like to attend the theater.
Ally: You'll have to have a dinner party for all those luncheon guests, and you should prepare for a lot of readers to join you! :) Thanks for visiting the blog today, Loretta. Good luck with all your books. Before you go, please tell us more about The Verandah. I love the cover!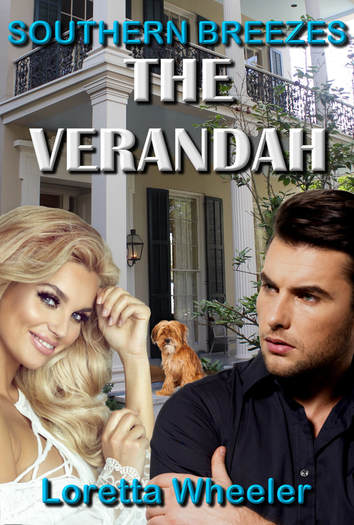 Southern Breezes: THE VERANDAH

Genre: cozy mystery with romantic and paranormal elements

Blurb:

It's spring on Galveston Island, and everything's running full tilt. Spring breakers' swim in high curling waves, turquoise umbrellas line the sand, and the Pleasure Pier is lit like a bejeweled princess, her lights flashing with temptation.

Shelby Alexander, a New York Times Bestselling author, has come back to the island to live. She and her friends came every summer when they were young and daydreamed often of living there when they were grown. Good to their word, all of them have now returned.

But Shelby is finding that even though she's thrilled to own a part of her Aunt Sookie's house, the excitement's only just begun, because a gorgeous guy has also arrived along with a scruffy dog named Charmin'. And fast on their heels is a ghost—a ghost who seems quite comfortable lounging on her verandah, blowing smoke from its cigarette—and who is always, always surrounded by a deliciously, sensuous fragrance.

Book Trailer: https://youtu.be/e7F4W2U_NIsBuy Link: https://tinyurl.com/lg7946xDon't forget: Any comment is an entry to receive this kindle book for FREE!
(cut off time for entries: 10 p.m. CDT, Oct. 1, 2017)
UPDATE: Drawing is complete and winner selected. Congrats to Sandy B.! Thanks to everyone who commented or stopped by to read the chat!
---