Welcome, Booklovers!

Are you ready for another author chat? This week's guest is romance writer Denise Devine, featuring her sweet contemporary romance, Lisa (Beach Brides Book 1).
I'm delighted you could join us, Denise. How do you take your coffee?

DD: I love black coffee very hot and very fresh. Someone gave me a coffee press for Christmas once and my daughter borrowed it before I had a chance to use it. That was the end of that. <VBG>

Ally: You're making my barista duties so easy. I'll pour while you introduce yourself to readers.

---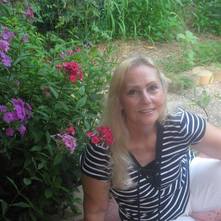 Bio:

Denise Devine is a USA TODAY bestselling author who has had a passion for books since the second grade when she discovered Little House on the Prairie by Laura Ingalls Wilder. She wrote her first book, a mystery, at age thirteen and has been writing ever since.

She lives on six wooded acres in East Bethel, Minnesota with her husband, Steve and her two problem (feline) children, Lambchop and Tigger. She's presently a cat person, but she loves all animals and they often find their way into her books.

Something that isn't included in your regular bio: "I owned a pair of horses for 25 years. They died of old age within a couple years of each other. Every time I go in the barn, their smell is still there. I think of them and miss them very much."

Author Contacts:

Website: www.deniseannettedevine.com
Blog: https://deniseannette.blogspot.com
Newsletter: http://eepurl.com/csOJZL
FB: www.facebook.com/deniseannettedevine
Twitter: @denisedevine5
Amazon Author Page: http://www.amazon.com/author/denisedevine
BookBub Author Page https://www.bookbub.com/authors/denise-devine
Happily Ever After Stories – Sweet Romance Group: www.facebook.com/groups/HEAStories/
---
INTERVIEW:

Ally: How do you choose your characters and name them?

DD: In the Beach Brides Series, we were told to pick a heroine's name that was 4-5 characters because the title of the book would be her name and there was limited space on the cover. I chose Lisa. That is my sister's name and the model on cover I picked out resembled her when she was younger. I also dedicated the book to her.

Many of the main characters in my books are named after my nieces and nephews. I decided long before my first book was published that I wanted to do that.

Ally: Are there animals in your books? What part do they play?

DD: There are ALWAYS animals in my books. I'm an animal person and I can't imagine my main characters not having a loving pet. The only book that doesn't have a pet is Lisa, and that is because that story just didn't have room for one.

Most of the pets in my books are real animals and belong to either a friend or someone in my family. The little black doggie in A Christmas to Remember was my own little Sadie. She died about ten years ago, but I'm keeping her memory alive by giving her a part in my book. Sniff.

Ally: Which of your books is your personal favorite?

DD: A Merry Little Christmas. This book is about Merry Connor, a young mother with two children whose ex-husband is in jail for embezzlement (so she gets no child support) and she is really struggling. The book starts about five weeks before Christmas. She lives in an old, leaky house, her car won't start and she has no money to buy her kids presents. She doesn't even have the money to buy a tree. This book is the closest to my heart of all I've written so far. In the book, the Jack Russell terrier, "Charlie," was my dad's dog.

Ally: What is your next writing project? Anticipated release date?

DD: My next project is a new book in the Beach Brides 2 Series. It's called Ava and will be on preorder starting April 3rd. The book goes on sale May 29th for $2.99 on Kindle and will also be available in Kindle Unlimited.

Ally: What do you like to do when you're not writing?

DD: I've known my husband since seventh grade. He was and still is my brother's best friend. Our favorite pastime together is traveling. He happens to be a travel agent and so we do a lot of globe-trotting on the cheap. This year, for our 40th anniversary, we're taking a transatlantic cruise to Spain and Portugal. Then we're going to Paris and London and taking a tour of Britain. I love this stuff.

Ally: Talk about where you live. Country, state, etc.

DD: I live in Minne-snow-ta in an outlying suburb of Minneapolis. My neighborhood is surrounded by trees and wildlife areas. We have tons of wildlife out here, like opossums, foxes, eagles, sandhill cranes, wild turkeys and lots of deer. I live in a 3-bedroom walkout rambler that we built ourselves. And an empty pole barn that used to be home to my horses (and lots of friendly critters who used to hang out there).

Ally: Sticking with the personal, try a few of these get-to-know-me questions.
a. an item on your bucket list: I want to have a gravestone put on my twin sisters' grave this spring by Memorial weekend. They were stillborn about 3 years before I came along and at the time, my mother was too poor to afford a gravestone for them. As the years went by, she always meant to do it, but time got away from her when she died unexpectedly. One year my sister and I went to the little cemetery where they are buried among other unmarked graves and found their location. I made up my mind that if I ever made any money from writing, I'd use it to get them a gravestone.

b. color of nail polish you have on: Diamond Strength – Love Bug Pink
c. Do you believe in love at first sight? I believe it can happen. I've worked with a few guys who've sworn to me that they fell in love with their wives the moment they saw them.
d. favorite song: ANYTHING by Journey. I love Steve Perry!!
e. favorite quote: "Frankly, my dear, I don't give a damn." (Gone with the Wind)
"Well, here's another fine mess you've gotten me into." (Laurel & Hardy)
"I've flown with you twice; you've crashed 50 percent of the time!" (6 Days, 7 Nights)
f. something unique in your closet: A replica of a 1925 Flapper dress
g. favorite place to write: In my daughter's old bedroom. But I have to share it with my two cats, Babygirl and Nick Nolte.
Ally: It was a pleasure to chat with you, Denise. Before you go, tell us more about your latest book!
---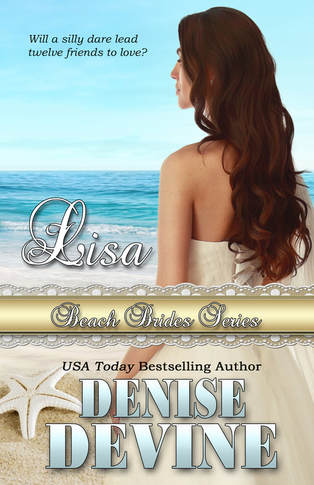 Lisa – Beach Brides Series 1
Genre: Sweet, Contemporary Romance
Is it possible to find true love through a message in a bottle?
Spending a week on a Caribbean island with the members of the Romantic Hearts Book Club is like a dream come true for Lisa Kaye. On their last night, each woman writes a personal message to her "dream hero," stuffs it in a bottle and tosses it out to sea. Lisa's real dreams crash, however, when she returns home and loses not only her job but her boyfriend in the same day. Determined to start over, she returns to Enchanted Island, the idyllic place of her childhood to manage her aunt's bed and breakfast hotel.

Fifteen months pass without a clue to the fate of her bottle. Then it happens. She receives an email from the man who found it and she doesn't know what to do. Should she ignore it or take a chance at finding true love?

Buy Link:

https://www.amazon.com/dp/B071F9P1W7
---
Thanks for stopping. Come back again!