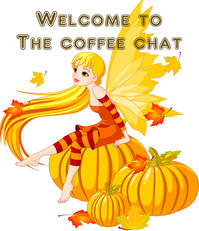 Good Morning, Booklovers!

Are you ready for another author Coffee Chat? This week's guest is Linda Nightingale with her book, Gylded Wings. (Don't miss the *Giveaway at the end!)

Ally: It's terrific to meet you, Linda! How do you take your coffee?

Linda: I have way too much coffee in the morning, as much as 3 cups, that I take with a lot of whole milk. I prefer organic milk because it tastes richer.

Ally: That sounds easy enough to fix. While I get our drinks ready, please introduce yourself to readers.


---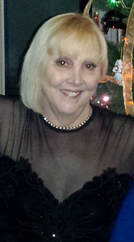 About Linda:

Born in South Carolina, Linda has lived in England, Canada, Miami, Ft. Lauderdale, Atlanta and Houston. She's seen a lot of this country from the windshield of a truck pulling a horse trailer, having bred, trained and showed Andalusian horses for many years.

Linda has won several writing awards, including the Georgia Romance Writers Magnolia Award and the SARA Merritt. She has two wonderful sons, is a retired legal assistant, and member of the Houston BMW Club. In a former life, she must have had to walk everywhere because today she is into transportation: loving horses and hot cars! She likes to dress up and host formal dinner parties.

Something unique/unusual that isn't in your regular bio: "I wrote erotic romance under the name Bianca Swan, 2 novellas (Hot Spanish Nights and Celestial Sin) published by The Wild Rose Press and a full-length novel called Wings of Desire from Canadian publisher Double Dragon Publishing."

Contact Links:

Twitter: https://twitter.com/LNightingale
Facebook: https://www.facebook.com/LindaNightingaleAuthor
Web Site: http://www.lindanightingale.com – Visit and look around. There's a free vampire story.
Blog: https://lindanightingale.wordpress.com/ - Lots of interesting guests & prizes
Goodreads: https://www.goodreads.com/author/show/4839311.Linda_Nightingale
Pinterest: https://www.pinterest.com/lbnightingale1/
Amazon: https://www.amazon.com/Linda-Nightingale/e/B005OSOJ0U
---
INTERVIEW
Ally: When readers open the cover of Gylded Wings, what type of book will they find?

LN: Gylded Wings is a mainstream fantasy novel. The sex and violence is limited. The sex scenes are 'behind closed doors'.

Ally: How did you choose the title?

LN: This time my editor actually named the book. The working title had been I, Lucifer, and she thought that title might be misconstrued as satanic, which this is book is definitely NOT. In fact, the ending is quite uplifting.

Ally: Tell us about the main character of the book, including a description and a couple of specific things he likes, ie. his favorite color.

LN: Gylan is male. He is 30 years old when the story opens. His eyes and hair are a burnished gold. Not blond, but actual gilt, and he is the most beautiful angel in creation. He is a slave when the story opens, but later learns, as an angel on earth, he has mind-blowing powers and abilities. His beauty is a magnet and a curse. His clothes are Classic and Classy. His favorite color is red, and his treasure is a golden floor harp.

Ally: Have you thought about one of your books being made into a movie? Who would play the parts?

LN: I dreamed of Sinners' Opera becoming a movie. It is set in beautiful and historic Charleston, South Carolina, which also plays a part in the hero's personal history. Sinners' Opera is a paranormal romance. The hero is Morgan D'Arcy—an English lord, classical pianist and…a vampire. I'd cast Johnny Depp (with long blond hair and blue contacts) as Morgan. The heroine is a beautiful and brilliant geneticist. Ideally, Isabeau would have been played by the lovely Michelle Pfeiffer. The anti-hero is Lucien St. Albans, a tall, dark, handsome and dangerous man. Antonio Banderas would star as Lucien.

Ally: As authors we often give our characters fantastic powers. If you could have one supernatural power, what would it be?

LN: Mind reading. It would save a lot of misunderstandings. I'd get all kinds of cool dialogue and ideas for stories, right? In their own thoughts, people usually tell the truth.

Ally: Tell us a little about your daily life, your home, the things you like to do.

LN: I live in the big state of Texas in a house in a subdivision with a golf course, tennis courts and a workout room in the clubhouse. I don't play golf, tennis or workout. Weird, huh? I'd rather be on a farm with a couple of horses and maybe a miniature pony for an inside pet, along with my dog Courage, a 4-year-old Coton de Tulear.

Ally: Are there animals in your books? What part do they play?

LN: In most of my books, in some form or fashion, the magnificent Andalusian horse makes an appearance—sometimes as almost a main character but always at least a mention. I bred, trained and showed the Andalusian, and I love them dearly. They are beautiful, fairytale-like, kind and gentle but fiery and spirited as well.

Ally: What will be your next book?

LN: I'm currently polishing the sequel to Love For Sale (The Wild Rose Press), my novel about sentient androids indistinguishable from human, who are being sold for loving companions. Like Gylded Wings, Love For Sale explores the different kinds of love. The sequel is Life For Sale. I haven't even submitted it yet, so have no idea about a release date. For anyone interested, there'll be news in my Newsletter. Four other TWRP authors and I have a joint newsletter, the Wild Roses of Prose. Signup link: https://www.facebook.com/wildrosesofprose/

Ally: Ready for some quick answer questions?

a. manicure or pedicure - Pedicure

b. favorite tv show – Toss up among: Game of Thrones, Outlander, Lucifer, Poldark and Lethal Weapon
c. color of nail polish you have on – Metallic pink
d. favorite accessory (jewelry, scarves, shoes, etc.) – Jewelry. I LOVE bling!
e. favorite song – Memory from Cats
f. favorite quote – from Oscar Wilde: "The world was my oyster, but I used the wrong fork."
Ally: Thanks so much for spend time with us, Linda. Before you go, I know readers are eager to hear more about Gylded Wings...
---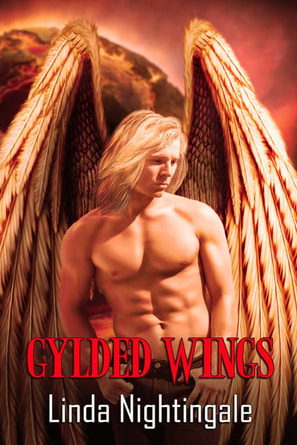 Gylded Wings
Genre: fantasy

Angels in slavery? Brit Montgomery cannot believe it, until she is sent on a rescue mission to another dimension and witnesses the cruel practice first hand. The angel, Gyldan, is the most beautiful being she's ever seen. She is drawn to him but sometimes beauty disguises wicked secrets. This man who rocks her world seems more demon than angel.
Gyldan, born into slavery, has one desire—fly free. When he escapes to Earth, he faces an alternate self-realization full of dark glory…and disbelief. Gyldan is bent on experiencing his newfound powers unmindful of the harm to Brit or others.
Confused and hurt by Gyldan's erratic evil actions, Brit turns away. While Gyldan's journey of self-discovery pulls him further distant, Brit finds acceptance in a solitary, comfortable life of her own until she realizes the day of reckoning has come. Will Gyldan be her final ruin or has he come back to her with a gift more precious than life itself?

Book video: https://youtu.be/LuVl93b_BE0

Buy Link: http://a.co/9xRtANx
*GIVEAWAY:

Like to try Linda's writing with a free ebook AND autographed bookmark? It easy to enter her drawing. Just comment below. You can choose any book from her back list (found here - her author page on Amazon). Next Monday, she'll select a random commenter to receive both!
---