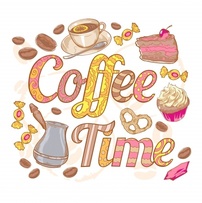 Welcome to the Wednesday Coffee Chat where we drink a little coffee--or beverage of your choice--and talk about books. This week's guest is Mariana Gabrielle, author of Royal Regard, a regency romance. (Psst! She's giving a free ebook to a random commenter!)
How do you take your coffee, Mariana?

MARIANA: Lots of cream and sugar. Like hot, wet coffee ice cream, even though I hate coffee ice cream. (I should probably make some cute comment about men here, but I'm not feeling nearly clever enough.)

Ally: While everybody's getting settled, let's show readers your bio.

---

Author Bio
Mariana Gabrielle is a pseudonym for Mari Christie, a professional writer, editor, and graphic designer with a Bachelor's in Writing from the University of Colorado Denver, summa cum laude. She lives in Denver, Colorado with India and Burton, two kittens who would rather she cuddle all day and never write a word.

Something unique or unusual that isn't in my bio: I studied religion and interfaith communication as part of a Sociology minor, and very nearly did a Master's degree on the topic. Instead, I started writing novels.

Social Media:

Website
Facebook
Twitter
Wordpress blog
Pinterest
Amazon Author Central
Goodreads Author page

---
Ally: How did you get started writing historicals?

MARIANA: I started with mainstream historical (turn-of-the-century New York City and the American Civil War). The first piece of fiction I wrote was a short story about my grandmother shining shoes and selling her mother's homemade doughnuts on the subway in Brooklyn when she was a kid. It turned into a long story, then a novel, then two novels.

Ally: Is Royal Regard the first in a series or a standalone?

MARIANA: It was supposed to be a standalone, but it seems I will be doing a series of prequel novellas, because so many of the secondary characters have stories I really want to tell, not to mention the most frequent questions I am asked: "How did Bella end up with Myron?" and "Honestly, was she really happy with him all those years?"

Ally: What was your journey to publication? Was it worth the effort?

MARIANA: I was first published in small pubs in the early 90s, so I'm not a stranger to having work in print. However, fiction is a different animal, and the publishing landscape has radically changed since the Internet became ubiquitous. I've only been writing fiction for five years (though I have finished five novels, so not entirely a novice), but published novels are just another iteration in a lifetime spent writing. Was it worth it? Words have always been worth everything they have put me through—including isolation and starvation.

Ally: Who is your favorite author, living or dead, and why?

MARIANA: Erica Jong. Her range is amazing, her books speak to women across generations, and she covers the most uncomfortable topics with skill, grace, and humor.

Ally: Let's try a few short answer questions.

a. jeans, cutoffs or sweatpants? Sweatpants, if I am forced to wear clothes. (My roommates really appreciate it when I do.)
b. favorite fruit: Strawberries. No, bananas. No, pears. (Why do bloggers always want to know my favorites? ;-))
c. best vacation you ever took: Western Europe in general, Venice in particular.
d. favorite animal: Cats of all sizes. (Don't tell India and Burton, but I am at least as partial to lions as housecats.)
e. an item on your bucket list: I don't believe in bucket lists, because I want no regrets at the end of my life.
Ally: Thanks, Mariana, I've really enjoyed talking with you. I hope you'll visit again. Let's wind up our chat by showing everyone your book.
AND WE CAN'T FORGET THE GIVEAWAY! EPUB OR MOBI COPY OF ROYAL REGARD TO A RANDOM COMMENTER!
---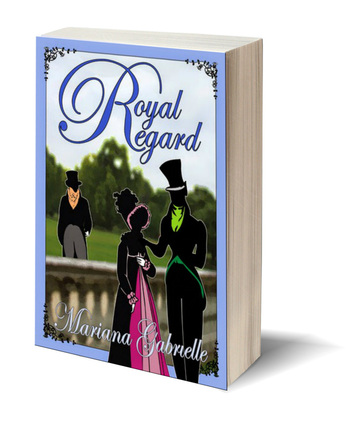 Title: Royal Regard
Genre: Regency romance
Heat Rating: R

Book Blurb

After fifteen years roaming the globe, the Countess of Huntleigh returns to England with her dying husband. She soon finds herself plagued by terrible troubles: a new title, estate, and sizable fortune; marked attentions from the marriage mart; the long-awaited reunion with her loving family; and a growing friendship with King George IV.

Settling into her new life, this shy-but-not-timid, not-so-young lady faces society's censure, the Earl's decline, false friends with wicked agendas, and the singular sufferings of a world-wise wallflower. Guided by her well-meaning husband, subject to interference by a meddlesome monarch, she must now choose the dastardly rogue who says he loves her, the charming French devil with a silver tongue, or the quiet country life she has traveled the world to find.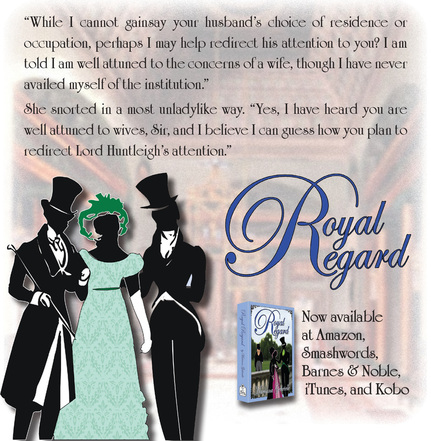 Excerpt

Nicholas Northope always took notice when a lady whom he had never seen entered the room. However, it had been months, perhaps years, since the ninth Duke of Wellbridge had been so intrigued.

No spring miss, the newcomer's face fascinated him: openly emotive, not the customary painted-on mask of genuine boredom. Eyes too close-set, a nose with character rather than charm, and cheeks more rounded than most, taken in total, he found her features captivating. She stuck out in the crowd of jaded aristocrats like a sunflower in a field of nettles.

She had assuredly spent time in foreign ports; he might assume Spanish or Italian blood if her hair weren't brighter than a fresh-minted copper ha'penny. Her unfashionably dark face was curious, intelligent, and by the set of her jaw, probably opinionated. Yet, her shoulders hunched just slightly, as though she were afraid the entirety of the British aristocracy would collectively slap her face as soon as she walked through the door.

---
Did you leave a comment?
A free copy of Royal Regard is going to someone. Why not you?

---