Eternal Fires (Guardian Witch Book Seven) releases Friday, March 20!

---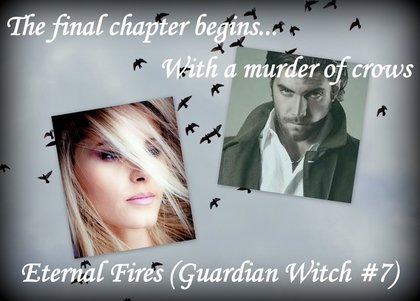 Pre-release Book blurb:

The sides are aligned...

After the last three years, Ari and Andreas are almost used to being stalked by the O-Seven vampire elders and their paid assassins. But the stakes have changed…for both sides. Ari is carrying Andreas's child.

Because of false rumors and a prophetic vision, the elders are determined to kill the parents and steal the infant. Ari and Andreas will do anything to keep their child safe—even if she has to go into hiding, leaving him exposed to the wrath of their enemies.

A hot July day starts with the murder of a stranger, then the crows appear…but that's only the beginning. The elders will never give up until they've cut off their friends one by one and destroy everything they hold dear...

Unless Ari and Andreas can force this to a final showdown...winner take all.
Amazon link: http://www.amazon.com/Eternal-Fires-Guardian-Witch-Book-ebook/dp/B00UW37DVY
---
While you're waiting for Friday's release (as I am), check out at least a few minutes of this long Youtube video. As you watch, think about how the crows' natural abilities might be used if they were under the control of an evil master...https://youtu.be/a43a-ZUBUpc