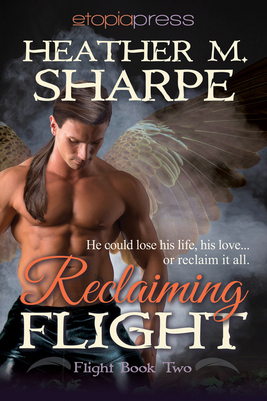 He could lose his life, his love…or reclaim it all.

Blurb:

Twenty years ago, Cedric found his mate's dead body in a heap at the base of a cliff. Ever since, he has dedicated what's left of his life to serving the Council. But after a lifetime of being their Enforcer, he's finally had enough and has asked to be released from his duties. One last job, one last innocent to protect, and then he can disappear.

Until a mysterious woman in the woods offers him something he never dreamed he'd get: a chance to reclaim the love he thought he'd lost forever.

Cedric is overjoyed at a chance to have Taryn back and jumps at the offer. But his last assignment won't leave him alone to rekindle their relationship. With a warning that Taryn's time could be limited, and with a dangerous stalker on the loose, Cedric must try to unravel the mystery behind Taryn's accident twenty years ago. If he plays it wrong, he could lose his love, his career, and his life…or reclaim it all.




Buy Links:

Amazon: http://www.amazon.com/Reclaiming-Flight-Book-2-ebook/dp/B015GAXM1C/

Barnes and Noble: http://www.barnesandnoble.com/w/reclaiming-flight-heather-m-sharpe/1122659252?ean=2940151096041

Excerpt:

After Cedric slipped away without so much as a whisper, Taryn tried not to study the room in the glow of the oven clock, but it was impossible. The stench was overpowering. Someone had tossed something dead onto the table and the bar between the kitchen and dining room. She couldn't tell what it was, but it was small. The size of a large purse or book, but too small for a human body. Or a whole human body.

She tried not to gag and instead concentrated on ideas for the next cake she wanted to make. The first birthday cake would not be too difficult, but she wanted it to be absolutely perfect.

A light flipped on down the hall, and Taryn shut her eyes against the gore in the kitchen. She was pretty sure all the hair stuck to whatever had been tossed around the kitchen was not human. Almost definitely not human. But the shadows allowed just enough room for her imagination to run amok.

"Taryn."

She squealed and jumped, holding the knife in front of her and snapping her eyes open. Cedric stood in front of her, gripping a black plastic bag full of something large and very dead, judging from the wretched stench. She slapped a hand over her face to hold back her gag reflex.

"What is that?"

"Road kill. Lots of road kill." The knuckles of Cedric's hand where he gripped the bag were white, and barely controlled rage laced his voice.

"Roadkill?"

"Possum, raccoon, and very angry dead skunks." He glanced around the room. "I hadn't meant for you to go to sleep while I searched the house. Not the best self-defense."
---
---