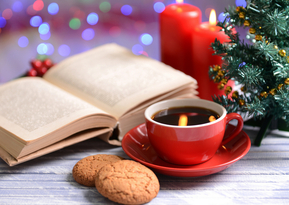 Welcome, Booklovers!

Happy Holidays! This week we welcome Molly MacRae with a cozy mystery just in time for your holiday reading!

Welcome, Molly. What can I get you to drink?

MOLLY: If I drink coffee, I drink it with cream and wish it would turn into mocha with whipped cream. Mostly I drink black tea with milk.

Ally: Thanks to my magic pot, one mocha with whipped cream coming up. While I pour, please tell readers about yourself.

---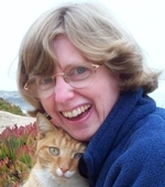 Bio:

The Boston Globe says Molly MacRae writes "murder with a dose of drollery." Molly is the author of the award-winning Haunted Yarn Shop Mysteries from NAL/Penguin. Her short stories have appeared in Alfred Hitchcock Mystery Magazine since 1990 and she is a winner of the Sherwood Anderson Award for Short Fiction. She spent twenty years in upper east Tennessee, the setting for her stories, short and long. She lives in Champaign, Illinois.

And something unique/unusual that isn't in my regular bio: I can sing "Old MacDonald had a Farm" in Scottish Gaelic. (Ally Note: ROFL Quite a talent!)

Author contact links:

Website: www.mollymacrae.com
Facebook: www.facebook.com/molly.macrae.9
Pinterest: https://www.pinterest.com/MollyMacRae/
Twitter: @mysterymacrae
Vintage Cookbooks & Crafts (1st Monday of each month): http://amyalessio.com/
Killer Characters (23rd of each month): http://www.killercharacters.com/
---
Ally: Your books are typically classified as cozy mysteries. Can you explain what a cozy is? How is it different from other mysteries?

MOLLY: Cozies have murders, but they're nice murders. There's no onstage graphic violence and if there's sex, it happens behind closed doors. Some people say that kind of gentleness makes cozies less realistic and less important. I don't believe that. The bottom line is this – mysteries are about the restoration of order, whether on mean streets or in a cozy town. The world is a big place; there's room for all kinds of stories.

Ally: What is your writing schedule? For example, do you have a set time and place every day, goals, etc?

MOLLY: My goal is a certain number of words per day. That number varies depending on deadlines. My writing schedule can be summed up in one word: GAH! To expand on that, here's how my days go. Up at 5:00 and write until it's time for breakfast and my day job. Walk to work. Work until lunchtime. Gobble lunch, then write for the rest of the lunch hour. Return to work and work until quitting time. Walk home, make supper, be pleasant with the family. Write until bedtime. Sleep. Repeat. I have a really nice room under the eaves with two desks, one for sitting (it's actually planks of wood spanning two filing cabinets) and one for standing (it's really my husband's portable painting table with telescoping legs, but he hasn't asked for it back).

Ally: What is the premise for your haunted yarn shop mysteries? Is there a ghost? What role does he or she play?

MOLLY: Kath Rutledge, a textile preservation specialist, inherits her grandmother's fiber and fabric shop and ends up with a depressed ghost on her hands. Kath, who's steeped in chemistry and the finer points of pest control and fumigation hoods, doesn't believe in ghosts, is the only one who sees and hears the ghost. This is hard on both of them, but they make the most of it. The ghost is the sidekick character, but she has a storyline of her own that's developed through the series.

Ally: What are you writing next? Will it be another in this series?

MOLLY: I hope there will be more in the Haunted Yarn Shop Mysteries, but for now I'm working on the first book in a new series. It's about a group of four women who pool their money and expertise, buy a bookshop in a small town on the west coast of Scotland, pack up their lives, and move there.

Ally: Before we get a peak at the book you brought today, let's try these quick answer questions:

a. favorite item on your holiday menu – roasted sweet potato spears with molasses horseradish glaze
b. favorite tv shows – currently, Doctor Who and Sherlock
c. a person who inspired your writing or your life – Charles White, one of my high school English teachers. He gave me one of the best pieces of writing advice – revision is the key to success.
d. favorite holiday song – too many!
e. best color to wear – bright navy blue
Ally: Thanks so much for being with us today! Now, it's time to show readers your novel...
---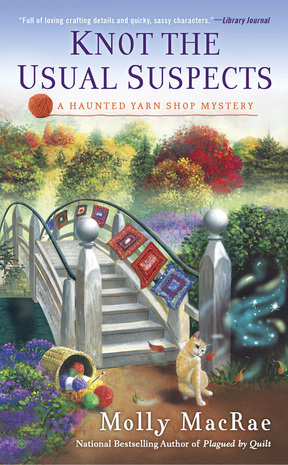 Blurb:

In the latest from the bestselling author of Plagued by Quilt, Kath Rutledge yarn bombs Blue Plum, Tennessee—and gets tangled up in the mystery of a bumped-off bagpiper.

It's time for Handmade Blue Plum, an annual arts and crafts fair, and Kath and her knitting group TGIF (Thank Goodness It's Fiber) plan to kick off the festivities with a yarn bombing. But they're not the only ones needling Blue Plum. Bagpiper and former resident Hugh McPhee had just returned after a long absence, yet his reception is anything but cozy. The morning after his arrival, he's found dead in full piper's regalia.

Although shaken, Kath and her knitting group go forward with their yarn installation—only to hit a deadly snag. Now, with the help of Geneva, the ghost who haunts her shop, Kath and TGIF need to unravel the mystery before someone else gets kilt!

Buy links:

Amazon: http://www.amazon.com/Knot-Usual-Suspects-Haunted-Mystery/dp/0451471318/

Barnes & Noble: http://www.barnesandnoble.com/w/knot-the-usual-suspects-molly-macrae/1121064920?ean=9780451471314

---
Thanks for reading my blog! Have a great holiday!

---