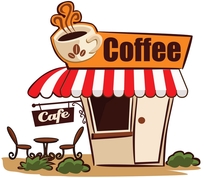 Happy Wednesday!

Are you ready for coffee and booktalk?

This week's guest is children's author, Anna Othitis, with her latest travel book.
Welcome, Anna. What can I get you to drink?

ANNA: Greek coffee is something that I enjoy, I was brought up drinking this coffee in my Greek family. It is as strong, if not stronger than Expresso, but with its unique flavor and strength one cup a day is enough to enjoy. Being brought up and living in Rhodesia/Zimbabwe, then being a British Colony, we frequented the Nescafe coffee and more so our favorite was Tanganda Tea, grown and brewed in our African plains.

Ally: Since nothing is impossible for my magic coffee pot, let's take you back to your early days and brew up a cup of Greek coffee. While I'm doing that, please tell readers more about your unique background.

---

BIO:
Anna Othitis was raised in the beautiful country of Zimbabwe, Africa (home will always be home). She left all of her life long memories, endless charity work, and good people behind vowing that she would continue supporting the needy children in Zimbabwe and beyond. After traveling long and short distances from the East coast to the West coast USA twice she and her family eventually found their sense of belonging and final settling destination in New Jersey.
Her husband George, sons Johnny, Elia and Frankie encouraged her to write her first children's travel book titled inspired by Frankie (Captain Frankie), who was graduating from his Master's degree in Aeronautical Science and beginning his career as a professional pilot. Anna's favorite saying is "Be Bold Be Brave".
She was inspired to write her books with a vision to link the children of Africa and of the world on Angelic Airlines to so many beautiful places of interest and popularity on our wonderful planet Earth with all its beautiful natural and man-made creations and resources. One of the beautiful natural wonders featured in her books is in Zimbabwe, "The Mighty Victoria Falls" All of her books educate our children and widen their scope of interest in the amazing surroundings, creations and nature to appreciate and look after our environment for many generations still to come.

Something Anna didn't explain previously:
My family and I left our home in Rhodesia/Zimbabwe overnight due to political turmoil and for a future for our sons. We traveled extensively to some countries in the world, including Greece. We were given the opportunity and the doors opened for us to move and settle in the USA where our son Frankie, "Captain Frankie" the main character in my children's books, was able to pursue and take up his dream career as a pilot in the land of opportunity.
Contact links:
Amazon:
http://www.amazon.com/Anna-Othitis/e/B00JVTYWT6/ref=sr_ntt_srch_lnk_1?qid=1446389677&sr=1-1
Website:
http://www.annaandfrankieothitis.com/
Facebook:
https://www.facebook.com/AnnaFrankieOthitis/?ref=hl
Goodreads:
https://www.goodreads.com/author/show/7108778.Anna_Othitis
Twitter:
https://twitter.com/aothitis
You tube:
https://www.youtube.com/watch?v=kys82Wfvc1o
Google +:
https://plus.google.com/103546575411272797846/posts
Linkedin:
https://www.linkedin.com/pub/anna-george-othitis/61/189/874
Pintrest:
https://www.pinterest.com/pin/528750812472579856/
---
INTERVIEW:

Ally: Your travel books are written for children ages 3 - 9. Why did you chose this particular age group?

ANNA: The ages 3-9 interested me because their minds are in the ripening and innocent stage of life. They have very imaginative little minds and always very curious to learn more, they ask more questions with fascination. During those ages they learn and store so much in their little brains which follows them through their entire life time.

Ally: What type of research do you do before writing a travel book? Do you have to travel there yourself?

ANNA: Whilst living in Rhodesia/Zimbabwe we had the opportunity to travel to many places in the world with our family where we got to see many places and sites of interest. I do research on the internet before writing my books, because facts are important in my books.

Ally: When is the best time of day to write? Do you have a special office or another spot where you do your best work?

ANNA: The best time for me to write is any day in the mornings or evenings when I am more focused. I love to write in my living room that overlooks lovely mountains surrounded by singing birds and local little animals that visit our garden. Sometimes I like to write on my back porch listening to the sounds of nature.

Ally: What is your next writing project?

ANNA: More travel Children's travel books, focusing on the world and the earth we live in so that children can be made aware, appreciate, learn and be educated on how important our environment and wildlife animals are to our earth. This is very important and brings awareness to children from a young age.

Ally: Let's try a few fun, quick-answer questions:

a. coffee or tea: Greek coffee
b. favorite color: Fuscia
c. other than your own, a children's book you'd recommend: "I Can Cook" by Marika Germanis
d. a place you'd like to visit: Alaska
e. something unusual in your handbag: My lucky crystal earth and animal charms

Ally: What a pleasure it has been to have you. I admire your desire to make children aware of the incredible world around them! Before you go, please show us the latest Captain Frankie book...
---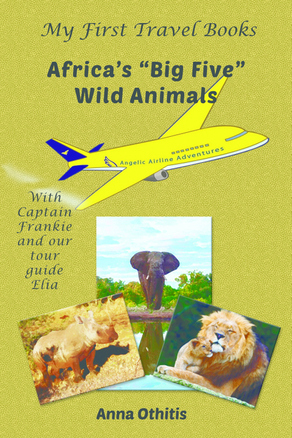 Welcome to Angelic Airlines! Are you ready to take to the skies? Children come join us this time on a wild adventure with Captain Frankie on Angelic Airlines as we travel across the world to learn about, visit and see Africa's Big "5" Wildlife Animals. Captain Frankie is waiting for you to book your ticket, safely stow your bags, and open your eyes to these amazing animals in the savannahs of Africa. Most of these beautiful animals are about to become Extinct. We have to save our Wildlife animals, this earth belongs to them as well. My First Travel Books. This is another one of Anna Othitis's trip with Captain Frankie. Originally from Zimbabwe, Africa, her travels have taken her a far across the world.
Amazon Buy Link:
Amazon:
http://www.amazon.com/Africas-Five-Animals-First-Travel/dp/1518690815
---
Thanks for sharing coffee with us. Come back soon!