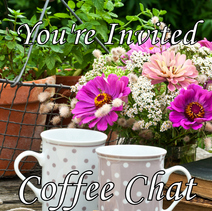 Welcome, Booklovers!

It's Wednesday, and here in the Midwest it's spring! What better reasons to indulge in booktalk? Author Nicole Evelina is with us this week, and she brought a unique pairing of two books - one adult, one YA - essentially telling the on-going story of the same woman, Guinevere of medieval legends.

Good morning, Nicole. What can I get you to drink?

NICOLE: I don't like coffee, and I developed a sensitivity to caffeine in high school (I blame it on all the Mountain Dew I drank as a freshman and sophomore) so I have to go with decaf. When I'm in the mood for tea I go for English Breakfast (fell in love with that on my recent trip to England), Chai (which is hard to find in decaf) or Constant Comment. Most of the time I drink water. I love Perrier and flavored seltzer.

Ally: Just in case you're not "in the mood," I'll play it save with Perrier. :) While I'm getting our drinks, please introduce yourself to readers.

---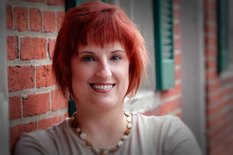 Nicole Evelina is an award-winning historical fiction and romantic comedy writer. Her most recent novel is Camelot's Queen, the second book in an Arthurian legend trilogy that tells Guinevere's life story from her point of view. Her debut novel, Daughter of Destiny, the first book of the Guinevere's Tale trilogy, took first place in the legend/legacy category of the 2015 Chatelaine Awards for Women's Fiction/Romance, and was short-listed for the Chaucer Award for Historical Fiction.

Nicole has traveled to England twice to research the Guinevere's Tale trilogy, where she consulted with internationally acclaimed author and historian Geoffrey Ashe, as well as Arthurian/Glastonbury expert Jaime George, the man who helped Marion Zimmer Bradley research The Mists of Avalon.

Nicole is a member of and book reviewer for the The Historical Novel Society, and Sirens (a group supporting female fantasy authors), as well as a member of the Historical Writers of America, Women's Fiction Writers Association, Romance Writers of America, the St. Louis Writer's Guild, Women Writing the West, Broad Universe (promoting women in fantasy, science fiction and horror), Alliance of Independent Authors and the Independent Book Publishers Association.

When she's not writing, you can find her reading, playing with her spoiled twin Burmese cats or in her day job as an internal communications (PR) supervisor. But that just pays the bills. To her core, she is a writer.

Her website is http://nicoleevelina.com. She can be reached online at:

---
INTERVIEW:

Ally: What drew you to Guinevere as the central figure for these two books? Was there some particular trait?

NICOLE: I've been a fan of the character of Guinevere since I was a little girl. She was and still is a hero of mine. When I was in college, I read The Mists of Avalon by Marion Zimmer Bradley. I LOVED that book (it changed my life in many ways), but I hated her portrayal of Guinevere as an agoraphobic, simpering Christian. So I wrote my own version where she is pretty much the exact opposite. Parke Godwin's book Beloved Exile made me wonder about the unknown parts of Guinevere's life (the beginning and later years after Arthur) and with the two together, my trilogy was born.

I tell this story in the author's notes to Daughter of Destiny, but Guinevere came into my head in college and we struck up a bargain that I would tell her whole life story, from a young girl (Daughter of Destiny) to queen (Camelot's Queen) to widow and beyond (Mistress of Legend). I wanted to show her as a woman with skills, opinions, intelligence, agency, and a strong personality. I feel like she's never gotten a fair shake as a woman in her own right, even though other authors have told her story.

Guinevere had a childhood, a family and dreams for her future. She was a queen and may or may not have been a mother. As for her infamous affair, every situation has a context that is important to understanding it, even when it's the climax that is remembered. Guinevere had reasons for acting as she did and she didn't do it in a vacuum. The circumstances surrounding her affair are just as important as the act itself. The medieval tale of her ending her days in a convent is convenient and moral, but we all know life is messy and usually doesn't end tied up in a nice bow. Chances are good there was far more to Guinevere's story than we've ever heard.

The Guinevere's Tale trilogy is my attempt to answer these questions. In it, Guinevere tells her own story – from the age of 11 to well into her 50s – seeking to right the wrongs history has thrust upon her, to clear away the mists of time and give the reader a clear picture of who she really was, virtues, sins and all. As she says in the prologue: "I deserve to be able to bear witness before being condemned by men who never saw my face. Grieve with me, grieve for me, but do not believe the lies which time would sell. All I ask is that mankind listen to my words, and then judge me on their merit."

Ally: Readers often think we draft a book and the next step is publication. Can you briefly describe your editing/revision process from the completion of the first draft to the finish product?

NICOLE: Oh I wish it was that easy! I started Daughter of Destiny in 1999 and it was just finally released on January 1, 2016, so it was certainly not a quick process. For both books, I went through SO MANY rounds of revisions. First I edit on my own, then I have a group of five or six trusted beta readers who give me their feedback. When I had an agent, she was next in the process, and then it went to a professional editor and a proofreader.

Ally: Writing historical novels, I assume you do a lot of research. Do you have favorite sites or books you use? Or is Google search your best friend?

NICOLE: I LOVE research. It's actually my favorite part of the process because it's where I start to see the possibilities for the book and see it inform the plot. I rely on books rather than the Internet because they are better vetted and more trustworthy. I will usually use Amazon was my first research step to see what books are available on my subject. Then I get those either through my library, interlibrary loan, or buy them. I also do expert interviews if there is anyone I can find who may be helpful. For example, with the Guinevere trilogy, I was fortunate to consult with Jamie George, the man who helped Marion Zimmer Bradley research The Mists of Avalon, famed Arthurian scholar Geoffrey Ashe, and Celtic legend expert John Matthews. When I have the time/money, travel to my locations is also a large part of my research. There is something about being in a place, even if you're writing about it in the past, that is irreplaceable, no matter how good pictures and Google maps get.

I use Google Search and Wikipedia only as quick checks, and trust them only if I find the information from multiple sources. The footnotes of Wikipedia are sometimes good to lead to other sources, but I still prefer the bibliographies in the back of books.

Ally: What's your next project? Will there be more Guinevere books or is her story complete?

NICOLE: My next project is finishing the third Guinevere book. I have a draft right now, but it's missing the middle and is in serious need of help.

Yes, there will be more Arthurian books. I know for sure there will be a book about Isolde and Tristan, told from multiple first person point of views, one of which is Guinevere's. I actually have about a quarter of that written just from what I cut from Camelot's Queen (scenes that had to do with Isolde).

There may also be a book about Morgan, which would be in her point of view. There's a lot of her life that happened off the page of the Guinevere novels and I think it would be interesting to get inside her twisted mind to see what makes her do what she does. We only get her through the filter of Guinevere's judgmental gaze in the trilogy. The only reason I'm hesitant to say whether or not this book will happen is that there are so many non-Arthurian stories I want to tell, I don't know when this would happen. I also don't want to wear out my welcome in the Arthurian world. You know how with some authors when they keep on the same subject or series for a long time and as a reader you're like "OMG, move on already; we want something else from you?" That's what I want to avoid.

Beyond the Arthurian world, I haven't decided if my next novel will be the story of a pretty much unknown WWII heroine who died as a martyr in Ravensbruck or the true tale of a 19th century woman whose life was changed when she was kidnapped by Indians. The heroines are battling it out in my head as we speak. I'll be curious to see who wins.

Ally: Let try a few quick answer questions:

a. last place you shopped: I wish it was somewhere glamorous, but it was Office Depot in preparation for my first ever book sale/signing.
b. favorite flavor of ice cream: Chocolate! (Thanks, Uncle Bill!)
c. a "must" hero trait for book boyfriends: Non-alpha. I know I'm in the minority here, but I can't stand alpha males.
d. favorite free time activity (non-writing): Reading! Too close? Cooking.
e. a dream vacation would be_______: A tour of Europe including a river cruise on the Rhine with my mom.

Ally: I know you have a new release in July entitled Madame Presidentess. I hope you'll come back before the November election and tell us all about it!

NICOLE: I plan to! I think I'll be back in October for that one. I LOOOOOVVE talking about my heroine in that book, Victoria Woodhull, the real-life woman who was the first female to run for President in the United States in 1872. Her life was so crazy, you couldn't make it up. I can't wait to share more!
---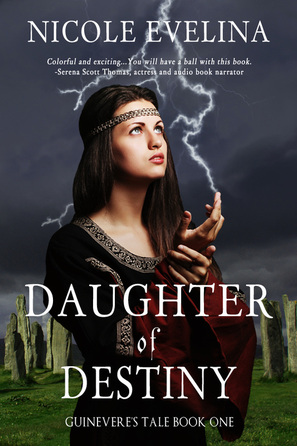 Daughter of Destiny (YA fiction)

Before queenship and Camelot, Guinevere was a priestess of Avalon. She loved another before Arthur, a warrior who would one day betray her.

In the war-torn world of late fifth century Britain, young Guinevere faces a choice: stay with her family to defend her home at Northgallis from the Irish, or go to Avalon to seek help for the horrific visions that haunt her. The Sight calls her to Avalon, where she meets Morgan, a woman of questionable parentage who is destined to become her rival. As Guinevere matures to womanhood, she gains the powers of a priestess, and falls in love with a man who will be both her deepest love and her greatest mistake.

Just when Guinevere is able to envision a future in Avalon, tragedy forces her back home, into a world she barely recognizes, one in which her pagan faith, outspokenness, and proficiency in the magical and military arts are liabilities. When a chance reunion with her lover leads to disaster, she is cast out of Northgallis and into an uncertain future. As a new High King comes to power, Guinevere must navigate a world of political intrigue where unmarried women are valuable commodities and seemingly innocent actions can have life-altering consequences.

You may think you know the story of Guinevere, but you've never heard it like this: in her own words. Listen and you will hear the true story of Camelot and its queen.

Fans of Arthurian legend and The Mists of Avalon will love Daughter of Destiny, the first book in a historical fantasy trilogy that gives Guinevere back her voice and traces her life from an uncertain eleven year old girl to a wise queen in her fifth decade of life.

This book has been short-listed for the 2015 Chaucer Award for Historical Fiction.
Buy Links:
http://www.amazon.com/Daughter-Destiny-Book-Guineveres-Tale-ebook/dp/B01651N77A/
https://www.goodreads.com/book/show/26862004-daughter-of-destiny?from_search=true&search_version=service
http://www.barnesandnoble.com/w/daughter-of-destiny-nicole-evelina/1123161390?ean=9780996763110
https://itunes.apple.com/us/book/daughter-of-destiny/id1054816310?mt=11
https://store.kobobooks.com/en-ca/ebook/daughter-of-destiny-7 https://www.smashwords.com/books/view/582445
---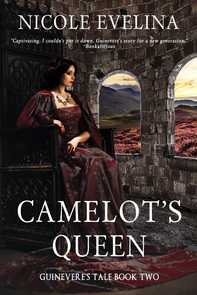 Camelot's Queen
(adult fiction, may include mature sexual content)

History remembers Guinevere's sin, but it was Arthur who transgressed first.
Forced into a marriage she neither anticipated nor desired, Guinevere finds herself High Queen, ruling and fighting alongside Arthur as they try to subdue the Saxons, Irish and Picts who threaten Britain from every direction. Though her heart still longs for her lost love, Guinevere slowly grows to care for her husband as they join together to defeat their enemies.

Meanwhile, within the walls of Camelot their closest allies plot against them. One schemes to make Guinevere his own, another seeks revenge for past transgressions, while a third fixes her eyes on the throne. When the unthinkable happens and Guinevere is feared dead, Arthur installs a new woman in her place, one who will poison his affections toward her, threatening Guinevere's fragile sanity and eventually driving her into the arms of her champion.

Amid this tension a new challenge arises for the king and queen of Camelot: finding the Holy Grail, a sacred relic that promises lasting unity. But peace, as they will soon learn, can be just as dangerous as war. As the court begins to turn on itself, it becomes clear that the quest that was to be Arthur's lasting legacy may end in the burning fires of condemnation.

This highly anticipated sequel to Daughter of Destiny proves there is much more to Guinevere's story than her marriage and an affair. See the legend you think you know through her eyes and live the adventure of Camelot's golden days yourself – but be prepared to suffer its downfall as well.Buy Links (adult):
Amazon: http://www.amazon.com/Camelots-Queen-Guineveres-Tale-Book-ebook/dp/B01AQULSG8
Barnes and Noble: http://www.barnesandnoble.com/w/camelots-queen-nicole-evelina/1123624182?ean=9780996763141
Smashwords: https://www.smashwords.com/books/view/627154
iBooks: https://itunes.apple.com/us/book/camelots-queen-guineveres/id1099633254?mt=11
Kobo: https://store.kobobooks.com/en-us/ebook/camelot-s-queenGoodreads in case you want it: https://www.goodreads.com/book/show/28589610-camelot-s-queen
---