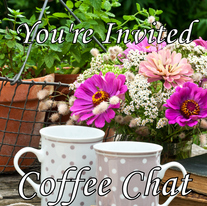 Hello, Booklovers!

We've made it to the mid-point of the week again, and it's time for another author interview and book talk! I'd like to welcome Barb Caffrey, author of the Elfy series of YA urban fantasy/romance.

How do you take your coffee, Barb?

BARB: With a little cream, and all poured over ice, in deference to the current heat wave.

Ally: While I get the mugs, please introduce yourself.

---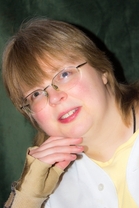 BIO:

Barb Caffrey is the author of AN ELFY ON THE LOOSE and A LITTLE ELFY IN BIG TROUBLE, which together comprise the Elfy duology, and the co-author of several shorter pieces of military SF set in her late husband Michael B. Caffrey's Atlantean Union universe. Shorter works have been published in many places, with the most recent being REALMS OF DARKOVER. She lives and works in Wisconsin, is a huge baseball fan (Go, Brewers, go!), loves dogs (and cats), follows politics, and is recovering from a nasty reality TV addiction.


Hmmm...what's not in my usual bio? Does playing the saxophone and clarinet count?

Author Contacts:

My blog: Barb Caffrey's Elfyverse http://elfyverse.wordpress.com
My Facebook: https://www.facebook.com/barb.caffrey.1
My Twitter: https://twitter.com/BarbCaffrey
My Amazon page: https://www.amazon.com/Barb-Caffrey/e/B00H8EROC8/ref=dp_byline_cont_ebooks_1
---
INTERVIEW:

Ally: You're both a writer and an editor. Do you prefer writing your own stories or polishing for others?

BARB: I enjoy both writing and editing, but in some senses it's easier for me to fix someone else's work than it is to fix my own. I can see what someone else is doing -- what's actually on the page, as opposed to what I think is there -- far easier than I can see what I'm doing, most of the time. But there's nothing quite like the rush I get after writing one to two thousand words that exactly fit the mood and story I'm working on...they're not exactly the same skill-set, writing and editing, but the skills for one carry over to the skills of the other. (Though the hardest thing as a writer is to turn Editor Voice off. I'm still working on that one.)

Ally: What was the inspiration for the Elfy books?

BARB: My inspiration comes from three places. One was my late husband Michael, who was one of the most encouraging people I've ever been around. The second was an anthology I read -- I now can't remember the name of it -- where the editor said something to the effect that the stories in that antho wouldn't be "the normal Elfie-welfie stuff." And the third was a dream I had after that, where a short young man dressed all in black came to me and said, "It's not like that!" and proceeded to tell me just what Elfy-welfie stuff was (yes, he insisted on the change from -ie to -y) and why he wanted no part of it, thanks.

I woke up from that dream, not long after my honeymoon, and told Michael about it. Rather than looking at me like I was an idiot, as I would assume most men would do, he said, "Well, then. You have to write about this, and figure out who this guy is, now, don't you?" with a big smile on his face.

And I proceeded to do just that.

Ally: Have you always written for a YA audience?

BARB: Most of what I write does seem inclined toward that YA/NA border, but I'm not quite sure why. Maybe my subconscious figures there are more stories to be told there?

And the main difference between writing stories for a younger audience and an adult audience is more in how you look at things. Kids may feel cynical, but usually their cynicism isn't bone-deep as of yet, so it seems more possible to have adventures. First love, too, is a little more innocent, and deals more with how things actually feel rather than "put slot A into tab B" (as Lois McMaster Bujold's wonderful character Cordelia Naismith Vorkosigan once put it).

I see a lot of hope in that.

Ally: What's your next writing project? Do you plan further books for the Elfy characters?

BARB: My next writing project is a New Adult romantic fantasy set in our world, CHANGING FACES. It's about Master's students, both clarinetists, in Nebraska; one is transgender, the other is not, and they are in love. How they manage to learn enough about one another to marry and stay together is the main story; the fantasy element is in how this happens -- how they "change faces," and both become transgender, because they view love as the most important thing. If their bodies have to change in order to stay together and understand each other more, so be it.

Tentatively, CHANGING FACES is due out in September. (I'm still working on it as we speak, so wish me luck with that!)

And yes, I definitely plan more Elfy books. I have a prequel, KEISHA'S VOW, set in 1954, and a sequel trilogy in the works. And I hope to be releasing a stand-alone novelette, "Trouble with Elfs," for Kindle in the not-so-distant future.

Ally: Try a few short answer questions:
a. manicure or pedicure: Pedicure.
b. favorite singer or group: Alice in Chains
c. a dream vacation: Alaskan cruise (in the middle of summer, with lots of stops to see the historic sites)
d. favorite flower: Pink carnation
e. your best reading spot? My best reading spot is curled up in a corner, maybe with a blanket tucked around my legs if it's a bit chilly. There's some coffee (or maybe tea, for variety) at my elbow and a plate of nibbles next to it, in case I get hungry. The best light is there, too, so I never have to strain to read...altogether a perfect place!

Ally: It's been a pleasure to chat with you. Best of luck with your books. Now, let's take a look at A Little Elfy in Big Trouble...

---
A Little Elfy in Big Trouble

Young Bruno the Elfy and Sarah, his mostly-human teenage girlfriend, are in deep trouble. Bruno's Elfy mentor Roberto the Wise is about to be sacrificed by a Dark Elf, and Sarah's parents have decided to help the Elf rather than the Elfy. Things look bleak and are getting worse by the minute, but Bruno and Sarah have a number of allies — human, Elfy, and ghosts — that the Dark Elf can't possibly expect. Can young love, desperation, and great unexpected power win out despite it all?

Short excerpt:


Bruno took Sarah's hand and led her back outside. He looked with his mage senses, and felt nothing; no Elfy magic, no Human magic, and as far as he could tell, no Elf magic, Dark or Bright.

He put up a light shield that should help conceal their voices, and decided it was safe enough to talk for a bit.

"Tomorrow is Ba'altinne, Sarah." Bruno rubbed his fingers through his hair and tried not to look too hard at Sarah. Goddess, she was beautiful. But he had to stay on topic. "That's your May Day. Tomorrow." He shook his head and tried not to frown. "How can we get everything together in time to stop Dennis the Dark Elf?"

"I have faith in you," she said. Her eyes darkened. Bruno felt as if he were falling, before she gently brushed her lips against his.

Links, including link to sample chapters:


Amazon: https://www.amazon.com/Little-Elfy-Big-Trouble-ebook/dp/B018B4699W
OmniLit: https://www.omnilit.com/product-alittleelfyinbigtrouble-1935228-234.html
Barnes and Noble: http://www.barnesandnoble.com/w/a-little-elfy-in-big-trouble-barb-caffrey/1123003283?ean=2940157950910
Sample chapters: http://www.twilighttimesbooks.com/ElfyinBigTrouble_ch1.html
---
---
Thx for spending time with us! Come back soon.