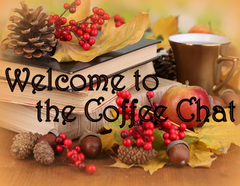 Greetings on another beautiful fall day!!

Our guest author this week is suspense/mystery writer and handwriting expert, Sheila Lowe. Nice to have you with us, Sheila. What may I get you to drink?

SHEILA: I am a tea drinker—preferably Yorkshire Gold, which is nice and strong (I am a Brit, after all), with heavy whipping cream (less carbs than milk) and 3 lumps of sugar.

Ally: Not a problem. My magic pot can make it just the way you want. While I pour our tea and coffee, please introduce yourself to readers.

---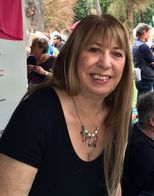 Bio:

The mother of a tattoo artist and a rock star, Sheila lives in Southern California with Lexie the Very Bad (sometimes Evil) Cat, where she writes the award-winning Forensic Handwriting series. Like her fictional character Claudia Rose, she's a real-life forensic handwriting expert who testifies in court cases. Sheila writes "medium boiled," books (not cozies). She puts ordinary people into extraordinary circumstances and makes them squirm. She also writes non-fiction books about handwriting: The Complete Idiot's Guide to Handwriting Analysis, Handwriting of the Famous & Infamous, and Handwriting Analyzer software.

Something unique that isn't in your bio: "As the mother of a murder/suicide victim I spent some time and energy with Women Against Gun Violence, educating parents of small children in inner city schools about gun safety." (Ally comment: Thank you for sharing your time with others.)

Author contacts:

Facebook: https://www.facebook.com/graphogoddess
Twitter: @Sheila_Lowe
www.claudiaroseseries.com (fiction works)
www.sheilalowe.com (handwriting/nonfiction)
---
INTERVIEW
:
Ally: Talk about the unusual career you share with your main character, Claudia Rose. How did you become interested in handwriting analysis? How did you learn the skill? How and when is it most often used?

SHEILA: I first learned about handwriting analysis in 1967 when my boyfriend's mother analyzed my handwriting. Instantly intrigued by what she now knew about me, I spent the next ten years reading everything I could find on the subject. I took courses and eventually became certified as a graphologist, then in 1985, a court-qualified handwriting expert.

I work in two areas of handwriting. These days my practice mainly consists of handwriting authentication in cases of forgery. I also work with companies in the hiring process, preparing behavioral profiles based on handwriting; compatibility reports for couples, too, and self-help analysis for individuals. Claudia Rose's practice mirrors mine (she's not me, though!).

Ally: What is your writing strength? What part of the process do you find most difficult?

SHEILA: Strength: understanding the motivations for each character's actions. My knowledge of psychology through handwriting has taught me a lot about what makes people behave the way they do.

Most difficult: plotting, figuring out the story---all the stuff that's going to happen. Once I get it in my head, I outline—though don't worry about sticking closely to the outline, it's just a guide.

Ally: Do you have any tips for getting past or avoiding writer's block in all of its many forms, ie procrastination, writing oneself into a corner, running out of plot, etc.?

SHEILA: Oh, I have procrastination honed to a fine art, and it's usually by spending way too much time on Facebook or surfing the web. But what I suggest for a block is to step away from the manuscript and don't look at it for at least the rest of the day, maybe a week, then come back with fresh eyes. I may also use graphotherapy exercises (which Claudia Rose teaches a troubled teen in the second book in the series). These are "form drawings" done to music, which can help free the mind of blocks, balance the brain, and become better organized, among other things. On the other hand, an excellent point someone made in a talk I attended: if you're working at a "regular job," you can't call your boss and say, "I'm blocked, I can't work today." You have to power through. Just write something, anything, even if it's crap. The next day you might come back and delete it all, but maybe not. Maybe there will be a diamond hiding under the manure.

Ally: Do you have a current work in progress?

SHEILA: Book #6, OUTSIDE THE LINES, was just released in September, but I am already deep into the next one, UNHOLY WRIT. In UW, Claudia travels to Maine to collect some documents from the home of a professor who has been murdered. She doesn't intend to get embroiled in the case, but when a new will shows up, the local police detective calls on her for help.

Ally: Try your hand at these short answer questions:

a. An oldie but goodie favorite song: Piano Man
b. What kind of movies do you watch? Anything with a good story (not blow 'em up, shoot 'em up), preferably not too heavy.
c. Favorite reality show: Dancing With the Stars
d. Favorite book and author, living or dead? Ashes to Ashes by Tami Hoag. All of John Sandford's books.
e. A place you'd love to visit: Egypt.
Ally: I've enjoyed talking with you and learning about handwriting analysis. Now, I'd love to take a look at your book.
---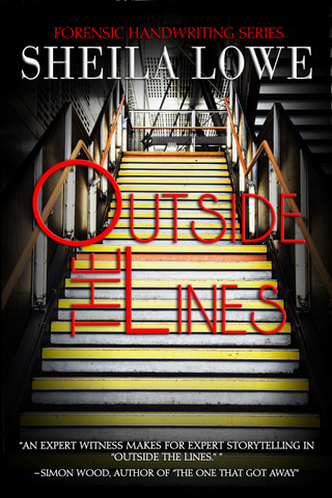 Outside the Lines (Forensic Handwriting Series)by Sheila Lowe

Blurb:
What should have been a routine afternoon on the witness stand for Forensic Handwriting Expert Claudia Rose turns into a shocking assault that leaves her bruised and bloodied. Following on the heels of a series of other traumatic events, the attack sends Claudia to the brink of a breakdown.

Her fiancé, L.A.P.D. Homicide Detective Joel Jovanic, learns of the attack while leading a homicide investigation into a mailbox bomb. An innocent housekeeper in the tony Venice neighborhood is dead and the homeowner is the CEO of a major pesticide-producing corporation that has been targeted in the past. When a notebook found in a geocache near the crime scene leads to the protest group People for Safe Food, Jovanic needs Claudia to identify the handwriting of a suspected eco-terrorist.

Though she may have recovered physically from the assault, weeks later Claudia's fears continue to plague her. Desperate to get away, she accepts an invitation to lecture in the UK, but her trip turns into a nightmare when she runs afoul of both the FBI and New Scotland Yard. Jovanic's homicide case has followed her to London where she finds herself unexpectedly allied with the chief suspect.Buy link:

https://amzn.com/B01IPKPRNG
---
Thank you for spending time with us. Come back soon!