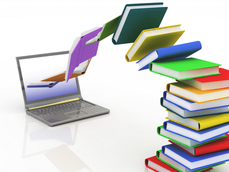 Welcome to this week's book talk!

My guest today is children's writer, Kath Boyd Marsh, who also happens to be my critique partner! It's great to have you on the Coffee Chat, Kath! How would you like your coffee?

KATH: If I have really good coffee, I'll take it black and savor every sip. If it's hot outside, pour it over ice and give me a splash of milk. WAIT!!! I just bought a bourbon liqueur that tastes like coffee and … maybe not before writing.

Ally: Oh, probably not. I'll pour two cups of black coffee while you introduce yourself to readers.

---
Bio
:
At seven years old Kath Boyd Marsh self-published her first fantasy on lined notebook paper, stapled together by her grandfather, and starring a creature based on her little sister- the 'PB.' Before Kath moved to Richmond, KY to write about dragons, wizards, and other fantastic creatures, she lived in seven states, Panama, and one very haunted house. The Lazy Dr'gon and the Bumblespells Wizard was her debut novel.

Something not in your usual bio: "For five years I volunteered at Alabama Wildlife Rescue in Hoover, AL. I loved every minute of cleaning up after, feeding, and just being around injured and orphaned wildlife. Of all the creatures, I came to love oppossums (the young sneeze to call their mom) and black vultures the best. The vultures in the outdoor 'flight' cage had a sharp sense of humor and would untie my boots and steal my refuse garbage bag."

Author links:
Website: kathboydmarshauthor.com
Blog: kath-lettersfromearth.blogspot.com
Twitter: @kmarshfen
---
INTERVIEW:

Ally: What genre do you prefer to write?

KATH: My debut book is Middle Grade fantasy fiction for children. I also have a short story that will publish in an anthology this coming summer. That one is Young Adult. I like writing YA. Very PG.

Ally: What is your daily writing process?

KATH: I check my email and get my morning encouragement from my critique partner. Her work ethic drives me onward!!! (Thank you. :) ) If she writes 2000 words, I try to get at least 1500.

Ally: Can you describe your journey to publication, including the bumps?

KATH: Oh, boy. I started the first draft of the book I just published over twenty years ago. It was submitted and revised, and revised, and submitted, and revised for … well over twenty years before it found an editor who believed in it. On the way, I had a publisher send me a note saying they were reading that manuscript and everyone was laughing. And the next day I got a form rejection from the same publisher. No explanation, just Ouch.

On another manuscript- I sent it to an editor who requested it after hearing my pitch at a conference. He wrote back that it wasn't dark enough, and if I wanted to tackle the darkness issue, I could re-submit. BUT, by the way, He was quitting the publishing industry so I'd have to send it to the other editors at his old publishing company. They would read it. Uh huh. I darkened it, sent it, and got a fast rejection saying it was too dark. Uh huh.

I'll never forget the agent years ago who sent back my query letter with "no" penciled in on the body of my letter. Ouch!

But during those twenty years I have drafted a lot of other manuscripts, which I continue to revise and hope …

Ally: How do you decide your characters' names?

KATH: I cheat. My parents were heavily into genealogy, so I go to the book and seek an ancestor name or names that I like.

Ally: Since you write fantasy, I assume you've thought about supernatural powers. If you could have one, what would it be?

KATH: I'd want two. Greedy, huh? First would be the ability to protect my family and friends from everything harmful. Keep them safe and healthy.

And even more greedy, I'd want the ability to eat endless amounts of Cheezits and drink Cherry Coke and NOT gain endless amounts of fluffiness/weight.

Ally: Lol. I think we'd all like that one. But getting back to writing, what's the next project?

KATH: I am working on revising my favorite series of manuscripts. Long ago Abdon Mallack, a demon with ambitions, stepped into my writing. I so want her stories published. She has a very dark sense of humor, a clumsy assistant I identify with, and a life that never goes smoothly. If it can go wrong, it will. And in the process of pursuing her goal of establishing her own Hell Colony, her true evilness, well it seems to be changing.

By the way. I did not get her name from my ancestors. Abdon is of course the name of one of the Judges from the Bible- a bit of irony. and Mallack is just evil.

Ally: Quick Answer Questions:

1) Favorite Book: Just one? Clowns of God, Podkayne of Mars, and Seventeen.
2) Author you'd like to take to lunch: Although I'd be tongue-tied and gob-smacked- Samuel Clemens.
3) Do you believe in love at first sight? Well, I have to. That's what happened when I met my husband. My roommate threatened me if I did not go down and eat dinner with the fraternity invited to our sorority for that night. I went grumbling, and in he walked!
4) What would you do, if you couldn't write anymore? Photography. I do love to take photos, even if they are awful and drive my cats and dog crazy.
5) Favorite Place to write: If the weather is good, outdoors. If not, wherever I can see outdoors. My office has the essentials, big floor to ceiling windows! I can watch the critters in our yard- turkeys, deer, squirrels, birds, raccoons (who are NOT supposed to be out during the day, but they obviously want a head start on the gingercake I put in the bird feeder. That cranky giant skunk will show up tonight, and no one argues with him.)
6) Pets: Rufus-the fox hound who found us three years ago and writes my blog. Nikki Cat- whose mom found us and adopted us ten years ago when her kittens were born. Zoe and Tuck Tuck-cats- who allowed us to adopt them just this fall.
Ally: It was great to have you join us today, Kath. Love the liqueur, by the way. :) I hope readers will check out your book for their young readers. And I'm keeping my fingers crossed that there's a sequel coming soon!

---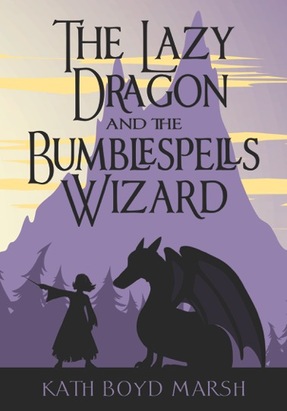 The Lazy Dragon and the Bumblespells Wizard
Genre: MG fantasy

Book Blurb:
Can two misfits help each other? For Cl'rnce, a perfect day would involve a nap, another nap, followed by dinner, and a nap. So what if he's the only dr'gon his age without a wizard partner or the ability to y? at sounds like work, and Cl'rnce is opposed to all forms of work. Moire Ain, on the other hand, has never known anything except miserable, soul-crushing work. She has lived her whole life as a virtual slave to the evil Hedge-Witch. When Moire Ain overhears Hedge-Witch plot to have Moire Ain kill a king, the girl runs away with only a magic book, her pet raven, and a dream of someday becoming a Great and Mighty Wizard. Moire Ain hasn't even been gone a full day when she stumbles across an irritated Cl'rnce. Grudgingly, Cl'rnce has accepted a quest, and he now finds himself footsore, hungry, and trapped in a tree by a dr'gon slaying knight. With nothing more than some bumbled spells and a helpful raven, the two set o to complete Cl'rnce's quest and, just maybe, save a king.
Kirkus Review!!! http://bit.ly/2aZvOQN
Buy Links:
Amazon.com: http://amzn.to/2aFwBpO
Barnes and Noble: http://www.barnesandnoble.com/w/the-lazy-dragon-and-the-bumblespells-wizard-kath-boyd-marsh/1124568990?ean=9781944821005
Goodreads: http://bit.ly/2a4qD1G
Indigo Music and Books at: http://bit.ly/29UX6KY
Thanks for visiting the blog. Come back soon!